First aid service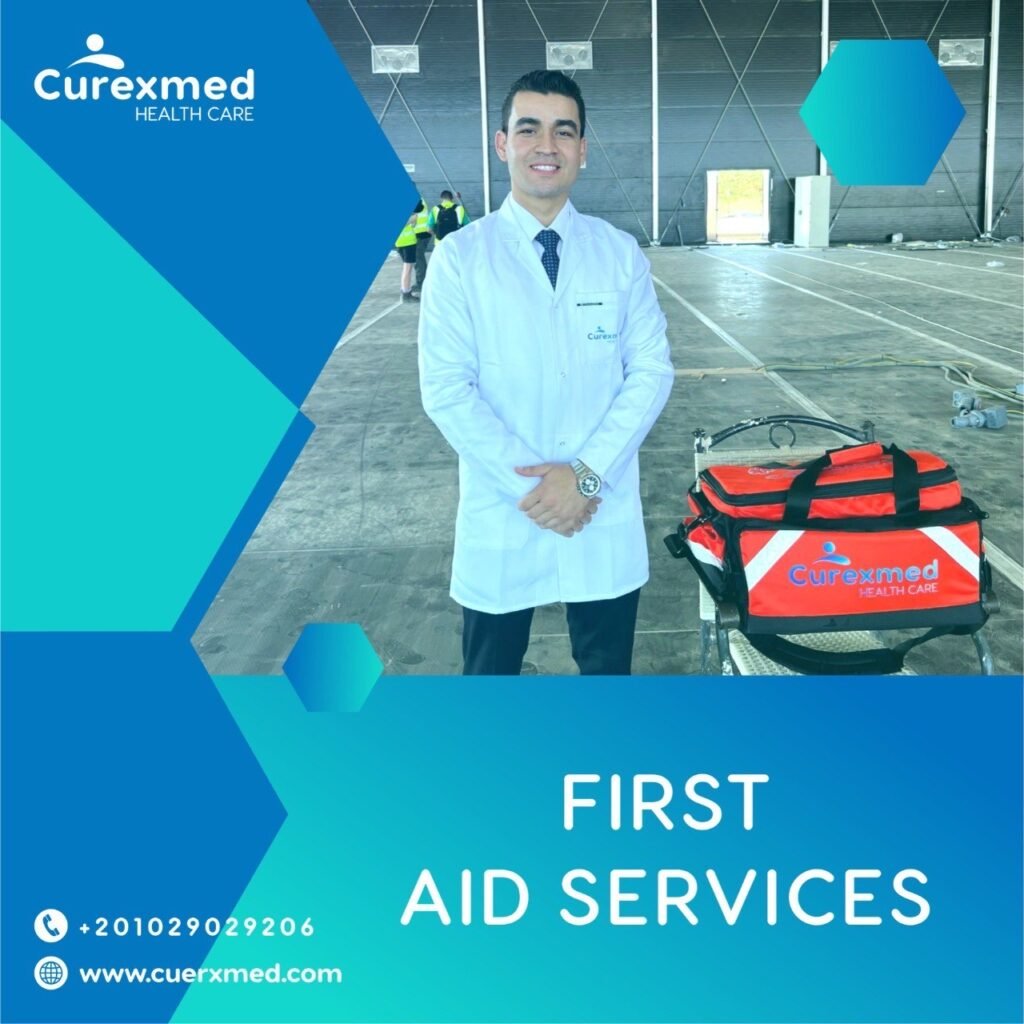 The first aid service is one of the most important services concerned with saving the patient's life and preserving it, promoting recovery, and preventing the deterioration of his health condition. The first aid service is the first intervention in serious emergency cases before specialized medical assistance arrival. In the belief of Curexmed in the importance of first aid We provide all medical first aid services, whose role is not limited to providing basic first aid steps only, but also includes Ambulances service to transport patients to the nearest specialized medical center and receive the necessary medical care, First aid training service for all workers or for school students, high level equipped first aid kit for all companies and institutions, Gathering first aid service to provide medical first aid services in facilities, institutions, conferences, gatherings, and important events.
What is basic first aid?
Basic first aid is the ability to provide basic medical care to a person suffering from a sudden injury or illness, by a non-specialist person who does not have any medical experience until the competent medical service arrives, such as treating burns, wounds, or even insect stings, and may also include Providing medical support for emergency medical cases.
What is major importance of first aid?
Preventing death and preventing the deterioration of serious injuries is the major goal of the emergency first aid service. The major importance of first aid can be summarized into 3 basic elements:
Preserving life: Saving lives and reducing the risk of death is the paramount goal of all medical care services, especially for the first aid service. Properly performed first aid helps reduce the patient's pain level and soothes him during the evaluation and treatment process.
Preventing further damage: First aid contributes to preventing further damage to the injured patient by eliminating all external factors and keeping the patient away from any cause of harm, and applying first aid techniques to prevent deterioration of the condition, such as applying pressure on the wound to stop bleeding and prevent further blood loss.
Promote healing: First aid also includes trying to start the recovery process from an illness or injury, and in some cases may include completing treatment, such as applying bandages to small cuts.
First aid is not a medical treatment and cannot be compared to what is provided by specialized medical personnel, but it does include making important decisions for the injured person to preserve his life and prevent the deterioration of his health.
What does first aid provide?
Curexmed is interested in providing first aid services to all people at any time and throughout all of Egypt. It was and still is one of the first companies interested in providing all kinds of medical support to the local community. Curexmed is the medical company responsible for providing first aid services at the COP 27 Climate Summit, which It was held from November 6 to November 18, 2022 in the Egyptian city of Sharm El-Sheikh, also many important local conferences and events. The first aid services provided by CurexMed are divided into 4 sections:
1. Gathering first aid service
If you are seeking to organize an important event or gathering and seek to provide a basic first aid services to deal with emergency medical cases, then you should choose Curexmed to provide basic first aid services, which includes providing a private ambulance equipped with all first aid devices and equipment, a standard first aid kit, and an integrated medical team trained in Dealing with emergency medical cases and checking vital signs.
2. First aid medical training course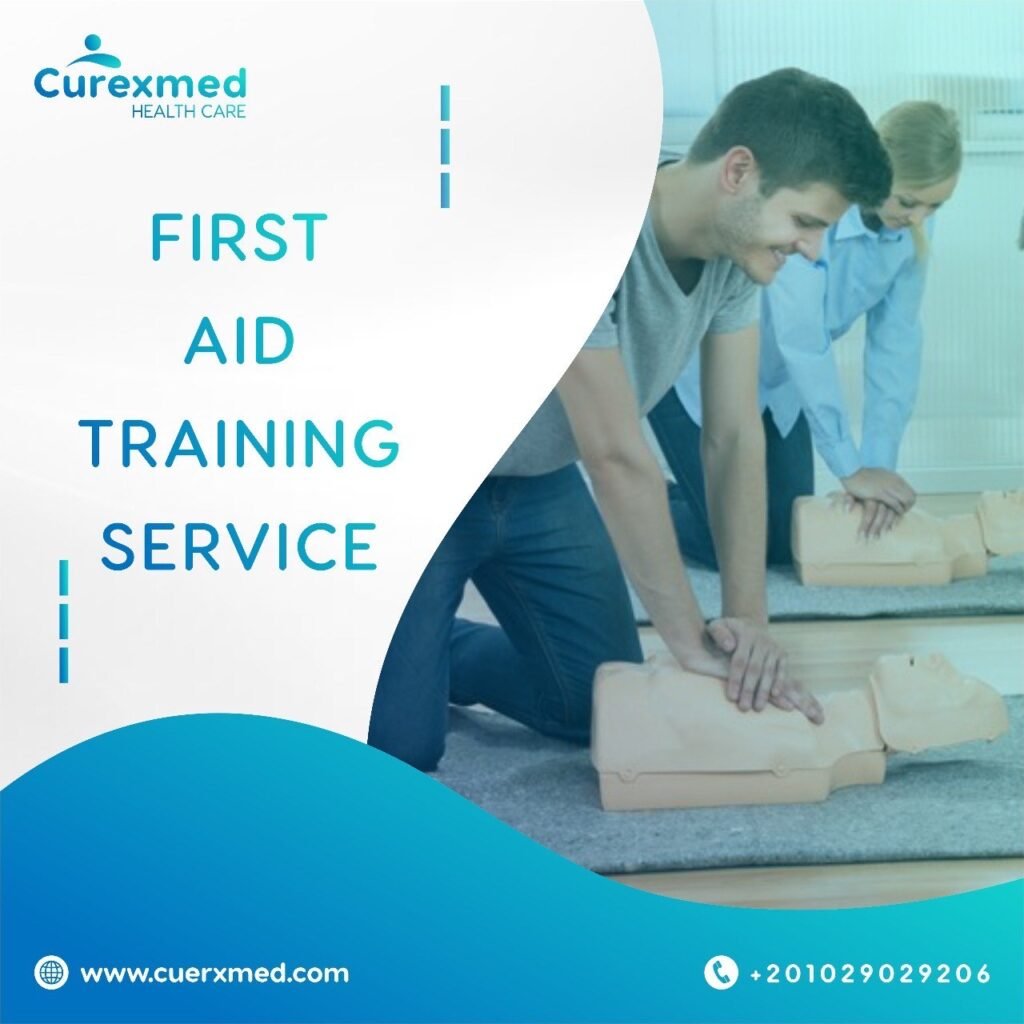 Curexmed offers emergency training courses in first aid for all segments of society, as we offer an emergency first aid at work course, a first aid course for school and university students, a first aid course for workers in institutions and companies, and emergency medical training, all of these courses aim to teach the basics of first aid, Basic life support for dealing with emergency medical cases, basic life support for dealing with accidents and work injuries, and refresher training courses every three years.
the most important topics of the Curexmed First aid medical training course are:
The procedures for the initial treatment of injuries and diseases that occur in the workplace.
Steps to seek help from emergency services or a medical provider at the workplace.
How to follow emergency services advice and directions.
Perform cardiopulmonary resuscitation.
Use standard precautions to minimize the spread of infectious diseases when treating wounds and disposing of medical waste.
Dispose of waste appropriately.
Identifying the contents of the first aid kit and first aid equipment, and knowing how to use them.
Record all details of first aid given and submit appropriate medical reports.
3. first aid kits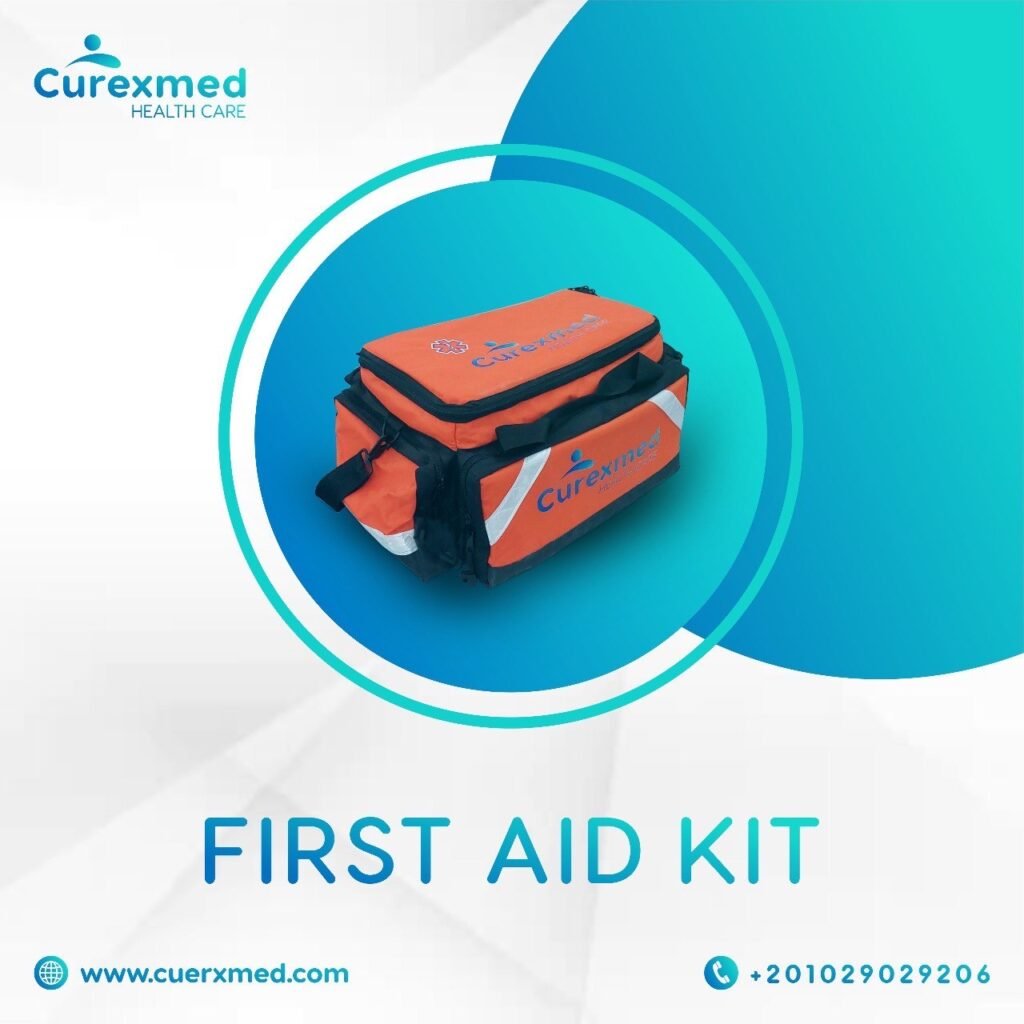 The first aid kit is one of the most important first aid supplies, so Curexmed provides a complete first aid kit for all institutions and companies. The presence of portable medical kits in all institutions, companies, and large or small facilities, is essential and indispensable, to deal with emergency medical cases.
Important note: The basic first aid kit must be placed in a location that is known to all workers and is easily accessible.
What are the components of the 1st aid kit?
The design of the first aid kit from Curexmed has a strong,and distinctive design for easy identification the moment you see it, and the most important components of the first aid kits are:
1. 5 Triangular Bandages 130cm x 90cm x 90cm
2. BandageSterile eye pads.
3. Non-sterile 4″ x 4″ gauze pads.
4. 4″ x 4″ sterile gauze pads.
5. Sterile gauze pads 10×10″.
6. Elastic Bandage (Compression Bandage)
7. 4 7.5cm cylindrical pads.
8. 4 3cm cylindrical pads.
9. 4 ¼ inch cylindrical pads.
10. Cold gel packs.
11. Burn dressings.
12. Two pairs of gloves (non-sterile).
13. Bandage scissors.
14. Duct tape.
15. Cotton swabs.
16. CPR.
17. Sterile adhesive bandage.
18. Safety pin for triangular bandages.
19. Thermometer.
20. First aid guide.
21. A waterproof trash bag.
22. List of box contents.
Contact us now to get your first aid kit from Curexmed.
4. Private ambulances
Curexmed provides an ambulances service equipped at the highest level, available at all times and throughout the governorates of Cairo, Giza, Alexandria, the North Coast, and the Red Sea, to transport patients in emergency and non-emergency cases, with medical staff equipped and trained to deal with all cases medical, as it contains:
A patient cabin capable of accommodating 2 paramedics, and 2 patients on two stretchers, separate from the driver's cabin.
A trained paramedic is in an ambulance to provide emergency medical care.
Equipped with the latest devices to protect workers and patients to complete rescue operations, ensure protection and comfort, and avoid deterioration of the patient's health condition or loss of life.
Fixed carrier with wheels, foldable carrier.
Nasopharyngeal airways of all sizes, for adults and children.
Respiratory tools.
Mobile and stationary suction devices.
Sterile catheter equipment.
Oxygen breathing equipment.
Cardiopulmonary resuscitation equipment.
Equipment for fixing fractures.
Wound dressing equipment.
Small surgical kit.