The best otolaryngologist home visit in Masr Elgedida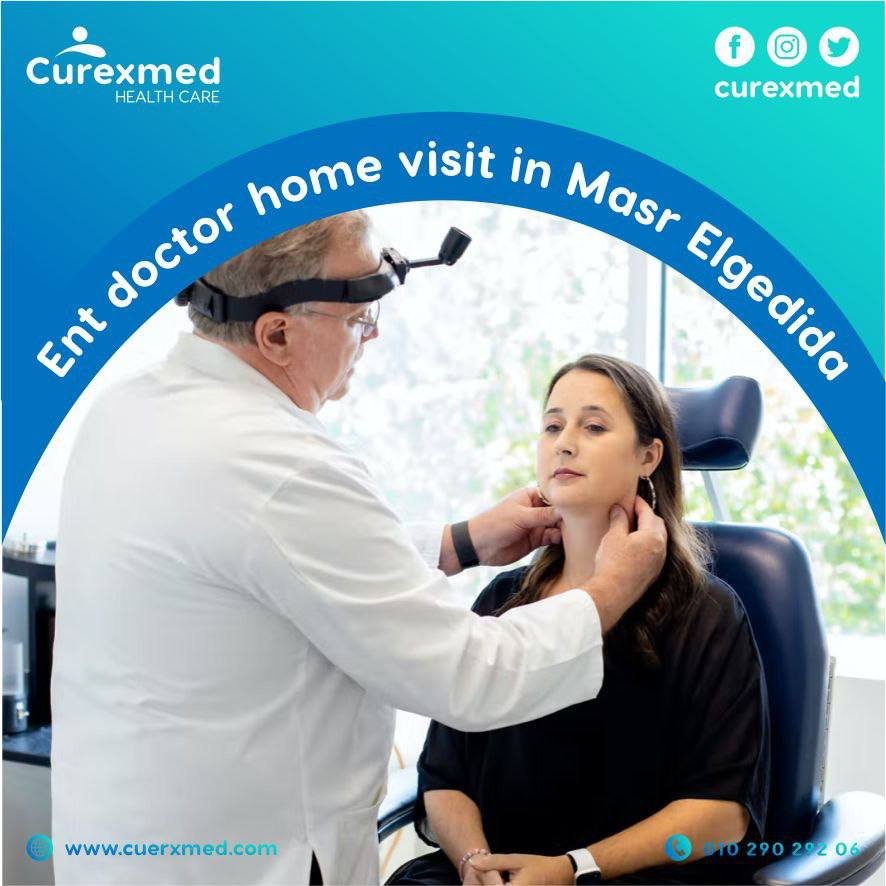 With the different seasons and climates, diseases that are related to the nose and ears spread, the otolaryngologist home visit Masr Elgedida is considered one of the most important medical services. Deterioration of health can happen to anyone of different ages and at any time. Therefore, searching for a home medical center that provides doctor home visit services is one of the important things that everyone should do to limit the transportation of otolaryngology patients from their homes to the hospital or private clinics in dusty air that harms the patients' noses and ears. The development also contributed to and facilitated the conversion of the patient's room into a medical room equipped with the latest medical equipment without the need to go to the hospital.
Reaching for the best otolaryngologist home visit in Masr Elgedida with extensive experience in ear, nose, and throat diseases is not easy at all, but from now on, do not worry, as the most skilled otolaryngologists are provided through Curexmed Otolaryngologist home visit Masr Elgedida, wherever you are, without bearing the burden of requesting the service of a doctor home visit. Curexmed is available 24 hours a day, seven days a week, all year round, without weekly or formal vacations.
Otolaryngology patients suffer the most in their day, as they can suffer from continuous loss of balance, migraines, or chronic headaches, and all these symptoms and more are strong reasons why they need a consultation with or visit an otolaryngologist. But if the patient suffers from difficulty tolerating movement, he could request an otolaryngologist home visit Masr Elgedida to avoid any complications. Curexmed also provides several comprehensive and multiple home medical services, as we have a great selection of doctors and consultants who specialize in all medical specialties,and one of the most important Curexmed services is the otolaryngologist home visit.

Otolaryngologist home visit in Masr Elgedida

Curexmed home medical center provides the Otolaryngologist home visit service, who specializes in disorders that occur in the nose, throat, ear, and all related organs; however, the role of the Otolaryngologist is not limited to this only, but rather he also specializes in surgeries related to all these organs. The ENT doctor is distinguished from the rest of his colleagues in other specialties as he deals with organs and tissues that are highly sensitive, especially when dealing with surgical operations.
Therefore, you must choose an extensive and great-experienced doctor when choosing your examination doctor, as well as all other medical staff, and this is what we provided in Curexmed; we provided the most skilled and experienced doctors in all specialties, as well as staffs of consultants, assistants, and nurses.
The role of the ENT home doctor is to treat diseases and disorders of the nose, ear, throat, and associated organs. He can also examine the head and neck, deal with hearing problems and nasal congestion, diagnose patients' conditions as soon as possible, and prescribe medications that are appropriate to the patient's condition. You can trust and rely on Curexmed's doctor home visit service, which is characterized by honesty, credibility, perfection until the patient recovers, and following up on his condition after recovery.

Diseases treated by ENT doctor home visit

There are many diseases related to the ear, nose, and throat, which the ENT doctor in Masr Elgedida is distinguished for dealing with. Curexmed's Medical staff consists of the most skilled Otolaryngology doctors, and here are some diseases treated by ENT doctor home visit:
● Chronic acute pharyngitis
Chronic acute pharyngitis is a progression that occurs in the inflammation of the throat and larynx over a long time, which leads to a rise in the voice and hoarseness in the tone of the voice. Pharyngitis can last for a short time or extend over a long period and become chronic.
● Allergic rhinitis
Allergic rhinitis is the irritation that occurs due to inhaling some allergic substances, which results in inflammation of the mucous membranes of the nose, and this takes place within minutes of smelling and touching these allergic substances. There are several symptoms of allergic rhinitis, some of which affect his ability to concentrate in general and not the ability to sleep is a result of the patient's immune system responding to these irritants from the substances he is allergic to, and this sensitivity disappears when the irritating thing disappears. This is similar to the role of the flu. Usually, allergic rhinitis is a hereditary disease that the father or mother of an allergic child has, and that makes the rate of allergy in children high due to the transmission of genetic factors from parents to children.
● Upper respiratory infection
Upper respiratory infection includes, all diseases that affect the respiratory system and other associated organs such as the sinuses, larynx, nose, trachea, pharynx, major bronchi, bronchitis, tracheitis, sinusitis, and sore throat. With a large percentage, you may have had this respiratory system-associated symptoms at least once.
● Noise-induced hearing loss
Noise-induced hearing loss happens when a person is exposed to disturbing noises and loud sounds continuously, which results in Noise-induced hearing loss. Although the short exposure to these sounds is harmless.
● inner ear Hearing loss
Sometimes, inner ear defects lead to sensorineural hearing loss or to becoming completely deaf. Although the defect related to the middle ear may cause heavy hearing.
● Throat diseases
There are many diseases associated with the larynx that affect the vocal cord because the location of the vocal cord is at the front of the neck, through which the vocal cords are supported and swallowing and sound production occur. These diseases are associated with it. and many other diseases require follow-up and medical supervision, which can be provided to you through Curexmed's Otolaryngologist home visit in Masr Elgedida, who will come to your home as soon as possible without the need to wait in clinics and hospitals.
● Vocal cord cancer
Vocal cord cancer is a tumor that affects the vocal cord and is called squamous cell carcinoma. It affects the upper layer that envelops the vocal cords, and the affected person must go to a doctor if he feels any strange symptoms related to his vocal cords.
● Acoustic neurofibromatosis
This tumor is located at an angle between the cerebellum and the bridge, and it is a benign tumor that is considered part of the brain stem in the posterior region of the skull. This tumor grows slowly until it reaches a large size in the end.
● Pharyngitis
Pharyngitis can occur at different ages; it can occur in childhood or adulthood, and it is an inflammation of the tonsils and pharynx due to a bacterial infection. This disease is rare in children under the age of two.
● Periarteritis
Periarteritis refers to inflammation of the tissues that surround the gland or degenerative inflammation that affects the mucous membrane, such as Sutton's disease and recurrent necrotizing para mucosal glands.
There are various reasons that cause a person to suffer from nose and ear diseases, whether chronic and serious diseases or less serious diseases. It may happen due to exposure to some substances or due to the area in which the person lives. Pollen is one of the causes of allergic rhinitis. The percentage of pollen increases in the wind or spring season during the planting season, but In a rainy climate, the symptoms of this disease and the inflammation that occurs decrease. Other substances that cause allergies are animal dander, mold, dust, various odors, and smoke.

ENT doctor home visit in Masr Elgedida

The examination by Curexmed's specially trained doctors is characterized by the fact that the patient gets all medical attention and care and the best comprehensive medical care due to the presence of many other home medical services unique to our center only, such as a home lab tests service, home physiotherapy sessions, private ambulance reservation in case of emergencies, and a home radiology center. Curexmed provides all of these services and more in Cairo to save you a lot of trouble and anxiety from searching for an experienced specialist doctor.

How much does the otolaryngologist home visit service cost?

Prices differ from one center to another, and the prices for services at the same center may vary. Some patients find that the prices for these services do not suit most of the groups in society because of their exaggeration. Therefore, Curexmed's doctors' staff decided to save patients money and make its prices commensurate with all groups and the highest quality, with no need to bear the burden of costs.

When can I request an ENT home visit service?

One of the advantages that make you choose Curexmed is that you can communicate and book with us at any time of the day, as we provide medical services 24 hours a day, throughout the week, and the whole year. So you can request our services in emergencies and doctor home visit services at any time.