The best General surgeon home visit in Masr Elgedida

General surgeon home visit Masr Elgedida, General surgery is defined as one of the surgical specialties that focus on surgical intervention to abdominal organs, including the esophagus, stomach, small intestine, large intestine, liver, pancreas, gallbladder, bile ducts, and often the thyroid gland, and this also includes diseases of the skin, breast, tissues, and hernias.
Curexmed's general surgeon is a doctor responsible for performing various operations, taking care of the health of patients before and after surgery, and taking all measures to ensure the patient's health, safety, and privacy. That is why Curexmed considers the best general surgeon home visit in Masr Elgedida and all over Egypt, in addition to the selection of the best surgeons of various specialties.
If you are looking for the best general surgeon home visit in Masr Elgedida, you can contact us, and the doctor will reach you within a few hours, depending on your call. You do not need to worry, because all of Curexmed's medical services are available at the lowest prices.

General surgeon home visit in Masr Elgedida

The demand for a general surgeon home visit in Masr Elgedida service has increased since the last time, as most patients who need a surgeon consultation cannot be transferred to a private clinic. The surgeon is responsible for performing operations to treat diseases that require surgical intervention, and sometimes the surgeons specialize in certain organs, such as the liver, intestines, esophagus, stomach, gallbladder, pancreas, and spleen. General surgery is not only limited to performing operations but also includes caring for patients before, during, and after surgery.

Surgical intervention is not limited to one patient's category; it may affect the elderly, youth, and children who suffer from many diseases that require surgical intervention, whether mild or severe. Therefore, if you need a general surgeon home visit, you can contact Curexmed and request a general surgeon home visit in Masr Elgedida service through customer service.

Home general surgeon diagnoses all surgical conditions, treats the diabetic foot, detects early tumors through breast examinations, treats gallstones, varicose veins, inguinal hernias, and hemorrhoids.
If you are considering weight loss surgeries, you can consult Curexmed's general surgeon to discuss weight loss surgeries and other treatment options.
Curexmed provides distinguished doctors to diagnose and treat many surgical diseases of the abdomen, breast, digestive system, endocrine system, and skin and helps in cases that require rapid surgical intervention, and all this takes place in a very short time compared to going to private clinics or hospitals.

Surgeries performed by general surgeon home visit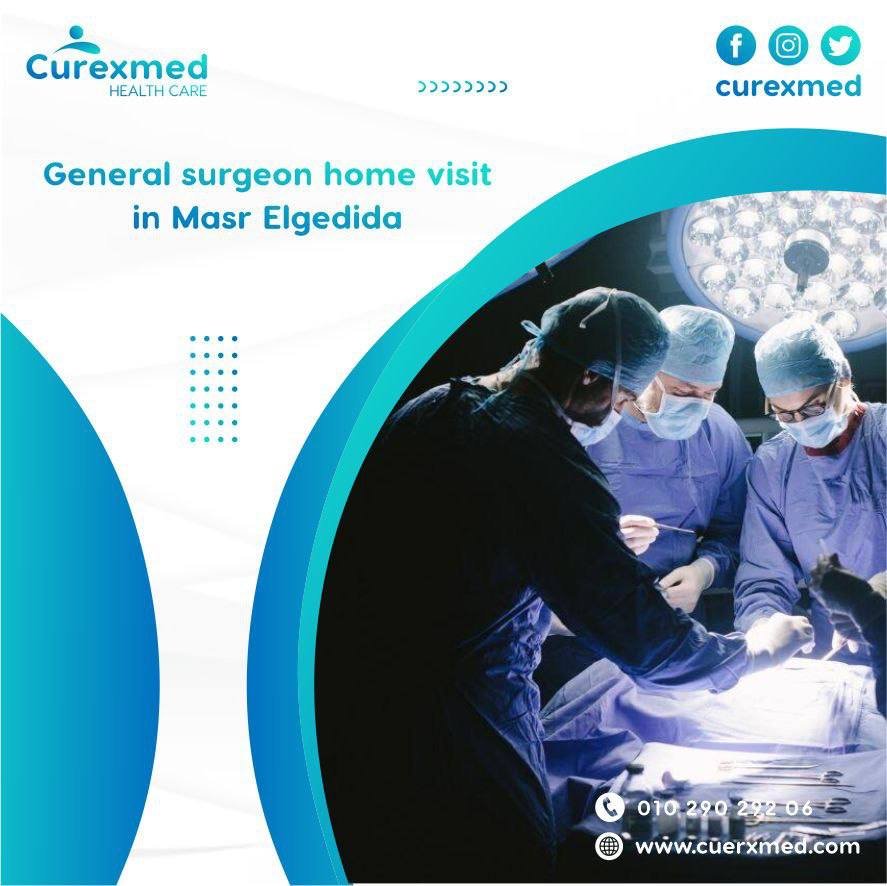 In the past, general surgeons faced many difficulties due to the restrictions imposed by the profession, but now general surgeons can expand their experience continuously and perform general surgeries in any of the following specialties:
● Trauma surgery
General surgery is primarily responsible for treating injuries, but some surgeons receive advanced training and certification to specialize in trauma surgeries only. General surgeons must be able to treat all cases that require emergency surgical intervention, They are often the first on call to care for emergencies and injured patients. Several procedures must be performed to ensure the patient's condition is stable, such as the insertion of a breathing tube, puncture of the skull, opening of the larynx, or an emergency laparotomy to stop the bleeding.
All general surgeons are trained to deal with emergencies, as they treat bleeding, infections, bowel obstruction, and organ perforation.
Cholecystectomy is one of the most common surgeries in the world and is often unplanned, as the gallbladder can become severely inflamed and require emergency surgical intervention.
Appendicitis and small bowel obstructions are also among the most common reasons for surgical intervention.
● Laparoscopic surgery
It is a relatively new specialty that relies on the use of precise techniques, instruments to make small incisions (0.3 to 1 cm), and a camera to see inside the body to perform gallbladder, appendix, or large intestine surgical interventions. Hernia repairs and bariatric surgeries are now mostly performed laparoscopically.
● Colon surgery
Doctors treat many serious or mild colorectal conditions, such as inflammatory bowel diseases (such as ulcers of the colon and others), inflammation of the extremities, colorectal cancer, bleeding from the digestive tract, and hemorrhoids.
● Breast surgery
General surgeons perform most non-aesthetic breast surgeries, from lump removal, mastectomy, to diagnose breast cancer.
● Vascular surgery
General surgeons can perform vascular surgery if they have specialized training and certification in vascular surgery. Otherwise, these operations are performed by a specialized vascular surgeon who can treat minor vascular disorders.
● Endocrine surgery
General surgeons are trained to remove all or part of the thyroid gland, the parathyroid glands in the neck, and the adrenal glands above the kidneys in the abdomen. In most societies, all of these operations fall under the general surgical specialty, whereas in others, they fall under a variety of surgical subspecialties, which are performed by specialized surgeons.
● Dermatological surgery
General surgeons perform many different types of skin surgery, from removing a suspicious mole to treating severe burns. They can also remove tumors that grow under the skin, such as sebaceous tumors, muscle tumors, and tissue tumors. They also treat other complex skin conditions or infections under the skin and often use skin grafts to cover skin defects from burns and injuries.

Curexmed general surgeon home visit Masr Elgedida

Curexmed provides the best general surgeon home visit in Masr Elgedida. It also provides a wide range of home health care services, and this is the most important of which is a general surgeon home visit. Therefore, if you need to be visited by a general surgeon, please feel free to contact us, and we will send you a specialist as soon as possible to diagnose your medical condition and can treat you at home if your condition requires medication or refer you to the hospital if your health condition requires surgical intervention, as surgical intervention requires some complex tools and equipment that can only be provided in hospitals. The doctor home visit service means that the doctor visits the patient at home to examine him, diagnose his condition, prescribe the appropriate medication, and follow him up until he has completed his recovery.
If you are going to have surgery, of course, you will need a general surgeon home visit to prepare you for the surgery and follow-up after surgery, as most patients require strict medical treatment after surgery. Therefore, Curexmed saves the patient and his family from the trouble of searching for a doctor to treat him. It is known that many people request a doctor home visit service due to fatigue that suddenly appears late at night when there are no open clinics or centers, or the inability to move by some patients, that's why we provide this service to help as many patients as possible through a group of the most qualified home general surgeons in Masr Elgedida, in addition to a group of the best-experienced consultants in various medical specialties.

advantages of requesting a Curexmed general surgeon home visit

Curexmed's general surgeon home visit has experience in physiology, anatomy, and oncology, experience in the use of antibiotics, wound healing, and blood transfusions, perform endoscopic procedures such as colonoscopy, treat severe obesity patients, and care for patients with malignant and chronic diseases, as well as patients with heart disease.
Curexmed's general surgeon home visit service is the best solution for clinical and medical examinations because it does not force you to go to hospitals and offers the possibility of training family members and giving them some instructions tol help the patient recover quickly. Therefore, if you suffer from diseases that require surgical intervention, all you have to do is contact Curexmed as soon as possible, without any hesitation.

The advantages of requesting a Curexmed general surgeon home visit are responding to and helping the patient as soon as possible in an emergency, as All emergencies and diseases that suddenly afflict people require quick intervention to avoid any complications from forming. Therefore, if you have an emergency and haven't time to transport your patient to the hospital, you must call Curexmed home general surgeon immediately, hear your complaint calmly, and prescribe the correct medicine regardless of your location in Masr Elgedida.
Curexmed provides a group of special services that people may need, including a private ambulance that can reach you in emergencies immediately and transfer you to the center or to any other hospital you wish to reach.

Curexmed also provides home physiotherapy sessions; the number of sessions is determined according to the patient's condition, and if you want to perform home lab tests, we provide this service at the lowest prices. In addition, we provide a home radiology center that arrives at your home to perform different radiology scanning services. It is worth noting because all these services are provided to customers at the lowest prices.

How much does a general surgeon home visit service cost?

Curexmed always focuses on treating your condition as quickly as possible and we aware that patients may consider the price of the service too high for them. For this reason, one of our goals is to ensure that the price of a general surgeon home visit is reasonable for all patients.
The price of a general surgeon home visit service varies depending on your health conditions, tests, and treatments needed. The price also varies depending on the geographical location, and finally, you don't have to worry about Curexmed costs.

How can I book a general surgerion home visit service?

You only need to contact Curexmed to book a general surgeon home visit service, as we receive all calls and messages from clients, and then we will ask you for the necessary information about your health condition and your geographical location. You can direct all your questions to our service team, and we will answer all your questions and concerns.
After making an appointment, we will inform you of the approximate doctor's arrival time, you don't have to worry about anything.