The best dermatologist home visit in Masr Elgedida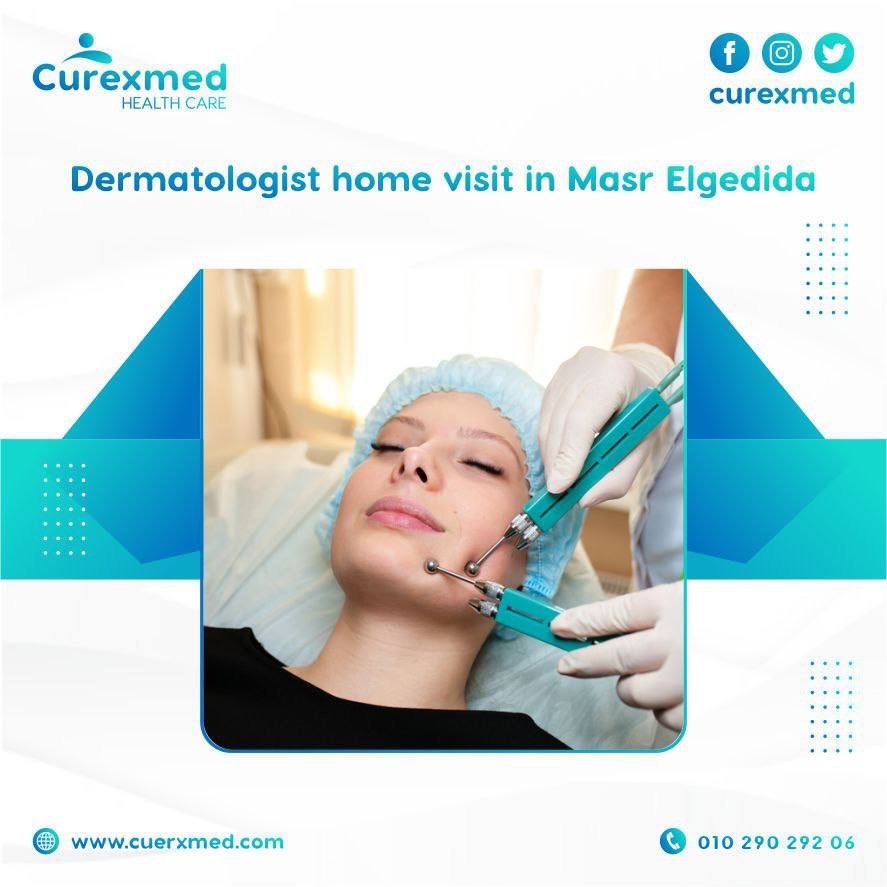 Dermatologist home visit Masr Elgedida, If you are looking for the best dermatologist home visit in Masr Elgedida, then this article will guide you to the best center that provides this service with the best quality and the best price. A doctor home visit is one of the best services the patient's family can request to help the patient recover better and faster. Skin diseases need great care and attention, and this depends on the pathological condition of the patient. During this article, you will be introduced to skin diseases that require a dermatologist home visit in Masr Elgedida and other cities in various governorates of Egypt.
You do not have to worry about or carry the burden of not being able to bear the costs of dermatologist home visit service, worry about doctors' experiences in this service, and worry about the geographical location or the timing of requesting a dermatologist home visit Masr Elgedida or any other place, because Curexmide provides the best dermatologist home visit in Masr Elgedida service in the fastest time, wherever you are and whenever you request the service, even late at night. Curexmed's doctors' duties are not limited only to examination, diagnosis, follow-up during the treatment journey, and follow up after the recovery period.
Curexmed's dermatologist home visit Masr Elgedida is considered one of the most prominent and important medical services that Curexmed is interested in and is provided by the most skilled and experienced dermatology doctors, who are characterized by great and long experience in this specialty and various medical specialties as well. Home visit doctors must have good knowledge of other specialties because they may need to refer the case to other specialists during the examination of the patient's health condition or advise the patient or his family to consult another specialist. Our doctors are distinguished by the many certificates that they have obtained over the years, which improve their ability to deal with all kinds of skin diseases.

Dermatologist home visit in Masr Elgedida

The skin is the most prominent and visible organ in the human body; it covers all body organs, so the presence of any skin defect may lead to physiological and other physical complications that may greatly harm the patient, especially in cases of deep and serious injuries, so special care and attention are necessary in these cases, which can be proved by Curexmed's dermatologist home visit in Masr Elgedida service to examine the patient's condition, diagnose, and then prescribe the treatments and medications that he needs. We are a comprehensive team that supports each other to provide the best medical care service to the patient.
A dermatologist home visit in Masr Elgedida examines, diagnoses, and seeks to find the best way to treat skin and hair disorders using various medical methods to ensure patient recovery. He deals with burn deformities and dermatology tumors by using Curexmed's home medical services, which are a home lab tests service and a home radiology center service, to determine the tumor type.
Patients with skin diseases need to stay at home and not be exposed to the sun, as the symptoms may increase if the person leaves his home and searches for clinics or a dermatologist, which may also expose them to great risk to their skin and expose the affected area to viruses and microbes. Therefore, requesting a dermatologist home visit in Masr Elgedida is one of the best services you can provide to a dermatology patient, to facilitate resting him and not bear the burden of transportation and searching.

Why should you pick Curexmed's dermatologist home visit service?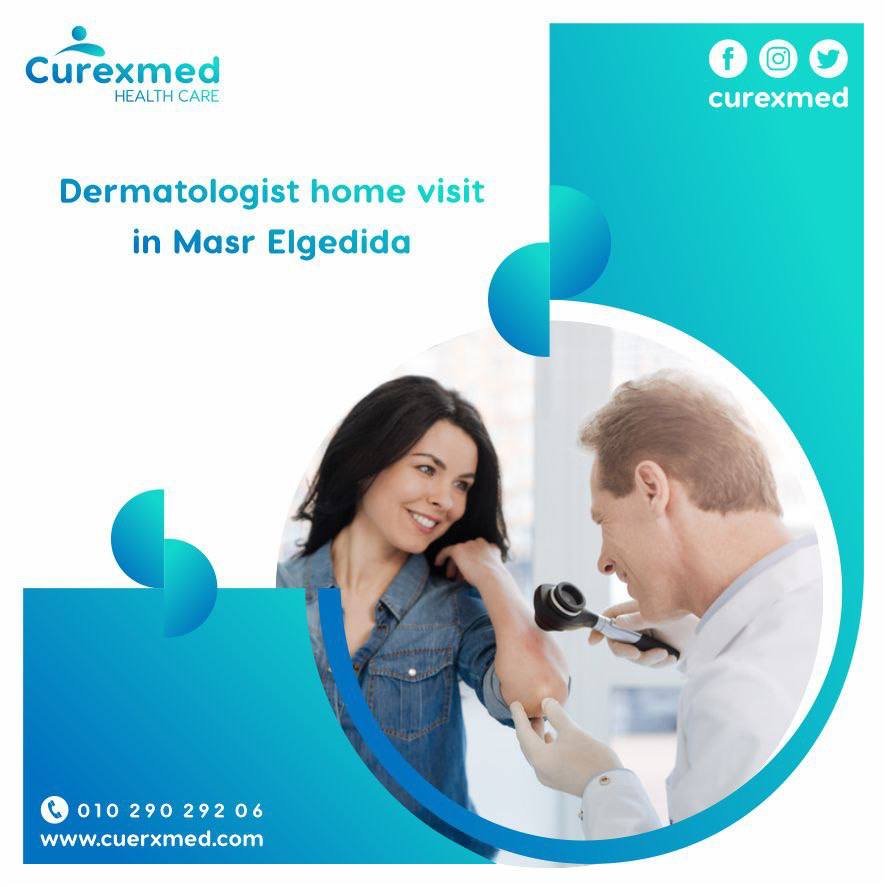 Curexmed has a selection of the most skilled and experienced doctors in dermatology. Dermatological patients are assisted in all possible ways and tools that help in the patient's recovery. There are several advantages that make you pick Curexmed's dermatologist home visit service, Here are some of these advantages:
● Curexmed's doctor examines the patient carefully to find out the causes that led to these skin diseases and seeks to treat them and their causes.
● We provide all possible means and tools in plastic surgery cases.
● Appropriate medications are prescribed to treat skin diseases.
● Examining the hair by all the latest methods to discover hair loss causes and prescribing the appropriate treatment.
● Curexmed's dermatologists are interested in helping patients physically and psychologically.
● Curexmed is distinguished by its fast response to all requested services.
● We provide high-quality services at the lowest prices, that suit everyone.
● Curexmed provides other important home medical services, such as private ambulance service to transport the patient to the hospital or clinics as soon as possible.
● We also provide home physiotherapy sessions.

Diseases treated by dermatologist home visit

Skin diseases have many causes. They may be genetic, related to weather and season changes, or due to an emergency such as burns or things like that. Therefore, if you find strange skin symptoms or the appearance of strange things on the skin, you must go to a dermatologist immediately, or you can contact Curexmed Medical Center and request the dermatologist home visit Masr Elgedida service to examine, diagnose dermatology diseases, and prescribe appropriate medication. Dermatologist home visit deals with many hair and skin conditions, which are:
● hair loss
If you notice continuous hair loss, you should consult a dermatologist to determine the cause, as it could be genetic, the result of infections to the scalp, or the result of other diseases. Requesting a Curexmed dermatologist home visit will help you discover the main reason for the hair loss and prescribe the appropriate medications for the patient's condition that will prevent his continuous hair loss. This can be done with the help of some other home medical services, such as home lab tests.
● skin infections
Skin infection is a general term that describes what happens to the skin and is often a skin irritation, which has many reasons and various forms. It can occur in the form of itching or a rash due to dryness of the skin, purulence, blisters, or cracking and peeling for it. The most common skin infections are seborrheic dermatitis, contact dermatitis, and eczema.
● Cutaneous warts
Cutaneous warts are considered the most widespread and well-known skin disease, and they may be accompanied by pain, affect the patient's appearance, and can be dealt with in several ways, such as medications, surgical intervention, or freezing.
● Various skin tumors
There are many skin tumors, but the most prominent of them are three types of cancer, which are divided into squamous cell carcinoma, basal cell carcinoma, and melanoma.
● Psoriasis
Psoriasis is a skin rash that appears as scaly patches on various body parts, especially the elbows.
● varicose veins
It is an enlargement and swelling of the blood vessels, which usually appear on the legs and feet.
● Acne Vulgaris
Acne Vulgaris is a pimple that appears on the face, as a result of blockage of hair follicles with dead skin cells and oils.
● leprosy
Leprosy can be classified as a chronic and infectious disease that also may occur due to types of bacteria.
● Skin aging
Skin aging is a thinning that occurs in the skin as a factor of age. Aging may be the cause, and it may be due to nutritional disorders and imbalances.
● Syphilis
Syphilis occurs based on a reaction that occurs between the person's immune system and something that is not harmful, but causes irritation in the skin.
● burns
There are two types of burns, including superficial burns and deep burns that affect many layers of the skin.
● Skin autoimmune diseases.
All of these diseases can be treated at home by a dermatologist, who will diagnose them and then prescribe the appropriate treatment. If you notice any strange dermatology symptoms, you should consult a dermatologist, or you can request a dermatologist home visit service from Curexmed.

How much does a dermatologist home visit service cost?

With the proliferation of home medical centers, due to the need for specialized doctors in most diseases, including skin diseases, there has been a discrepancy in the prices, services that are provided, and in the quality of these services. You will find that there are centers that provide these services at exaggerated prices, but in the Curexmed Center, we are distinguished by high-quality services at the lowest possible prices that suit everyone.

What is a Curexmed doctor home visit service?

Curexmed Medical Company is considered one popular medical company that helps patients in diagnosing their illnesses quickly and provides health and psychological support to the patient by providing all means of care and medical attention that makes them feel better. Curexmed also provides doctor home visit services in all specialties.