General surgery doctor home visit in Fifth Settlement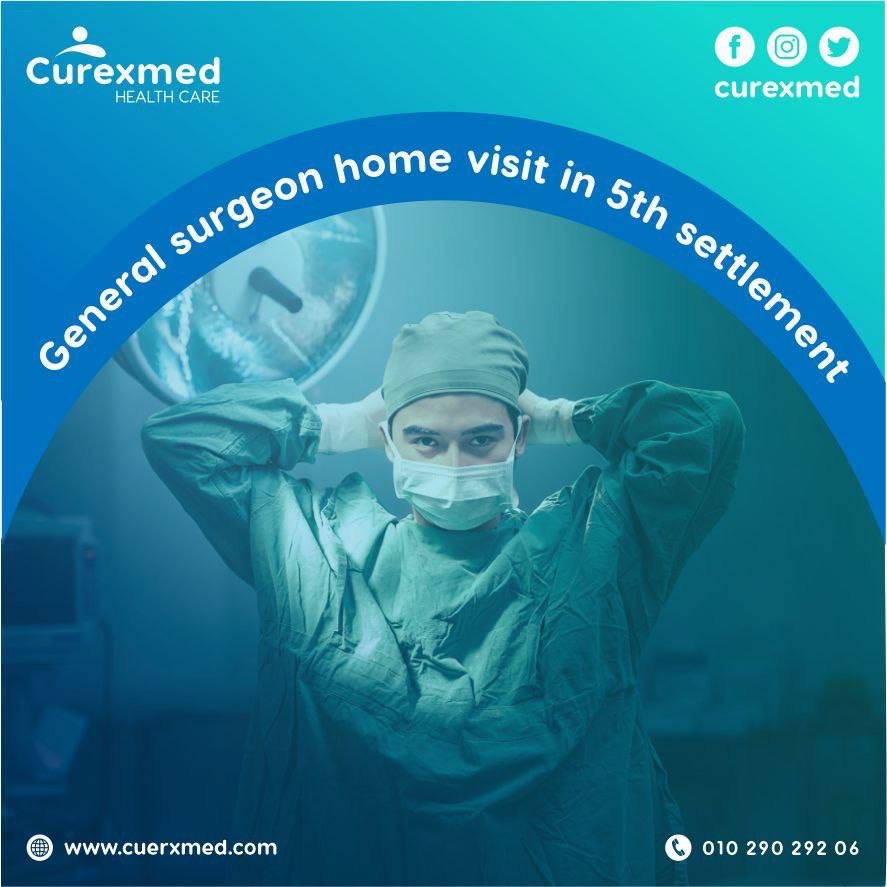 General Surgery is one of the most important medical specialties, it is concerned with performing surgical operations, diagnosing diseases to determine the necessity of surgical intervention, and determining the medical capability of patients for the surgical intervention. The demand for General surgery doctor home visit Fifth Settlement services increased, as most surgical demanded patients are old and unables.
The surgeon is the person responsible for Surgical operations procedure to treat diseases that require surgical intervention. Surgeons usually specialize in a particular branch such as neurosurgery, thoracic surgery, and orthopedic surgery.
The need for surgical examination is a mandatory process regardless of the patient's age (old, youth, and children) due to the massive number of diseases that require surgical intervention Which does not necessarily have to be a huge operation, as it possibly considers a small and usual one, but at the end, it is still considered as a surgical intervention. So if you need a general surgeon to come to your home, contact Curexmed and we will send you the best general surgeon to diagnose all surgical conditions, treat diabetic foot conditions, early detection of breast tumors through breast examination, treat gallstones, examine varicose veins and fistula, inguinal hernia, hemorrhoids, and discuss weight loss surgeries options.
Curexmed provides a gastrointestinal surgeon home visit Fifth Settlement to diagnose, treat the abdomen and digestive system, and treat gastrointestinal diseases that need rapid surgical intervention.
The best General surgery home examination doctor in Fifth Settlement

Curexmed enables you to request the best general surgery home examination doctor in the Fifth Settlement, as we offer a wide range of home health care services, and the general surgery home examination doctor service is considered the most important service of them. So if you need to consult a general surgeon, please feel free to contact us, and we will send you a specialist as soon as possible to diagnose your health condition and describe medicines if it is a simple case or decide the hospital surgical intervention option in serious cases. Surgical operations usually need complex tools and devices that can only be provided in hospitals.
A home medical examination is concerned with diagnosing diseases, prescribing medical treatment, and continuing to follow up with patients till full recovery. If you are going to have surgery, of course, you will need a general surgery home doctor visit in the Fifth Settlement to prepare you for the operation by taking several specific preparation steps and providing intense medical care and follow-up after surgical performing. Curexmed saves patients time in searching for a doctor to take care of them.
People especially unable patients who can't go anywhere usually resort to a doctor home visit service in cases of fatigue or illness in the late hours of the night when most medical centers or clinics are closed. ِAlso the need for doctor home visits is increasing with the spread of epidemics and the fear of going to any hospital to avoid any infectious diseases. Therefore, Curexmed provides doctor home visit services to help the largest number of patients as quickly as possible with the best experienced consultants in various medical specialties.
The general surgeon home examination doctor Fifth Settlement know the physiology and anatomy of tumors, experience in medication describing, wound healing, blood transfusion, and coagulation, performing endoscopies such as colonoscopes, has the skill of caring for patients with malignant, chronic, and heart diseases, and treating obesity patients. The general surgery home visit doctor is the best solution for clinical examinations with no need for going to hospitals, he also educates family members and provides them with instructions that help quickly patients' recovery. So if you suffer from any disease that requires surgical intervention, all you have to do is contact us as soon as possible without hesitation.
The advantage of seeking help from a general surgery home visit doctor in the Fifth Settlement is that he helps you in emergencies as quickly as possible, as all emergencies and diseases that suddenly affect humans need rapid intervention with no time to take patients to hospitals, to avoid any complications. Contact us immediately if you are a resident of Fifth Settlement or surrounding areas, and we will send you a home visit doctor as soon as possible.
Diseases treated by the best general surgery home visit doctor Fifth Settlement

There are a lot of diseases that can be treated by the best general surgery home visit doctor Fifth Settlement, such as:
● Mallory Weiss Syndrome
Mallory Weiss Syndrome It is a disease resulting from the rupture of the mucous membrane in the digestive system, which occurs from the top of the esophagus to the middle, and there are some cases in which it may reach the beginning of the stomach. The ruptures that occur in the esophagus may be minor or severe, some of it's symptoms are dizziness, fainting, vomiting blood, and others.
● Larynx diseases
The larynx is located at the beginning of the neck and carries the vocal cords. It is responsible for the process of swallowing and producing the voice. Several diseases may affect the larynx, including laryngitis, laryngeal cancer, spasmodic dysphonia, laryngocele, and others.
● Esophageal varices
Varicose veins can appear in the internal organs such as the stomach and esophagus, and the symptoms of esophageal varices are the accumulation of fluid in the abdomen, vomiting large amounts of blood, bruising or bleeding, bloody or black stools, yellowing of the skin and eyes, loss of consciousness in severe cases, so if you suffer from one of these symptoms, all you have to do is contact a general surgery home visit doctor in Fifth Settlement from Curexmed.
● Mesenteric ischemia
Mesenteric ischemia is a narrowing or blockage of the arteries that deliver blood to the intestines, as arteries responsible for delivering blood to the intestines are called mesenteric arteries, and the types of mesenteric ischemia are chronic or acute.
● Gangrene
Gangrene is a pathological condition in which tissues are exposed to necrosis, and there are four main categories of necrosis, which are internal gangrene, dry gangrene, gas gangrene, and wet gangrene. If you have gangrene don't hesitate and book a General surgery doctor home visit in Fifth Settlement as soon as possible.
● Diverticulosis
Diverticulosis is a herniation or protrusion of the submucosa and mucous membrane. This occurs due to high pressure between the intestinal cavity and wall, and it is a very common phenomenon in Western countries.
● Necrosis
Necrosis is the death of some tissues in the body due to a lack of blood flow to them. There are two types of necrosis: internal necrosis which affects the organs and external necrosis which affects the skin. Therefore, if you suffer from any type of necrosis, you should book the general surgery home examination in the Fifth Settlement service from Curexmed, to treat it as soon as possible.
● Umbilical hernia
Umbilical hernia is very common, especially in children, but it is not dangerous, it happened as a result of children crying and protruding part of the navel. The umbilical hernia occurs as a result of the swelling of part of the intestine, as a result of the weakness of a certain area of the abdomen.
● Dextrocardia
Dextrocardia It is a rare congenital condition in newborns in which the heart faces to the right instead of to the left. Its types are dextrocardia of embryonic arrest and situs inversus. If your baby suffers from this condition, you have to consult a home visit surgeon Fifth Settlement, to take the appropriate procedures.
● Ear infection
The middle ear is a small area located behind the eardrum that separates the outer ear from the middle ear. It may become infected when germs come from the throat and nose.
● Spitting blood
It is a cough accompanied by the release of bloody mucus, symptoms of spitting up blood are severe shortness of breath, bleeding, hypotension, and its causes are exposure to chest trauma, some heart diseases, and the presence of blood clotting disorders. If you suffer from Spitting blood, all you have to do is communicate with a general surgery home examination doctor in the Fifth Settlement.
● Ulcerative colitis
Ulcerative colitis is an inflammatory bowel disease. It is a long-term disease that affects the colon and may reach the rectum. Its types are pancolitis, ulcerative proctitis, left-sided colitis, and proctosigmoiditis.

surgeon home visit Fifth Settlement

Curexmed provides many home medical care services, and doctor home visit services are on top of them. Connect Curexmed now and we will send you the best surgeon. Our doctors are good listeners to you and your complaints, making a comprehensive and integrated clinical examination, and prescribing the treatment program that suits you.

We also have a special ambulance request, home medical laboratory services, home physical therapy sessions, and the best home radiology center services.

How can I book a surgeon home visit Fifth Settlement service?

You can book a surgeon home visit Fifth Settlement service by contacting Curexmed Center, by sending a message on one of the center's social networking sites, by email, or by calling us, and customer service will respond to you, as they are constantly available 24 hours a day All days of the week, to booking your service at the time that suits you.

When can I contact a general surgeon?

You can contact the general surgeon at any time you need, whether it is during the day or in the middle of the night, and you can also contact him on any day of the week, including holidays and official holidays.