The best neurologist home visit in Masr Elgedida

Neurological diseases are the most serious diseases that need special care and attention. Therefore, we find that the Neurologist home visit Masr Elgedida service is one of the most important services the patient may need, and from this point of view, Curexmed Medical Center was keen to provide this service by the most distinguished and experienced neurologists in helping patients recover quickly. Doctor home visit services are one of the best home medical services, especially in difficult diseases that need critical medical care, and for this, if you are distracted in choosing a suitable medical center to provide the best neurologist home visit in Masr Elgedida with the highest quality, you must contact Curexmed to gain the best service.
If the patient's family seeks to consult a neurologist, they should request the Curexmed neurologist home visit service to help him recover better and faster.

Do you know why Curexmed is the best home medical center?

This is because it provides many different home medical services in most medical specialties to provide all the necessary care and attention in the diagnosis and treatment of difficult diseases. The neurology patient needs a calm atmosphere, which cannot be obtained in hospitals or private clinics, and for this reason, many home medical centers specialize in providing these services in various medical specialties, and Curexmed Medical Center is the most famous and reputable among these centers.

neurologist home visit

With the increase in diseases and their rapid spread in our current era, including neurological diseases, the presence of home medical centers to provide neurologist home visit service has become one of the most important services to diagnose the patient's condition and give him the best appropriate types of treatments that help him in healing, in addition to getting excellent medical care supervision by resident nurses who help the patient take his medicine at the right times and remind him of meal times, according to the doctor's instructions, and therefore the Curexmed Medical Center is the most privileged in neurologist home visit in Masr Elgedida.
Curexmed provides multiple home medical services in various specialties. If you are looking for a home medical center in Cairo, Curexmed will be your perfect choice because of the distinguished services that are unique to the center's clients, such as providing the patient's room with all equipment and medical devices that are compatible with his condition to facilitate diagnosis, such as EEG devices and other devices, and all the necessary equipment to assist the doctor, as well as organizing the patient's times for medicines and meals.
Doctors home visit services have a great role in saving the patient a lot of money, trouble, and effort that the patient exerts during his transition between hospitals and clinics, so the Curexmed team is considered a mobile hospital or clinic that you can request. Curexmed also provides a private ambulance service that can be requested at any time by contacting customer service, and we will respond to you 24 hours a day and get you to your destination as soon as possible. The doctor comes home service has several advantages, and the most important of them is patient comfort.

Neurologist home visit in Masr Elgedida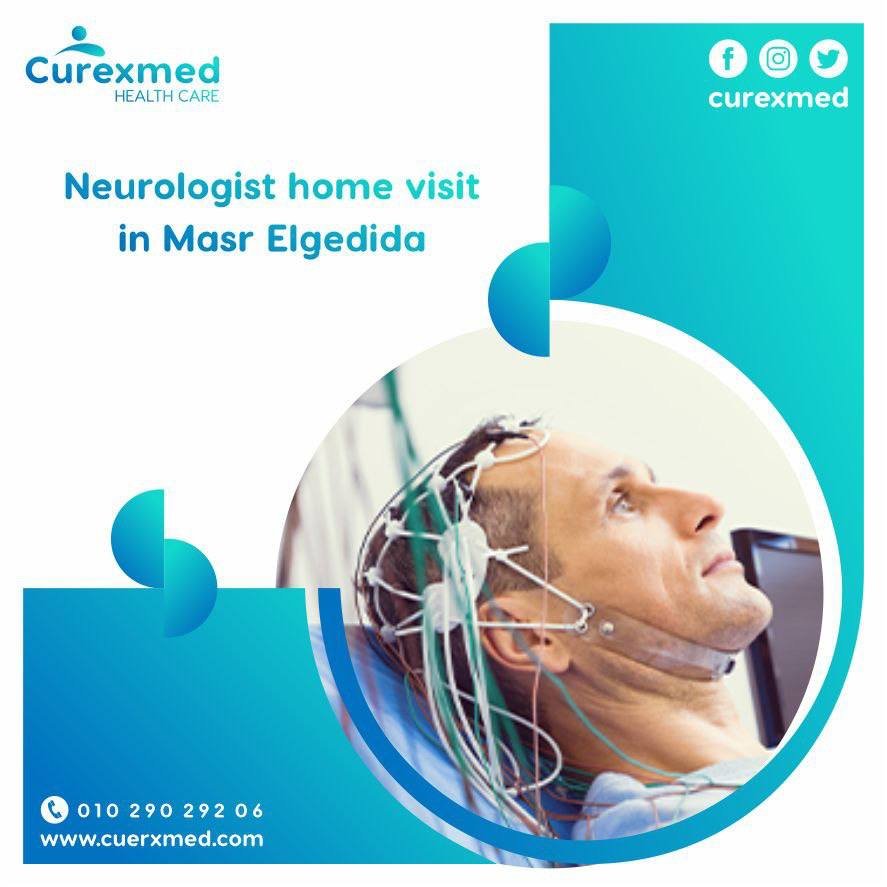 The idea of a doctor home visit has become more widespread and developed because of the development of science in the world, as it has become easy to convert a room in a house into a room equipped with all the means, medical tools, and developed devices with high and modern technologies. If you want to request a neurologist home visit in Masr Elgedida, then Curexmid must be your primary choice because it includes many experts, consultants, and surgeons in all specialties, especially neurology, and because neurology is one of the most difficult specialties, we guarantee you excellent service to diagnose all neurological diseases. Curexmed also provides a home radiology center service to help doctors diagnose most diseases.
When you request the doctor home visit service from Curexmed, our doctors will respond to your request and arrive at your place, wherever it is, as soon as possible.

Do you know why Curexmed is the best home medical center among its competitors?

This is because its medical staff is the best and most skilled in dealing with patients at home; they hold their university degrees from the highest universities in the world, and most of them are master's and Ph.D. holders in many specialties, so be reassured that by requesting Curexmed's neurologist home visit service, your patient is in safe hands that work with credibility and have experience in neurological diseases.

What is Neurology?

Neurology is one of the most important specialties that needs a neurologist home visit in Masr Elgedida and various cities, as the neurologist patient, whatever his diagnosis, needs high-quality medical consideration and attention without continuous transformation to hospitals or private clinics. The neurologist's home visit provides patients with all means of comfort and calm, as well as aids in the prevention of infectious disease transmission, especially for immunocompromised patients.

What is neurosurgery?

Here is some information about neurology and its related diseases:
Neurosurgery is considered one of the most difficult specialties and demands caution and accuracy in dealing with it. It also deals with diagnosing nervous system diseases and their treatment methods, even by medical or surgical intervention. Neurosurgery deals with very critical injuries such as spinal cord and central nervous system injuries, tumors that occur in the brain, slipped cartilage, head injuries, and erosion of the vertebrae of the spine. Dealing with all these medical conditions must be done with accuracy by an experienced surgeon.
Neurosurgeons need from 6 to 7 years plus the university standing years to get their certificate and be specialists. There are neurology subspecialties that a neurologist can specialize in, such as pediatric neurosurgery, spine surgery, neurovascular surgery, nerve tumors, and functional neurosurgery.

Diseases treated by neurologist home visit

Some of the diseases that Curexme's neurologist can deal with and treat are:
● vascular nerves Disorders, such as brain bleeding, strokes, vascular anomalies, aneurysms, and blood clots that may affect the spinal cord, brain, and carotid artery.
● brain disorders such as epilepsy, malformations that occur in the brain at birth and Parkinson's disease.
● infections that occur in the spinal cord, brain, vertebrae, and the fluid that surrounds all these structures.
● Spine-related diseases that lead to back and neck pain, weakness and numbness of the legs or arms, and nerve pressure, and these conditions may be exaggerated.
● inflammation in the joints, fractures, and slipped vertebrae.
● compression of peripheral nerves, which may cause weakness, wasting, numbness, and pain in separate muscles in the body, such as the arm, hand, leg, and facial muscles.
● Any neuroendocrine disorders and pituitary tumors.
● injury to the spinal cord, brain, nerves of the skull, and bones of the spine.
These previous diseases can be treated by a Curexmed neurologist home visit, which includes an excellent selection of neurosurgeons who have extensive experience in this field and have the medical integrity and scientific honesty that any patient is looking for.

One of the most important features of Curexmed Center is that the prices of our services are unbeatable, which is fair for all customers. Compared to other medical centers, we provide the highest quality services at the cheapest prices. In addition to all this, we provide other multidisciplinary services, such as home physical therapy sessions and home lab tests, anywhere at any time.

How long does it take for neurologist home visit to arrive Masr Elgedida?

If you need a neurologist home consultation in Masr Elgedida, then you must choose Curexmed's neurologist home visit service, as we are constantly available to receive customer requests and respond to them through customer service. We are available 24 hours a day throughout the year, even on official holidays.

How much does neurologist home visit service cost?

The prices for Curexmed services are the best, undisputed, and unrivaled, as we have suitable prices for all our customers. Our goal is to help the patient have the best health condition, with principal prices, the center has saved you a lot of money that may be spent in private clinics or hospitals.