private ambulance for parties and conferences service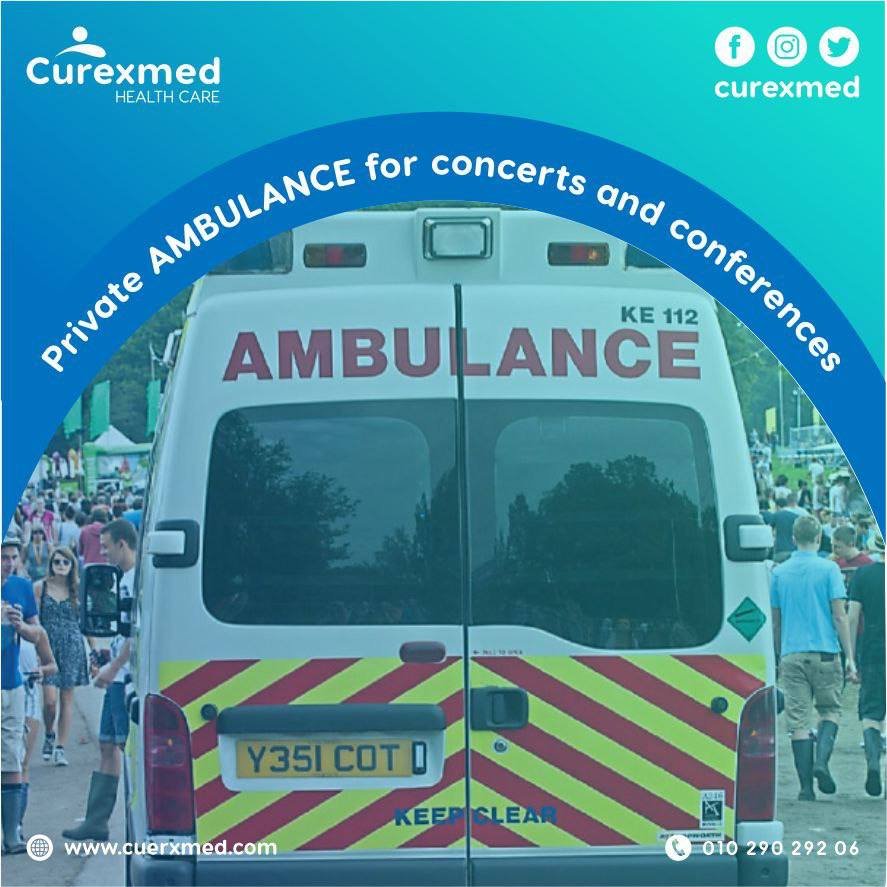 private ambulance for parties and conferences, Curexmed is always with you in all your situations, from critical situations and emergencies to situations where the probability of needing an ambulance is only 1%. Curexmed Center provides a private ambulance for parties and conferences service, as it is one of the best centers responsible for providing the best medical services to all patient categories. The private ambulance service from Curexmed is considered one of the best medical services, provided under the supervision of the most qualified and professional medical staff.
Our main goal at Curexmed is to ensure the comfort and happiness of patients! So by requesting Curexmed's private ambulance for parties and conferences service, you will get fast, safe, advanced, and complete services for guests and residents, as all our ambulances are equipped with various facilities and equipment necessary for medical emergencies when transporting patients, from basic first aid equipment, blood glucose monitor, cardiac resuscitation equipment, to pulmonary and artificial respiration equipment. Curexmed is also proud of having a group of qualified and professional medical staff who work 24 hours a day, 7 days a week to provide unparalleled safe medical services.
Contact Curexmed now to get a private ambulance service for parties and conferences at the lowest prices and as quickly as possible.

Equipped private ambulance

Do you need a reliable private ambulance service to answer your call at the fastest and cheapest rate in Egypt? Are you in a remote location where there are no doctors or hospitals, and do you need to transport an injured patient to the hospital? Curexmed provides you with the best equipped private ambulance, in addition to a medical staff that accompanies the car when needed, consisting of an emergency doctor and paramedics who specialize in first aid and intensive care.
A private ambulance is a car owned by a private and accredited medical center or company that provides first aid and treatment to the patient or injured person and transports them to and from the hospital. The functions of the ambulance can be summarized as caring for the injured or patients in emergencies and transporting them to hospitals and medical clinics.
It is known that ambulances have priority when driving on roads, and the traffic lights do not stop them, the ambulance also activates the lights and alerts to move into the traffic. Curexmed provides equipped ambulances approved by the Egyptian Ministry of Health at the highest level, in the shortest possible time, and at the lowest price in Egypt.

A private ambulance for parties and conferences service is provided by selected paramedics in the presence of an emergency doctor for critical cases. Unlike other unequipped ambulances in many other hospitals. Ambulances do not hesitate to drive to the location of the patient or injured person to provide the necessary procedures, depending on the condition of the injured person or critical patient.

You should call a private ambulance for any of the following reasons:
● Ambulance for accidental injuries and transportation from anywhere to the hospital.
● Transfer cases from hospital to home and vice versa.
● Transfer cases from the airport to home and back.
● Insurance for all concerts and matches in case of injury to one of the participants.
● Transport the deceased to all government departments.
● Transferring intensive care cases from one hospital to another or home and vice versa.
● Transport children from the hospital to home and back again.

Curexmed's private ambulance service

Curexmed's private ambulance service is superior to its governmental counterpart in many ways, which are:
in the speed with which it responds to private ambulance service requests, as the emergency services in Curexmed are distinguished by their rapid response and quick access to the scene of the accident or the requester site to provide the necessary medical care and transfer the patient or injured person immediately.
Privet ambulance service is available 24 hours a day. you can call us at any time and we will come to you as soon as possible.
covering all Egypt governorates, Curexmed's emergency services cover all regions of the governorates of Egypt. Wherever you are, Curexmed's ambulance will take care of you as soon as possible.
The availability of competent medical staff accompanying the privet ambulance, the availability of qualified skills, and trained medical staff, as the paramedics hold a certificate in nursing and are trained to deal with all critical cases.
Non-emergency private ambulance
At Curexmed, we provide you with a special ambulance for non-emergencies, that is, for those who are not in emergencies, such as parties, conferences, or transferring unable patients, and this includes patients who need to move between health centers, homes, airports, and hospitals.
Non-emergency private ambulance service is available for patients who require medical supervision or monitoring during transport but who do not require emergency intervention. Although patients who are seriously ill or in an emergency should call Curexmed's private emergency ambulance numbers, our multidisciplinary team provides the service with the latest equipment needed for the smooth and safe transportation of patients.
Our private ambulances are equipped with the highest standards of patient transport services, including mobile phones, monitors, heart rate correctors, pain relievers, and other medical devices necessary to save lives. Curexmed's services are available 24 hours a day, 7 days a week, by scheduling an appointment with the center.
We provide non-emergency private ambulance service for disabled patients who cannot walk or who require a stretcher or wheelchair. All patient transfers are carried out by strict medical protocols and in compliance with local laws and regulations.

The cost of the private ambulance for parties and conferences service

The cost of the private ambulance for parties and conferences service vary greatly from one place to another, in addition to several other factors, the most important of which are:
the type of ambulance
The ordinary non emergency ambulance is different from Curexmed's private ambulance which has the best equipment for intensive care and transportation of children
The distance
The longer the ambulance travels from the site of the patient or accident to the hospital or healthcare provider, the higher the costs.
The level of the accompanying medical staff
The level of the accompanying medical staff gets higher if the disease or injury requires an intensive care specialist or nurse, and that is different from the costs of an ambulance with paramedics alone, who provide only first aid.
supplies and equipment
Ambulance medical equipment such as ventilators, catheters, and more increases the price of ambulances.
Medicines and medical supplies
Medicines and medical supplies that are used while transporting patients increase the price of the private ambulance service.
Special ambulance to cover events

Special ambulance to cover events

Curexmed Center provides specialized emergency services and a private ambulance to cover events from basic emergency care to advanced emergency care by specialized staff, according to the requirements, quality, and scope of various events in the country, where the Cuerxmed team has the necessary knowledge and experience to meet all requirements, from risk assessment and pre-event planning to appropriate on-site positioning and emergency management.

These services are provided following local medical laws and regulations and with the best emergency protocols used worldwide. The fact that events are prepared for emergencies helps ensure immediate medical care for various injuries and emergencies that may occur, depending on the size of the event and its needs. The level of performance can range from providing an ambulance with paramedics to providing an ambulance with multi-specialty ambulance teams (emergency doctors, advanced paramedics, and paramedics).
In major events such as parties and conferences, Curexmed's ambulance uses advanced integrated control and communication systems, which allow for seamless integration with event planning and management systems, including coordination with other emergency service providers. Private ambulance for parties and conferences service provides fully equipped ambulances with specialized medical staff, portable medical equipment, first aid stations, advanced communication systems and technologies, and logistical support.
Our private ambulance has extensive experience providing emergency care to some of the largest and most important sporting events, concerts, and conventions in the country.
Curexmed Ambulance Center is an authorized provider of emergency services and a trusted partner for a variety of companies.

How much does a private ambulance service cost?

Disease details and distances may affect the cost of the service, but you do not need to worry because all of Curexmed's prices are reasonable.
Developing and providing safe healthcare to patients has been our priority for a long time. That is why we are committed to providing our services with the most modern and highly efficient medical devices to provide optimal comfort and treatment to patients.

When does Curexmed's private ambulance arrive at the desired location?

Curexmed's private ambulance will contact you as soon as possible. Curexmed also offer a variety of other services, including a doctor home visit service, to identify cases of disease and prescribe appropriate treatment for patients. We also offer the option of requesting a private ambulance for contracting and oil companies.