The best cardiologist home visit in Masr Elgedida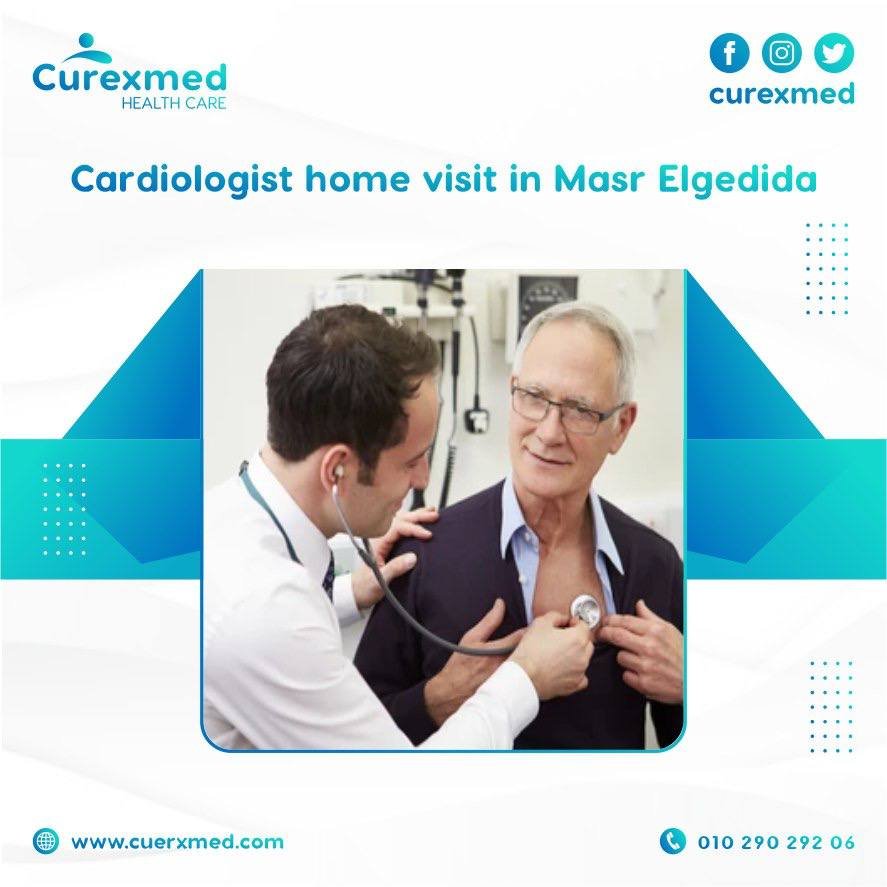 Cardiologist home visit Masr Elgedida, Curexmed cardiologist home visit service is considered one of the most important services provided by us for several reasons, including that the heart diseased patient needs specialized care without any exhausting or carrying him beyond his capacity or ability, so the transportation of the cardiac patient to a hospital or private clinic to receive the medical care may double the patient's pain even if he uses his car. Therefore, the invention of the cardiologist home visit service is one of the best ideas that have been devised to facilitate the examination of heart disease patients and their diagnosis while they are at their homes.
Curexmed provides a large group of doctors in various medical specialties who have been trained to deal with patients and medical devices at home, and one of those specialties is a cardiologist home visit in Masr Elgedida. When obtaining your request for a cardiologist home visit, a group of doctors, consultants, assistants, and nurses will go to your home as soon as possible to save your time and effort, eliminate your stress, and avoid catching any infectious disease that may affect your health. So if you suffer from a constant feeling of tingling or heart pain and sudden tingling, request a cardiologist home visit Masr Elgedida to diagnose your condition as soon as possible.
Curexmed's cardiologist is a doctor who deals with various heart diseases and also detects and examines patients while they are in their homes, without the need to go to hospitals or private clinics. A cardiologist home visit in Masr Elgedida is considered the best service that a patient can receive due to the concentration of attention on one person through the comprehensive examination, the correct diagnosis, the prescription of medicines, the appropriate treatment for the patient's condition, and the follow-up of his condition until it stabilizes.

Cardiologist home visit in Masr Elgedida

The Doctor Home visit service is one of the best services that have been invented, especially for chronic diseases and emergencies. Therefore, if you have a sick person, you must request a doctor home visit in Masr Elgedida to obtain distinguished service, attention, and excellent medical care, especially if it is The company that provides a home examination doctor service is famous, has a good reputation, and has experience in doctor home visit services, which can deal with critical patients who need great and special health care, such as heart disease patients. Heart diseases are one of the most difficult diseases to treat, and any negligence leads to death. So if you are searching for an experienced cardiologist, contact Curexmed to obtain cardiologist home visit service through a selection of doctors and consultants in heart diseases.
The medical staff that comes to you is reinforced with all the latest medical tools and devices that are used during the examination process. It also helps resident nurses take care of the patient by providing him with all means of comfort and health attention that helps him recover faster and assists the patient in obtaining medicines and meals at the right time. Curexmed's cardiologist home visit deals with various heart diseases that affect different ages (old age or children), to help them obtain the best possible health care.

Diseases that the cardiac home visit doctor deals with

Curexmed cardiologists deal with many diseases that if you have any tired patient or have any complications during the night or at any time, you can contact us and request the cardiologist home visit in Masr Elgedida service. Some diseases that the cardiac home visit doctor deals with are:
● Hypertension.
● heart arrest.
● irregular heartbeat.
● Heart attacks.
● Arterial narrowing and hardening.
● Newborns born with congenital heart defects. You can consult a doctor home visit about this.
If you suffer from one of these diseases, you can request a cardiologist home visit in Masr Elgedida service at any time of the day and during the whole week, and a group of cardiologists will come to your home and diagnose you. Some symptoms of cardiac diseases are:
● short breathing or increased heart rate, accompanied by some dizziness.
● chest pain.
● swelling in the feet, hands, or ankles.
● the appearance of strange signs such as spots or rashes.
● Tachycardia or bradycardia or the feeling of laziness.
● coldness in the extremities and numbness in them as well.
● Continuous dry cough.
● The sensation of a flutter in the heart.
● Fatigue and exhaustion from any slightest effort.
You have to call Curexmed at any time if you have these symptoms. Your request will be received as soon as possible, and then the doctors will go to your home with the latest medical devices.
This is what distinguishes Curexmed's cardiologist home visit service, as we can convert the patient's room into a medical room similar to hospital rooms. We also avoid patient communication with others, especially weak immune patients, which makes them vulnerable to receiving any disease and negatively affects the patient's health. Also, one of the benefits of the cardiologist home visit service is that the patient receives great medical attention and care, as the main concern of the medical staff is to help the patient recover faster and assist him in all health-related conditions. Cardiologist home visit service cars patient's psychological condition, and makes him feel reassured and comfortable, that help speed up his recovery

Cardiologist home visit Masr Elgedida

With scientific and technological development, it has become easy to obtain all services while you are at home. It is now easy to obtain medical services by contacting Curexmed, and we will convert your room into a medical hospital room and provide all modern and high-tech medical devices to help the doctor in his work. You will find that we have the most skilled doctors, in addition to the presence of nursing staff, to take care of the patient and provide him with appropriate medical attention.
In addition, we provide high-quality services at the cheapest prices to prevent any obstacle in requesting a doctor home visit service, as Curexmed provides all medical services at the lowest prices that suit everyone, with a selection of many doctors.

How much does a cardiologist home visit service cost?

Prices are the first thing that a person thinks of when seeking to request a specific service, and many people believe that a doctor home visit is expensive service due to the devices and equipment that are provided, but with Curexmed, do not be afraid, as we offer the best prices that suit anyone and distinguished and high-quality service.

What are Curexmed's medical services?

Curexmed Medical Center provides a variety of services. You can request a private ambulance service for emergencies and urgent cases. It provides home lab tests as well as a home radiology center and many other services that make it easier for the doctor to diagnose the patient's health condition.