Otolaryngologist home visit Fifth Settlement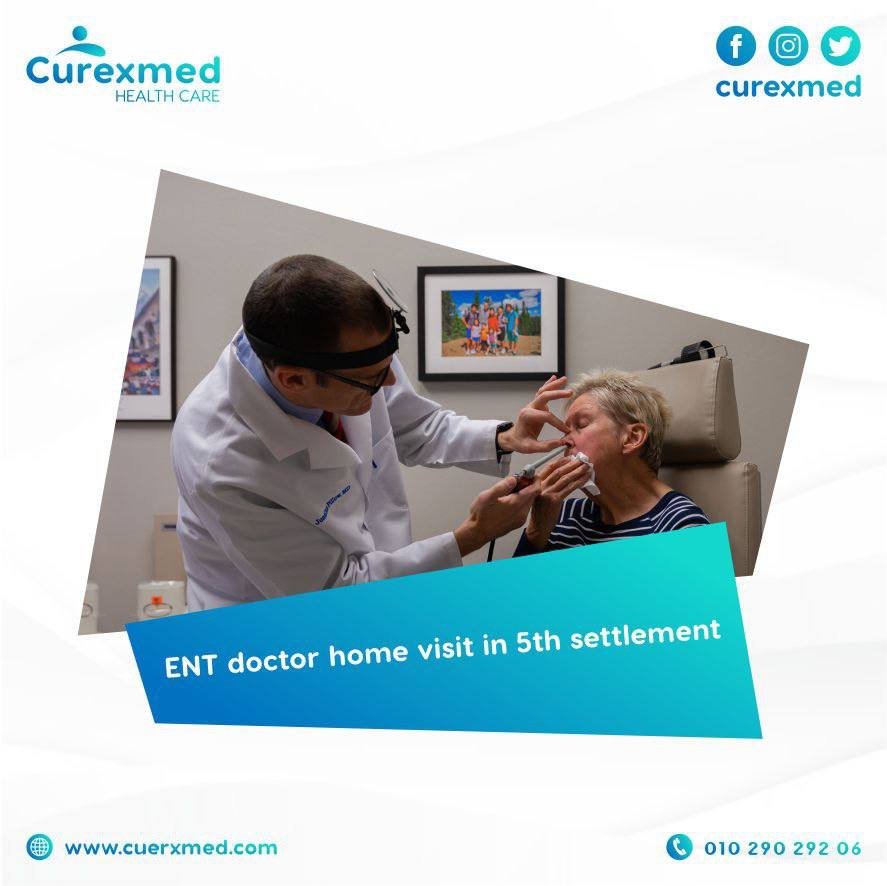 Otolaryngologist home visit Fifth Settlement You can reach an Otolaryngologist easily with Curexmed, If you are looking for an Otolaryngologist home visit in Fifth Settlement, who can come to your home and examine you or one of your family members. Curexmed provides doctor home visit service in otolaryngology and all specialties simply and easily. Otolaryngology is a medical specialty that focuses on examining, diagnosing, and treating Ear, Nose, and Throat, Head and neck diseases.
The ENT doctor home visit specializes in diagnosis and treatment of ear, nose, throat problems, Eustachian tube problems, congenital nasal problems, chronic sinus problems, structural nasal deformities, discomfort inside the mouth, throat, head problems (such as the pharynx and larynx) and congenital anomalies. Our home visit doctors are equipped with the best portable medical tools in the world, so if you want to book an appointment with an ENT home visit doctor in Fifth Settlement, contact Curexmed now.

Why do you need an Otolaryngologist home visit Fifth Settlement service?

It is known that a home examination doctor saves patients a lot of time and effort, as they do not have to go to hospitals or medical centers and wait for several hours to see the doctor and to be able to be examined. Although some centers require previous reservations, and close at specific times, so if you have an emergency in the middle of the night and can't reach any doctors, Curexmed will be your best solution, as we provide ENT doctor home visit Fifth Settlement at competitive prices with suitable discounts. Let us emphasize that the high price of the home services is a wrong idea.
Contact Curexmed, If you suffer from tiredness, fatigue, or sudden nosebleeds, as we will send you a home ENT specialist as soon as possible regardless of your location to reduce any medical complications and reduce the patient's stress by keeping him away from the waiting and noisy clinic environment.

Also, booking an ENT doctor home visit will reduce the burden of patients' transportation and make them feel comfortable at their homes with no need to go to any hospital or clinic.

It also gives an opportunity for doctors to know the full medical history of the patient and his diet, examine the patient calmly regardless of any external factors, prescribe the appropriate diet and medication, and look at all previous medical reports, tests, and medication.
Requesting Curexmed doctor home visit service will make the communication between doctors, nurses, labs, and radiology center easier than the usual clinical examination.

Otolaryngologist home visit Fifth Settlement duties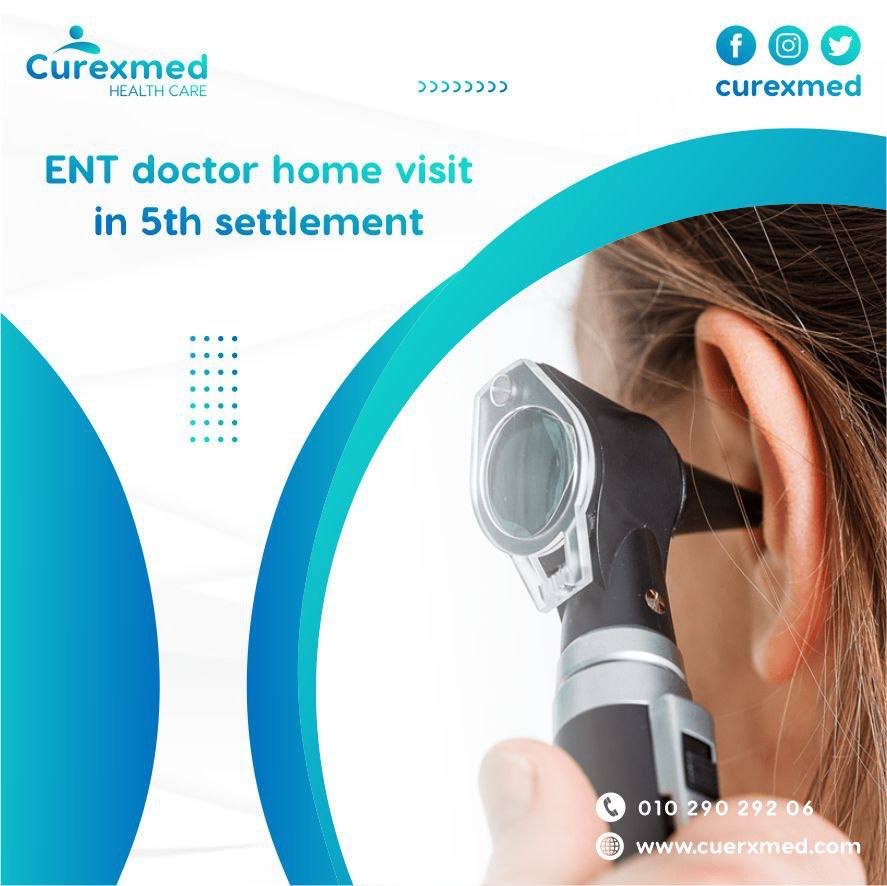 Otolaryngologists treat hearing loss, ear infections, balance problems, and tinnitus or pain. They can also treat congenital ear diseases that accompany a person from birth. Otolaryngologists also treat a wide range of diseases related to the nose, its cavities, and the paranasal sinuses. These disorders may include Shortness of breath, loss of smell, or deformities in appearance.
The ENT home doctor Fifth Settlement treats disorders of the larynx, which impair speech and affect a person's ability to eat, swallow, and digest food and drink, treat head and neck-related diseases, and perform reconstructive and cosmetic surgeries to treat tumors, injuries, and deformities in the head, Neck, and face, which treats the facial nerves that control facial movements and the senses of hearing, smell, and sight.
Other otolaryngology diseases:
● Otorhinolaryngology.
● Neurology.
● allergic hearing.
● Throat diseases.
● Rhinology.
Contact Curexmed, If you are looking for an ENT home doctor, All Curexmed doctors in addition to ENT doctors have been extensively trained, accredited, and professionally equipped to treat your condition with the utmost care and accuracy. Our doctors follow individual procedures to ensure your perfect recovery.
Curexmed offers a wide range of otolaryngology procedures, including hearing and speech therapies, rhinoplasty, otolaryngology, pediatric ENT, ENT surgery, larynx and neck surgery, lymphadenectomy, tonsillectomy, endocrine surgery, moxibustion for relief Nose bleeding.
Our doctors focus on the patient and his care, as well provide comprehensive services to ensure patient recovery. Our efforts are focused on using the latest medical devices, and healthcare facilities to diagnose and treat any medical condition accurately and efficiently.

Curexmed provide a special ambulance requesting in case of an emergency to transfer the patient from his home to any hospital, home physiotherapy sessions to get rid of the pain that you feel, and at home medical analysis laboratory service to perform necessary tests without resorting to going to any laboratories, regardless of whether the patient's condition allows or not.

Diseases treated by home ENT doctor Fifth Settlement

At Cuerxmed, we have a specialized team and qualified doctors with a long history of treating the most complex ENT cases. The following are the most important diseases that can be treated by a home ENT doctor Fifth Settlement:
● Nose and sinuses
We can do endoscopic sinus surgeries, and treat sinusitis, nasal, and paranasal sinus tumors. Rhinoplasty is a Nose surgery to improve nasal breathing through the use of coupling technology (electromagnetic waves).
Treatment of nasal fractures and nasal emergencies, such as severe nosebleeds or entry of a foreign body through the nose, diagnosis, and treatment of all types of allergic rhinitis.
● permission
All tests are used to diagnose and treat hearing loss, tinnitus, and vertigo using high-quality equipment, and all types of ear surgery, including improvement of hearing loss through tympanoplasty.
● Larynx and pharynx
We at Curexmed have all the modern equipment for diagnosing and treating laryngeal problems and conditions, such as vocal cord disorders, voice changes, benign and malignant tumors in the larynx, using flexible microscopy and laryngoscopy technology, in addition to diagnosing and treating snoring and sleep disorders using Conjugation technology (electromagnetic waves).
● Otolaryngology emergencies
We are available 24 hours a day, 7 days a week for all ENT emergencies such as acute nosebleeds, oral bleeding, foreign bodies in the ENT area, nasal fractures, abscesses, and bruises in children.
● Acute or chronic pharyngitis
Acute or chronic pharyngitis is an inflammation of the throat or larynx for a long period of time, which makes the voice loud and hoarse. Pharyngitis can also remain general or only last for a short period of time.
● Upper respiratory infection
Upper respiratory infection is a term that describes a group of conditions that can affect the respiratory system, such as the nose, sinuses, throat, trachea, bronchi, cold, sore throat, sinusitis, tracheitis, and bronchitis.
● Vocal cord cancer
It is a type of vocal cord tumor (squamous cell carcinoma, SCC), as it is located in the upper layer of tissue that covers the vocal cords. It is considered one of the most important diseases that must be treated by an ENT specialist. We at CurexMed Center provide ENT specialists as soon as possible.
● Inner ear hearing loss
Inner ear hearing loss can be a sensorineural hearing loss caused by a defect in the inner ear. If a defect in the middle ear, it can lead to excessive hearing, and if the defect is in the inner ear, it can lead to absolute deafness.
● Sensorineural hearing loss
Sensorineural hearing loss happens due to excessive noise exposure (Noise Induced Hearing Loss). Every day we hear sounds around us, such as TV, radio, appliances, and traffic. These sounds are usually at a safe level that does not damage our hearing, but sounds can be harmful if they are loud.

How can I book an ENT doctor home visit Fifth Settlement?

You can now contact Curexmed to book an appointment with at home doctors through the phone numbers or correspondence on one of the center's social networking sites or on its e-mail, where the response is directly from customer service, as they are constantly available 24 hours a day, seven days a week, and they will book for you at a time that suits you.

When can I contact a home ENT doctor?

You can contact a home ENT doctor at any time you need it. We are available around the clock to serve you, even in emergency situations. Contact us without worrying about reaching you. You can also contact us any day of the week, including holidays.