Urologist home visit in Cairo

Urinary tract diseases are prevalent in today's era, affecting individuals of all ages and genders, including the elderly and children. These diseases can harm vital organs within the body, which can ultimately result in an individual's demise.
For this reason, we offer Urologist home visit in Cairo. Our doctors will come to your home to diagnose and treat urinary tract diseases that have the potential to affect critical organs such as the kidneys and urinary system.
Urinary tract diseases can lead to various health problems, including disruptions in the function of several organs. Some examples of these diseases include prostate cancer, prostate enlargement, urinary tract infections, prostatitis, hemodialysis, peritoneal dialysis, and all kinds of kidney diseases.

The best urologist home visit in Cairo
At Curexmed Center, we provide patients with access to a team of highly qualified urology specialists who are trained to manage all aspects of urologic diseases. Our team of doctors is experienced in offering patients with the best possible treatment options, whether that be through medication or complex surgeries in advanced cases.
Our team of doctors consists of highly skilled professionals with extensive experience in various medical specialties. We offer in-home medical consultations and provide patients with all the necessary treatment and care, without the disturbances and noises commonly associated with hospitals and clinics. The best urologist home visit in Cairo service is available to all locations in Cairo and its surrounding areas with great efficiency and expertise in urology and kidney problems.
Our center is characterized by our commitment to the patient's well-being, from the early stages of treatment to the later stages of disease management. We have a home visit doctor available 24 hours a day, morning and evening, to provide timely care for all of our patients. If you need our services, please contact us at any time, and we will guide you to the nearest doctor to address your urological concerns.
Follow also : The price of physiotherapy sessions at home

Diseases treated by urologist home visit in Cairo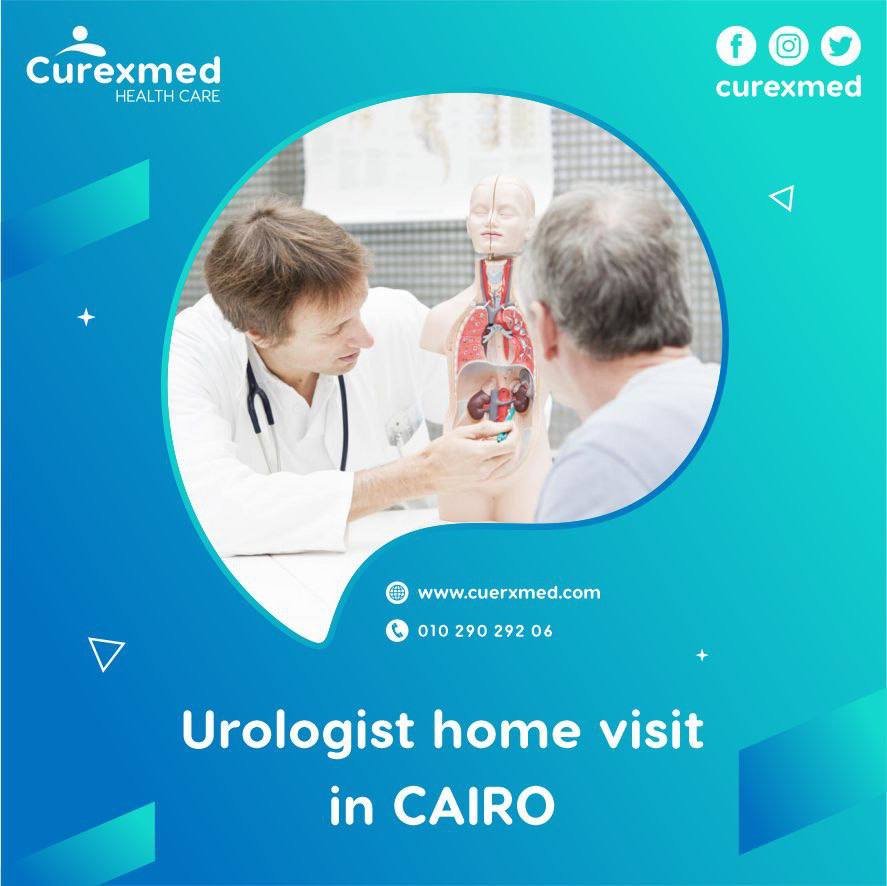 Urologist home visit in Cairo treats various diseases related to the urinary tract that can harm an individual's health and cause dysfunction of this vital organ. Among these diseases are:
Benign Prostatic Hyperplasia (BPH)
BPH is a prevalent disease among men, particularly as they age. If left untreated, it can develop into a more serious condition such as prostate cancer.
Kidney Disease
The human body has two kidneys that are roughly the size of a fist. These organs play a critical role in regulating the blood by filtering out harmful substances and waste products. Kidney disease can lead to disruptions and infections in other organs, and even death if not treated promptly.
There are two types of kidney diseases:
Acute Renal Failure: This condition occurs suddenly, leading to the kidneys being unable to filter toxins, resulting in an imbalance of components in the blood.
Chronic Kidney Disease: This disease occurs over a prolonged period and gradually destroys the kidney's tissues.
Other common issues that can occur with kidneys include the formation of coatings, stones, infections, and even cancer.
Urinary Tract Infections (UTIs)
UTIs are more commonly found in women than men and often start in the lower urinary tract before potentially spreading to the upper tract.
To address these conditions, a urologist may recommend treatments such as peritoneal or hemodialysis to remove toxins from the blood after the kidneys have stopped functioning correctly. For prostate cancer, an enlarged gland can cause pressure on the urine stream, leading to retention or reduced descent, making it crucial to seek treatment.
In Cairo, a home urologist can provide medical supervision and perform necessary operations inside the patient's home with highly skilled medical staff to assist.
Prostatitis
It is a condition that causes inflammation in the prostate and can affect men of any age, although it tends to be more common in men aged 30-50 and older. It is typically caused by a bacterial infection that affects the prostate gland.
Prostate enlargement is a condition that affects men aged 50 and over, but can also occur in around 8% of men in their 30s and 40s. This condition can lead to blockage of the urethra, which can cause issues in the urinary system and kidneys.

Kidney stones
are also treated by urologists in Cairo. They are formed when waste materials in the kidneys accumulate into crystal clusters that can be large or small, causing severe pain and sometimes requiring surgical intervention. Kidney stones can vary in size and color, with some being small and others much larger. Our staff is well-equipped to handle such cases.
Kidney stones can vary in size, ranging from small grains of sand to as large as a golf ball. They can be found in one or both kidneys or in the ureter area. These stones are often composed of calcium and can form due to inflammation of the urinary system, genetic disorders or diseases such as gout, or a lack of hydration or use of certain medications like diuretics.

However, not all kidney stones require surgical intervention or operation. A home visit doctor, specifically a urologist, can specialize in treating these diseases with dedication and assistance to the patient, in order to help them regain their health.
Follow also : Best Echocardiography Examination at home in Egypt
Urologist house call in Cairo

At the Curexmed Center in Cairo, one of the best medical centers, we provide the most experienced doctors and urology specialists who prioritize patient comfort and convenience. Our Urologist house call in Cairo can access the patient's doorstep anywhere in Cairo and the suburbs. We are proud to offer quick and easy booking, regardless of the urgency of the situation.

Our center strives to provide patients with the most comfortable experience possible while offering the best specialists and consultants in urology diseases and services tailored to meet their individual needs and those of their families.
The urology consultant conducts a thorough examination of the patient to determine whether medication or surgery is required to treat the condition. The team of specialists provides tailored treatment plans for a variety of urological conditions, including urinary tract infections, kidney disease, and prostate disease. They also offer continuous monitoring for complex cases that require daily or periodic checkups. All services are provided at an affordable cost throughout Cairo and its surrounding areas. The staff includes doctors with PhDs from various universities, such as Ain Shams University and Mansoura University. The Curexmed Center can be contacted by phone, social media, or email.
Factors Contributing to Urinary Tract Diseases

Urinary tract diseases are prevalent among people of all ages and genders due to neglecting their health and delaying seeking specialized medical attention. Several factors increase the risk of contracting these diseases, including:
Urinary catheterization.
Prostate enlargement in males, which causes incomplete emptying of urine and affects the direction of urine flow.
Difficulty emptying urine completely.
Obstruction of the urethra, such as the presence of kidney stones.
Contraceptive devices in women.
All of these factors can lead to infection and exacerbate the condition. It's essential to seek medical attention immediately if you experience any unusual pain or observe any unfamiliar changes in your body. A home examination doctor specializing in urology in Cairo can provide the necessary treatment and care.

What is the cost of urologist house call in Cairo?

At our center, we provide excellent services to patients and their families, including therapeutic services delivered by our highly skilled and experienced specialists and consultants in urology. We also offer home visit services by a doctor who can come to the patient's doorstep promptly, all at an affordable cost compared to other medical centers.

When can I contact a urologist?

Our home examination office in Cairo is available 24/7, including on official holidays. You can contact us at any time, especially in emergencies that require immediate medical attention. Our center is always ready to serve the patient, regardless of the hour.