Best orthopedic surgeon in Cairo
Patients who suffer from joint or bone pain may be unsure whether they should see a doctor who specializes in bone and joint diseases, or a doctor who specializes in orthopedics, or if they should simply see a physical therapist without consulting a doctor first. In such cases, it is important for the patient to identify the pain and to understand the signals and warning signs that the body produces. The human body is composed of 206 bones, however, children are born with more than 300 bones, which are called cartilage bones. As the child grows, these bones fuse and harden, resulting in the 206 bones that are present in adults.
The bones play an important role in shaping the human body by serving as a structure that supports and protects the organs. They also cover the flesh and skin. Early detection of bone diseases is crucial, which is why orthopedic surgeon home visit in Cairo service have become increasingly popular in recent years. This is particularly true for older patients who may have difficulty traveling to a clinic due to the difficulties caused by their orthopedic conditions. At our clinic, we offer the convenience of requesting a home examination by an orthopedist in Cairo by Curexmed
orthopedic surgeon home visit in Cairo
Our orthopedists not only have years of experience diagnosing and treating orthopedic diseases, but they can also provide a variety of medical interventions to help patients. During the examination, the doctor will listen to your concerns, ask questions, and examine you clinically to make a diagnosis and determine the appropriate treatment method. If additional tests or X-rays are needed, the doctor will make recommendations for the best places to go and can even arrange for a private home visit.
One of the common issues that require a home examination by an orthopedist in Cairo is back pain. Whether it's a burning sensation, stabbing or stabbing pain in the lower back muscles, or pain that extends to the legs, our team can help. Don't let back pain control your life any longer. With an orthopedic home examination, you can find the relief you need and get back to doing the things you love.
Don't wait any longer to take control of your bone-related issues. Schedule Best orthopedic surgeon home visit in Cairo
today and experience the relief you deserve. Our team of skilled and experienced orthopedists are here to help you get back to your best self.
Follow also : Neurologist home visit in Cairo
Orthopedic surgeon house call in Cairo
At our clinic, we are proud to offer a team of the best orthopedic doctors in Cairo. Our doctors have a wealth of experience in diagnosing and treating a wide range of orthopedic conditions. They have a proven track record of success, having helped many patients find relief from their symptoms and get back to their daily activities.
When you visit our clinic, your doctor will take the time to listen to your concerns and understand the problems you are facing. They will use a set of questions to accurately determine the cause of your symptoms, including when you first began experiencing them, the location and severity of the pain, and any steps you have taken to try and alleviate the pain. The doctor will also review your medical history, including previous surgeries or conditions that run in your family, as well as any medications you are currently taking.
With a thorough understanding of your symptoms and medical history, your doctor can make an accurate diagnosis and determine the best course of treatment to help you find relief. Whether it's through medical interventions or a referral for additional testing, you can trust our team of experienced orthopedic doctors to provide the highest level of care.
Additionally, the doctor will determine if further testing or X-rays are required to gain a better understanding of the patient's condition and determine the appropriate treatment method. Once the diagnosis is made, the doctor will clearly communicate their findings to the patient.
If the patient requires diagnostic testing that requires them to visit a facility, the orthopedist will make the process as convenient as possible for the patient. This includes making recommendations for the availability of radiology services, and overseeing the scheduling of private home visits. The goal is to minimize the inconvenience and stress for the patient while ensuring they receive the best possible care.
Best Orthopedic surgeon house call in Cairo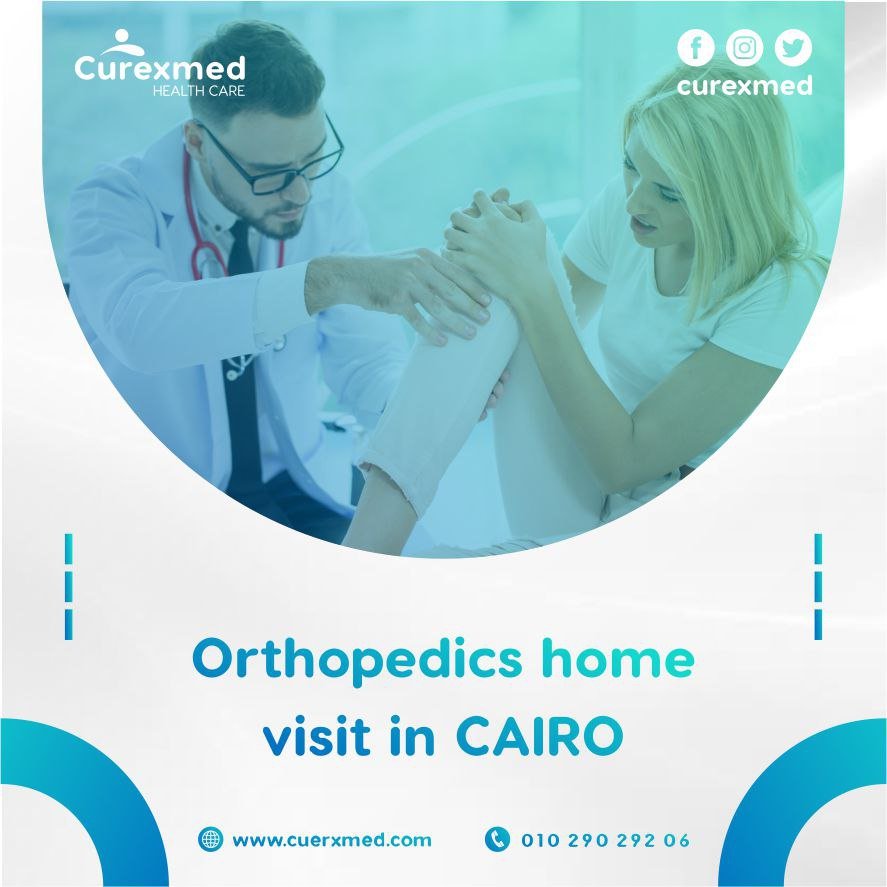 If you are experiencing persistent and debilitating bone pain, it is essential to seek the help of a Orthopedic surgeon house call in Cairo At Center, our orthopedic specialists use the latest techniques and methods to treat a wide range of bone problems. Ignoring bone issues can lead to difficulties with movement and, in more severe cases, can make treatment more challenging.
Our orthopedic home doctor in Cairo is particularly skilled in treating knee cartilage injuries with arthroscopy, which can cause joint swelling and movement difficulties. He also specializes in treating cruciate ligament ruptures, a common knee injury.
In addition to providing treatment for the patient's condition, our orthopedist will also recommend physical therapy to help the patient regain their mobility. He also can treat problems in the ligaments of the joints, such as the hand, shoulder, and knee. The doctor will determine the best treatment plan for the patient, whether it's surgery, physical therapy, or other treatments. In cases of knee problems, surgical knee arthroscopy and laparoscopic anterior and posterior cruciate ligament surgery are the most effective and safest options. Trust the best orthopedic home doctor in Cairo to help you alleviate your bone pain and regain your mobility.
At Curexmed Center, we understand that joint replacement can be a daunting process, that's why we provide specialized joint experts to make the process as smooth as possible and help you regain your mobility. In addition, we also specialize in treating fractures resulting from serious injuries or accidents. Our team of the best orthopedic home doctors in Cairo are equipped to detect bone tumors early and provide the appropriate treatment.
We also place a great emphasis on sports medicine and treating sports-related injuries, as these issues cannot be ignored. They can prevent athletes from practicing their favorite sport and greatly impact their overall lifestyle. We also specialize in hand surgery, including micro-wrist surgery using the latest medical tools.
Follow also : Emergency doctor home visit in Cairo
How to schedule an orpthopedic surgeon home visit in Cairo?

If you're interested in scheduling a home examination with an orthopedic doctor in Cairo, we're here to help. Our customer service representatives are available 24/7 to determine your location and schedule a visit that works for you.
What's the cost of the service?

Rest assured, the cost of the examination is affordable and can be adjusted based on distance traveled and time spent by the doctor.