The best cardiologist home visit Mohandeseen

Heart disease patients often search for the best cardiologist home visit Mohandeseen because they are more susceptible to fatigue than other patients or people. Therefore, the patient or a family member needs to be in contact with a cardiologist home visit so that he can follow up with him periodically.
Nowadays, heart disease has become one of the most common illnesses. As a result, more medical facilities are providing a special service that is regarded as exceptional for patients: a cardoligist home visit. This service assists patients in choosing the best course of treatment, and to obtain the desired service, all you need to do is give our center's customer service a call, regardless of your location—whether it is Mohandeseen or any other area or city within Cairo.
The cardiologist home visit service is one of the most prominent and significant medical services offered by Curexmed's cardiologists. The cardiologist home visit service is unique in that it has been used to treat numerous cases of heart disease, and Curexmed Medical Care Center is the best center that offers these services. Its staff, which consists of the most skilled and knowledgeable doctors in treating patients, whether they have heart disease or not, has helped it gain unheard-of notoriety and spread throughout the community. This is because the doctors have years of experience treating a wide range of diseases, both serious and simple, and have been trained in the appropriate techniques for treating patients.
Curexmed Health Care Center provides the best doctors if you need the best medical team that can handle patients in the right way. They work hard to relieve the patient and his family of the burden of having to transport him to different hospitals, clinics, and centers for follow-up care, examinations, or other procedures. This is because traveling to different locations can be very taxing on the patient's health, especially for heart patients who cannot tolerate any exertion due to the serious consequences to their health. As a result, Curexmed Center has offered the most crucial services to aid the patient, such as decreasing the effort he expends while visiting different hospitals and assisting them in obtaining the medications that are appropriate for his health. Additionally, we have arranged for a cardiologist home visit Mohandeseen who is always available and most willing to visit the patient at home or at one of his locations.
Cardiologist home visit Mohandeseen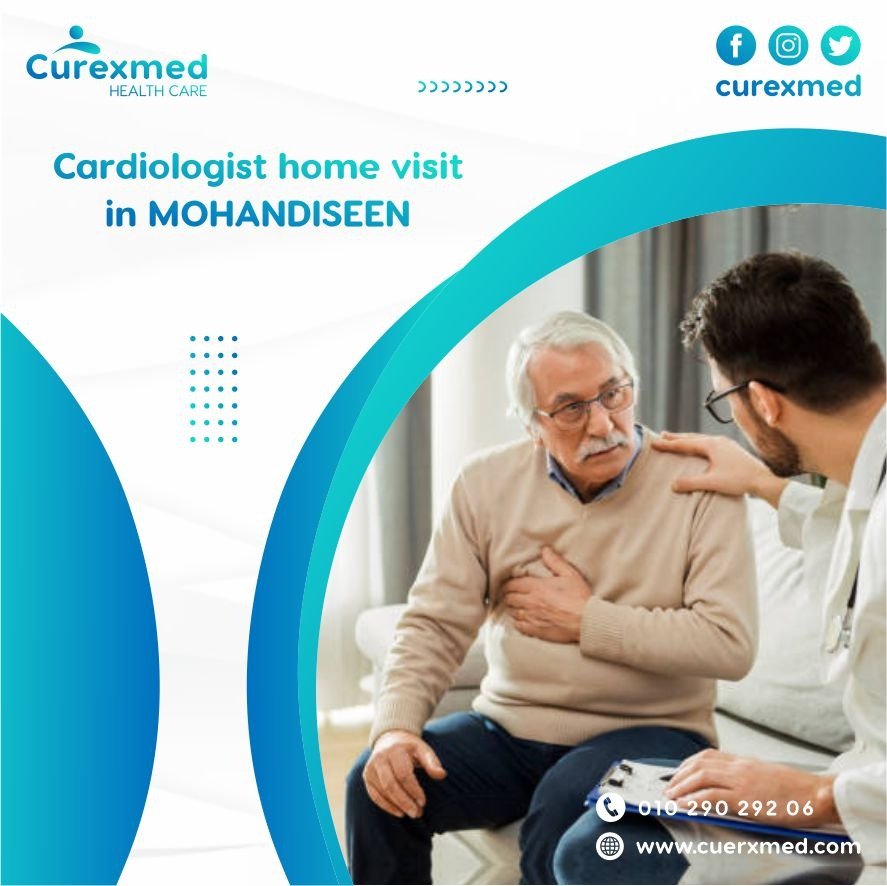 A cardiology home visit Mohandeseen service from Curexmed Medical Care Center is one of the most significant services a patient can get. This is due to a number of factors that we will discuss with you in this article, and it is the reason that many patients, whether they have heart problems or suffer from other diseases, seek out doctors for periodic home examinations.
Periodic examinations help protect patients from risks and emergency situations. As a result, we offer our patients a unique service that makes their lives easier and eliminates the need for hospital stays, analysis, or x-ray lab visits. Curexmed Medical Care Center has both a home medical analysis laboratory and a home x-ray center. Through these services, a lab technician will come to your home with the equipment required to withdraw the sample for analysis for the at-home analysis service, and a radiology technician will come to your home with the equipment needed to scan you, so the patient will not need to visit radiology centers for exams.
Read also: Cardiologist home visit Zamalek
Cardiologist home visit Mohandeseen service

Are you looking for the greatest medical services available, along with a highly regarded group of doctors with broad knowledge and experience in all medical specialties? We strive to provide our clients with more than just the best care possible at the Curexmed Medical Center, which is among the best centers for patient care, regardless of the patient's condition—heart patient or not.

The financial aspect is one of the things that many clients worry about, which causes them to exhaust themselves and their patients. They may be afraid of the costs associated with seeing a cardiologist or having a cardiologist home visit Mohandessen. As a result, through our center, we have worked to provide all services that help the patient and do not negatively impact their financial situation by offering our services at the lowest costs, best quality, and highest accuracy.
At Curexmed, we make it simple for our patients to get the medical care and services they require by employing a team of doctors, nurses, and cutting-edge medical devices and equipment that are necessary for the patient's examination or diagnosis. All of this and more can be obtained by requesting the cardiologist home visit Mohandeseen service. In order to give the patient a unique and healthy environment, we prepare a room just for him and isolate it from the rest of the house. This allows the patient to recover more quickly and effectively, and it also ensures that all medical staff members are fully equipped to provide medical care, adhere to the patient's medication schedule, and perform their assigned duties.
Curexmed Cardiologist home visit Mohandeseen

Medical services are regarded as some of the services that require accredited and registered facilities with a high degree of honesty and trust because their medical staff works with human life. This is especially true when discussing heart patients, who are among the most in need of doctors with a high degree of experience, honesty, and compassion in the scientific process, as well as a high degree of humanity. Dealing with Curexmed Center for Medical and Health Care will provide you with all of this because the doctors there treat patients of all ages with the utmost humanity, compassion, and honesty. They also have a great deal of knowledge, credibility, and experience. Therefore, contacting Curexmed Center is the best choice if you need a cardiologist home visit Mohandeseen.
Everyone, including students, workers, and patients, goes home to relax and recover from the day's events. As a result, setting up a medical environment in the patient's home is thought to be very beneficial for the patient's health and psychology. In addition to providing the patient with the necessary medications, it will be a good idea to choose a licensed, certified facility that has a wealth of experience in creating a medical environment for the heart patient inside his home and in a room furnished with the best tools and devices that the patient may require during his illness. All of this helps the patient recover better and faster, and all attention is focused solely on the patient. This is the reason for selecting Curexmed's cardiologist home visit Mohandeseen service; they provide a specialized service focused on the needs of the patient and trying their best to satisfy them.
Curexmed's cardiologist home visit Mohandeseen

Curexmed aims to provide heart patients with the best care by providing them with the most qualified doctors who understand how to handle each case with its own set of symptoms and conditions that affect them at home. All of that and more is available from the Curexmed Care Center's medical staff. Therefore, you can now get in touch with our center to support a heart patient through our cardiologist home visit Mohandeseen service if you want the best care, the best quality, and doctors who have great abilities, such as knowledge, professionalism, and experience.
You should get in touch with one of the health or medical care centers right away if you experience tremors, heart failure, a fast or slow heartbeat, or both. Curexmed's cardiologist home visit Mohandeseen, can diagnose your condition, explain the recommended course of treatment, and prescribe medication. Furthermore, Curexmed's cardiologist will refer the patient to Curexmed's cardiac surgeon in the event that the condition calls for major care or surgical intervention. All of this is available with high quality and great care from Curexmed's best doctors in Egypt and even the entire Arab world.
No matter how simple or complicated the case, the highly qualified medical staff at Curexmed Center has the experience and training to handle it all. When a patient's condition is simple, the treating physician prescribes treatments. If the patient's condition is serious, prompt diagnosis and treatment can help save the patient's life.
Tasks of Curexmed's cardiologist home visit

When a doctor conducts a home examination, they perform certain medical procedures as well as other duties that other doctors in hospitals and other healthcare facilities do not. We will learn more about these tasks as we continue reading this article, and this will be the answer to the question of what tasks Curexmed's cardiologist home visit performs in order to help the patient. These tasks are summarized as follows:
● In order to determine what symptoms the patient is claiming to have, the doctor performs a thorough examination of him. He also asks him a number of questions to make sure he does not have any other conditions that could harm his heart muscle, such as: Do you have any other conditions like diabetes or high blood pressure? Additionally, all of the aforementioned parameters are measured using the center's equipment, including thermometers, blood pressure, and blood glucose levels, to confirm every detail about the patient's health.
● Curexmed's doctors are highly skilled in identifying any disease that a patient might be unaware of. With this ability, they can determine whether the patient has any other illnesses, so they can diagnose him, provide a course of treatment, and send him to a physician who specializes in treating his condition.
● Through genetic testing, the doctor determines whether any family members have a genetic predisposition to this disease. Based on the answers to these tests, the doctor can help him avoid drugs or other treatments that might exacerbate his condition.
● The physician speaks to the patient's relatives to inform them of the patient's health status, how best to care for him, and what triggers the symptoms of his illness.
● The patient is also made aware of the healthy routines he needs to follow, like taking his medications on time and eating the proper foods that will aid in a quicker and more complete recovery. The doctor also prescribes certain vitamins to the patient and suggests exercise to strengthen the heart muscle.
● Being an attentive listener is one of the most important skills for a doctor home visit, particularly when dealing with young patients or the elderly. He must also be patient in order to properly diagnose them.
● One of the particular duties of Curexmed's doctors is to maintain regular and ongoing contact with the patient, either by phone or by means of frequent in-person visits performed by the patient's doctor and a nurse, until the patient reaches a state of recovery.
All of the above are the tasks and duties that Curexmed's cardiologist home visit Mohandessen do with patients to help them recover.

Symptoms that require a cardiologist home visit

Certain symptoms require a cardiologist home visit right away in order to diagnose and treat these conditions and determine whether the patient is suffering from fatigue or a heart disease. And you should be aware of some symptoms. If you encounter any of these, you should call Curexmed right away to identify them:
● You should get in touch with a cardiologist home visit if your fever is persistent.
● if you experience dyspnea or shortness of breath during eating.
● You are always feeling dizzy and unstable.
● persistent itching for a long time.
● continuous exposure to fainting.
● if you experience both cold and numbness in your extremities.
● Feeling pain in the chest area.
● sensations such as feeling the heartbeat quickening or slowing down.
● Heart flutter.
● Simple tasks and exertion leave you feeling exhausted and fatigued.
● hands, feet, and ankles swollen.
● Strange spots or rashes appear on the person's body.
These are all conditions and symptoms. If you or someone else experiences any of them, get in touch with a doctor right away to schedule a home examination so that the doctor can see the patient there, check him over, and determine what disease he has.
The nearest cardiologist home visit Mohandeseen

Are you looking for the nearest center that offers the nearest cardiologist home visit Mohandeseen? We have the solution you need because our center has multiple branches. Even if there are not any Curexmed Center branches in your area, all you have to do is get in touch with one of our representatives to request the service you need, and you will get an integrated medical staff that is fully qualified and ready to go directly to your home as soon as you submit your service request. This is a result of our staff getting trained in handling hazardous and emergency situations to which they may be exposed.
If you are looking for the best place to get comprehensive medical care for a patient, the Curexmed Medical Care Center is the best option because it has the best doctors who have great experience performing their work to perfection. We are considered the closest to many areas, and we also have a medical staff that is fully prepared to come to the patients' doorsteps in order to examine them with the best equipment and the most modern medical devices that have high technology to help diagnose the patient's condition.
If you experience any of the symptoms that we have listed in the previous lines and you need a doctor to come see you right away, whether you live with a relative or not, you can only get in touch with us by dialing one of the numbers that are displayed in front of you. You will discover that the medical team that is ready to examine you is about to show up in front of your house shortly.
Cardiologist home visit Mohandeseen service prices

A lot of people believe that prices are inflated when seeking at home medical services because they view prices as a crucial factor. This perception stems from the fact that many clinics and medical centers charge inflated fees and costs to provide patients with the services they want. In light of this, we at Curexmed Medical Center consider saving the patient and his family by ensuring that costs are affordable for all.
For the lowest rates and expenses, as well as the opportunity to receive a discount, anyone can contact a cardiologist home visit Mohandeseen.
Curexmed Medical Center is one of the facilities that aims to lower the cost of its services in order to assist patients and their families. Consequently, you should never hesitate to ask the center for help. Contact Curexmed Center to receive the best examination or diagnosis by using the best devices and tools, along with the highest quality services at the best prices.
What is a doctor home visit?

We have observed that a wide range of individuals, regardless of age, are curious about the definition of a doctor home visit. The first answer will clarify what is meant by "doctor home visit." This type of doctor comes to the patient, particularly those who are unable to move or who cannot visit a hospital or medical clinic. They are fully equipped and ready to treat a wide range of illnesses and offer exceptional care. This is a critical issue for patients suffering from a range of illnesses, regardless of whether the physician practices independently or through a medical center associated with him.
If you have a heart problem and would like to receive a cardiologist home visit service Mohandessen, please contact Curexmed Medical Center. Heart patients are immunocompromised individuals who cannot travel and communicate with other patients or people in public or private clinics and hospitals because they are easily exposed to infection or illness from other people. Whether you are in Mohandessen or live anywhere in Cairo, we can guarantee our immediate availability, competitive pricing, and exceptional cardiologist home visit. Now, all you need to do is get in touch with us as soon as possible to request this service if you have any conditions or diseases, heart-related or not. Curexmed is home to numerous physicians with a variety of specialties.
How to book an appointment with a cardiologist home visit?

There are numerous ways to contact a cardiologist home visit Mohandeseen to make an appointment with one of the doctors since Curexmed has set up a number of customer service representatives to handle any calls or messages that they may get from clients or their families. As a result, if you want to schedule a home examination with the best doctors at Curexmed Health Care Center, you can now call one of the numbers listed.
Curexmed Medical and Health Care team works hard to provide our patients with the best care possible, starting with initial contact with the customer service team, which answers all inquiries from clients promptly, particularly in emergency situations. In addition to the best medical staff the center has offered for patients and their families, what sets us apart from other centers is the best staff we have on hand to respond to all of your communications and address any questions or inquiries you may have.
How do I request a cardiologist home visit?

Now, you can easily get in touch with Curexmed Medical Care Center to get the best cardiologist service for a home examination. With them, you can receive superior service that is tailored to your needs through ongoing, routine follow-up performed by the medical staff. Consequently, the ability to contact the center is regarded as one of the simplest things to do because, by using the numbers provided, you can obtain what you need by making a request to a customer representative, who will get back to you and answer any questions you may have. Contact Curexmed at these numbers if you have any questions about the costs associated with the service you are requesting or if you would like to schedule a cardiologist home visit service.
Is there a cardiologist who can come to my home?

The answer is yes, as you can now easily request a cardoligist home visit with expertise in heart diseases by getting in touch with Curexmed. A cardiologist home visit will visit the patient at home to diagnose and check for any heart-related complaints.