A home visit doctor for ear, nose, and throat disease in Cairo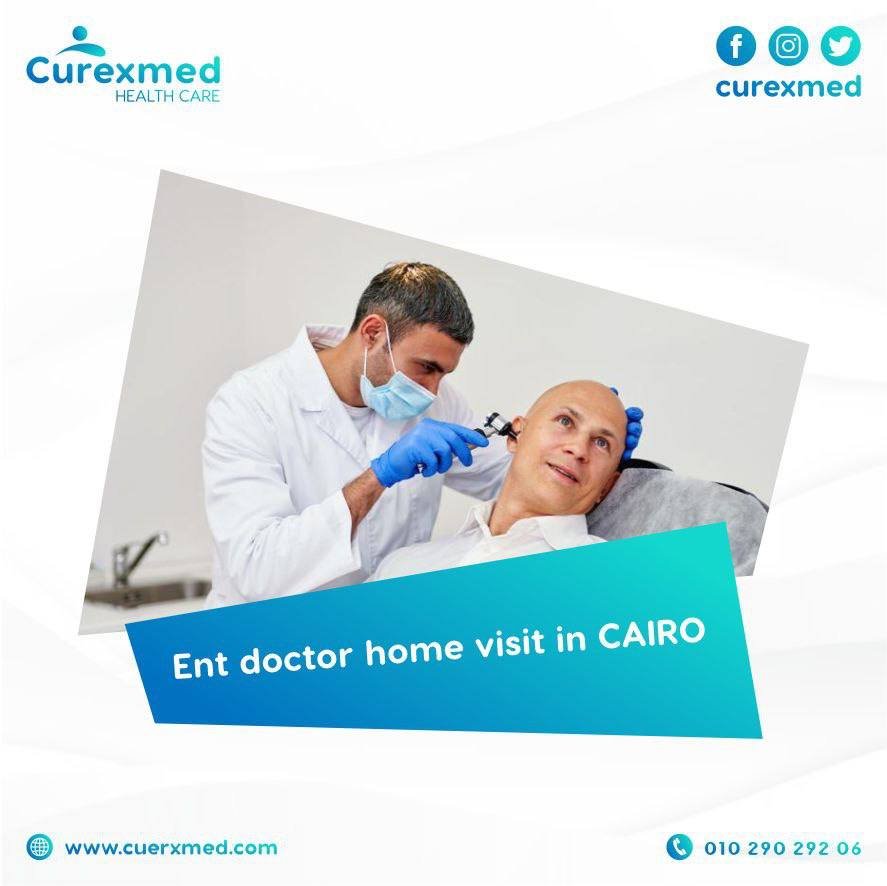 ENT doctor for a home visit in Cairo is a doctor who specializes in treating diseases and disorders of the throat, nose, ear, and related organs. He can also provide medical and surgical care. An otolaryngologist can also perform many types of operations on the delicate and complex tissues of the head and neck.

ENT doctors can diagnose and treat diseases of the ear, nose, sinuses, mouth, and throat, as well as the head and neck.

several reasons make patients want to take an appointment with an ENT doctor, Which include hearing problems, ear infections, or nasal congestion, but when the person suffers from severe pain that he can't tolerate, which makes some people request a home examination from a specialist in ENT in Cairo, who comes to the patient's home to examine him and diagnose his symptoms as soon as possible, and provide good management for his condition.

But some people face concerns about doctors who come to the house thinking that they are incompetent, but through the Curexmed Center we provide you with a perfect ENT physician in Cairo, you can trust him to diagnose the patient's condition.
The best home examination and treatment in Cairo for ENT diseases

Now you are here, and you are reading those words because you have symptoms related to the ear, throat, or nose. or have a patient and you want to communicate with an ENT physician in Cairo to take his advice and management. the doctor can come to your home to treat the patient, and now congratulations to you because you are now in the right place with the Curexmed Center, the largest medical center in the Arab Republic of Egypt, which provides patients and clients with a set of capabilities that help diagnose and treat diseases, thanks to God, and then with the efforts of our teams , including doctors, nurses, and medical tools.
In the beginning, we talk about our team that has the best doctors in different specialties, and you must know that all of them are professionals in their field, and each physician has at least 5 years of experience in his specialty, which make them manage all diseases without fear.

Curexmed has doctors, specialists, consultants, and nurses in all medical specialties, and we also provide a home visit with a perfect doctor who can come to your home at any time you need, instead of waiting for a long time in a doctor's clinic and many time may pass and after waiting, may something happens that makes you unable to meet your physician, so we provide you a good doctor that can visit you at your home to ease your life.
The second point that we want to clarify is the prices. There are some, if not all, people who think that the physician who visit home requires a lot of money and that the medical home service is very costly, but that's not true, at least when we talk about Curexmed. We know that many centers take advantage of the patient situation and provide the service overpriced. but this never happens with us because we give you a set of discounts and different price offers, and we also appreciate the patient's condition and the financial conditions of him and his family, which encourage us to offer special discounts of up to 20% on all services that we provide in Curexmed healthcare center.
the third point that we want to clarify is the Appointment. it is one of the most important points that distinguish us from competitors. We Commit to the appointments that are provided to the client, whatever the circumstances. We never miss a deadline because it's one of the most important things in our goals and an important strategy in our work.

In this way, we respect the patient. If the customer contacts us, we set an appointment that suits him and us, and we adhere to this appointment. We also provide immediate service when contacting us in emergency cases, and we reach out to you as soon as possible.
Follow also : The Best Home Radiology Center in Cairo
Nose, ear, and throat diseases

Through the Curexmed Center, we work to display all diseases that belong to the field of otolaryngology, for which you can seek the help of a home visit doctor specializing in nose and ear in Cairo, to diagnose and treat them by prescribing appropriate drugs for each case. Below are the most important diseases that require the presence of a home physician.
Allergic rhinitis
It is an inflammation of the mucous membranes of the nose, and it occurs when one of the substances that the patient is allergic to (irritants) is inhaled. Within minutes of inhaling these substances, many symptoms can disrupt your lifestyle, (sleep, work, and focus) and this happens Because of the response of the immune system to some irritants, and the symptoms are similar to the symptoms of influenza, but they disappear when the irritant is gone.
several causes Can cause allergic rhinitis, the most important of which is: the genetic factor, when a family member is affected, the incidence of allergies increases.
Pollen and grains are the main causes of allergic rhinitis, when they are in the air and hot and dry climates and when the wind blows, and during the pollination season for some plants, allergic rhinitis increases, in contrast to humidity and cold and rainy weather when the symptoms decrease.
The symptoms vary from person to person and from one region to another, and allergens in the environment, such as pet dander, dust, mold, and certain types of smoke or odors.
And there is a group of symptoms such as (sneezing, coughing, itching (eyes, nose, mouth, throat, and skin), runny nose, stuffy nose, puffiness under the eyes, headache, sore throat, watery eyes, red or swollen).
Acute or chronic pharyngitis:
It is the development of inflammation in the throat or larynx area for a long period, causing a high voice and hoarseness, and pharyngitis in general can continue or last for a short period.
Upper respiratory infection
Who did not suffer from diseases of the upper respiratory tract? This is a group of common diseases with very high annual economic costs. Upper respiratory tract infection is a general term that describes a group of diseases that can affect the respiratory system, including the nose, sinuses, larynx, pharynx, trachea, major bronchi, colds, and pharyngitis. Throat, sinusitis, tracheobronchitis.
Vocal cord cancer
It is a type of vocal cord tumor (squamous cell carcinoma, SCC), found in the upper layer of tissue that covers the vocal cords, and it is one of the most important diseases that requires a doctor who comes home, and we, through the Curexmed Center, provide you with this service as soon as possible.
Hearing loss in the inner ear
Due to noise exposure (Noise Induced Hearing Loss) NIHL Every day we hear sounds in our environment, such as TV, radio, appliances, and traffic. These sounds are usually at a safe level that does not harm our hearing, but sounds can be harmful if they are loud.
Throat diseases
The laryngeal disease is called the vocal cord because it is in the front of the neck and supports the vocal cords, which are responsible for producing sound and swallowing. However, many diseases can affect the larynx, from laryngitis and other diseases that need continuous follow-up through A home examination doctor, nose and ear, in Cairo, can come to your home at any time without having to wait for a long time in the clinics.
Acoustic neurofibromatosis
It is a benign tumor that arises in the auditory nerve, the eighth cranial nerve. The tumor is located in the corner between the cerebellum and the pons and forms part of the brainstem in the back of the skull. This tumor also grows slowly until it eventually appears in its large form.
pharyngitis
Pharyngitis and tonsillitis cause many cases of the disease, both in childhood and adulthood. In the case of bacterial infection, this disease is rare in children under two years of age.
Periadenitis
Periadenitis is defined as inflammation of the tissues surrounding the gland or degenerative inflammation of the mucosa (recurrent necrotizing para-adenoiditis) or (Sutton's disease).
When should I request a doctor?

if the patient is a child, a doctor should be requested for a home visit immediately, when a child makes loud sounds and breathing noises during inhalation, has difficulty swallowing, appears tired, anxious, or irritable, or breathes faster than usual(tachypnea ), or if he has cyanosis in his mouth, nose, or fingertips, but if the patient is an old person, he can request a doctor in the event of any unusual symptoms.
When can I contact a home doctor for an ear and nose examination?

at any time of the day or during the week, including holidays especially if it is an emergency so that the physician can examine the patient at his home and refer him to the hospital if he needs to and supervise him personally if necessary.
How do I book an ear, nose, and throat appointment?

You can now contact the Curexmed Center. The customer service team will respond to you to set an appointment that suits you and tell you the prices of each service for the home visit.
If you suffer from ENT diseases, we provide you with the best medical care you need for ear, nose and throat diseases wherever your location is in Cairo.