Home Nursing North Coast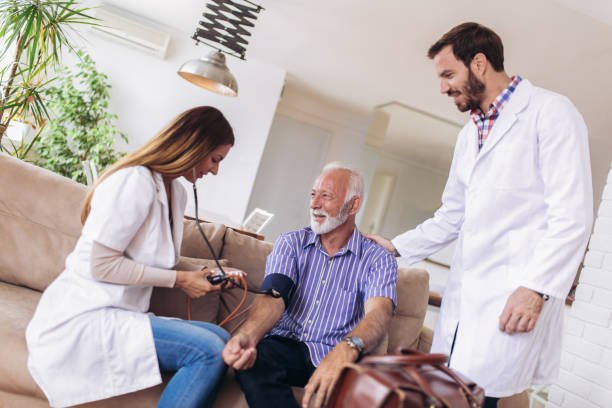 Perhaps your biggest concern wherever you go, even during your summer vacation is the availability of excellent medical services, so we provide you now Home Nursing North Coast from curexmed.
Curexmed is considered one of the best medical care services providing companies in Egypt, as our motto is accessibility and satisfaction of all our customers in all regions of Egypt. Now our services are available and spreadly in the North Coast.
Home Nursing North Coast
Dealing with a non-affiliated nursing staff member with a reliable home nursing office is a completely wrong decision because you will deal with an unknown person who may not be trustworthy or may not have the skill and knowledge necessary to care for your patient.
Curexmed always strives to customers reassurances, by training and appointing the most skilled nursing at home staff, to provide the best 24 hour nursing care services, which include:
At-home doctor visits.
elderly at home caring.
after surgery, and wound care Home nursing.
Urinary catheter and cannula insertion.
Home Physiotherapy
Labs At Home Service.
Home radiology services.
At-home vaccination services.
Providing private ambulances, and all of the nursing services that you might need.
Home Nursing North Coast from Curexmed
Curexmed provides distinguished and the most efficient senior nursing care individuals who are trained and highly experienced in dealing with all disease cases, and the latest medical devices, under the supervision of a group of specialized doctors.
Benefits of private nursing care at home service from Curexmed
Nursing care at home saves money and effort on the patient transferring from home to
hour nursing care at home costs less than hospital nursing care.
The presence of the patient at home among his relatives reassures and comforts him because he is surrounded by those he loves, away from the hospital environment.
Follow up on the patients' diet and medication.
Home nursing staff are in coordination with the treating doctor, make a special program for each diseased case, and provide appropriate services which are related to the patient's needs and conditions
check breathing, temperatures, heart rate, and blood pressure to keep the patient's state stable.
Types of nursing at home services
At home nursing near me services are divided into three types in terms of the length of treatment:
● Long-term home nursing services: Long-term home nursing services reach 12-24 hours and include health, nutritional and
personal care for patients, such as installing oxygen ventilators, caring for the disabled
and the elderly, installing catheters, and taking care of bedsores
● Short term home nursing services:
Duration of Short term home nursing services is from 1-4 hours or limited periods, this
service is often immediately after surgery and injuries.
Also, it includes some mini-services, which include: giving injections at home, taking
vaccinations, taking care of wounds and injuries at home, doing an EKG at home.
● Resident home nursing services:
Resident home nursing services are available to the disabled and the elderly, these
services include taking care of all the daily activities of patients, and providing them with
all health services.
Curexmed always strives to provide all medical services perfectly, it provides at-home doctor
examination, radiology at home, vaccinations at home, and Ambulance Service In Egypt
Reservation to reach patients as soon as possible.
Nursing care at home cost in the North Coast
There are now many home nursing companies and offices throughout the country, which
provide all medical services to their clients, by providing home nurses and doctors to treat
patients in their homes through short visits, or long or short.
The duration of the service deal is long visits over 24 hours.
Factors that affect the home nursing services cost in Egypt
● The health status of the patient.
● The number of hours required for the service.
● Geographical location.
● The type of care whether it is permanent is sometimes accompanied by special offers.
● special needs or criteria for the service.
With this cost, nursing home services are still up to 50% cheaper than hospitals.
Now you know the most important features of home nursing North Coast and all branches of
Curexmed Home Nursing Services, so you will not think long before making a decision.
If you are looking for integrated home care, all you have to do is contact us and book now