Internal medicine physician home visit Fifth settlement
An internist offering home examination services in the Fifth Settlement is a doctor who specializes in diagnosing internal diseases affecting various systems of the human body. They perform clinical exams, analyze test results and conduct necessary scans to identify the type of disease and provide appropriate treatment. The doctor's presence at the patient's home allows for a comfortable examination experience.
Internal diseases are a prevalent issue affecting individuals of all ages, genders, and walks of life. The specialty of internal medicine encompasses a broad range of body systems, from the mouth to the anus. Due to the widespread nature of these diseases, many patients, including the elderly and bedridden, are unable to visit a doctor. Hence, the availability of Internal medicine physician home visit Fifth settlement offers these patients medical care without leaving their homes.
You can request Internal medicine physician home visit Fifth settlement through Curexmed. These doctors specialize in diagnosing and identifying internal diseases affecting various internal organs, including digestive diseases, lung diseases, liver diseases, kidney diseases, heart diseases, diabetes, and more. By diagnosing these diseases, the doctor works to prevent their progression and spread.
Follow also : The Best Pulmonologist home visit in Fifth Settlement
The best Internal medicine physician home visit Fifth settlement
Internal medicine is a medical specialty that focuses on complete patient examinations and management of chronic diseases in individuals of all ages. The internists are also responsible for monitoring and managing conditions such as diabetes and high blood pressure, which can have serious consequences if left untreated.
If you suffer from an internal disease, we recommend seeking the services of the best home examination doctor in the Fifth Settlement who specializes in internal medicine. This way, you can receive medical care from the comfort of your home without having to wait in a clinic. The doctor will come to you, wherever you are located in the Fifth Settlement.
Internal medicine doctors come in two types: those who specialize in general internal medicine and those who specialize in a specific organ. Regardless of their specialization, these doctors play a critical role in diagnosing and treating complex cases of chronic internal diseases. If you're experiencing severe pain or have a chronic internal illness, contact Curexmed Center. Their team of highly skilled doctors will recommend and send you the best home visit doctor specialized in internal medicine.
Having a home visit doctor saves time and effort for patients who would otherwise need to visit a clinic and wait in line for hours. This is especially important for patients who cannot leave their home due to severe pain or mobility issues. A home examination by an internist in the Fifth Settlement allows patients to receive a comfortable and thorough examination. The doctor can listen carefully to the patient's concerns without the distractions and discomfort of a clinical setting.
Follow also : The best Neurologist home visit in Fifth Settlement
Diseases treated by internal medicine physician home visit Fifth settlement
The best internist, home examination in the Fifth Settlement, treats a variety of diseases including:
Asthma: a chronic condition that affects the airways and makes them sensitive to allergens and inflammation.
Pneumonia: an inflammation caused by bacteria and viruses that occurs when the immune system is weakened by influenza.
Acute respiratory infections: infections that affect both the upper respiratory tract (sinuses, nose, ear, and throat) and the lower respiratory tract (lungs and trachea).
Osteoporosis: a condition characterized by decreased bone density and increased risk of fractures due to thinning bones.
Bronchitis: a viral infection in the respiratory system commonly caused by smoking.
Migraine: a severe headache accompanied by feelings of nausea and vomiting, sensitivity to light and sound.
Severe Chest Pain: If you experience sharp chest pain along with pain in your upper left arm, sweating, difficulty breathing, or nausea, it's essential to seek immediate medical attention as this could indicate a heart attack. Additionally, gallbladder disease, bronchitis, and angina pectoris may also cause severe chest pain.
Hypothyroidism: The thyroid gland regulates energy within the body by secreting hormones. A deficiency of thyroid hormones results in symptoms such as dry skin and hair, weight gain, forgetfulness, and fatigue.
Hyperthyroidism: An overactive thyroid gland leads to symptoms like a rapid heartbeat, weight loss, and tiredness.
Diabetes: A chronic disease characterized by high blood sugar levels, caused by insulin resistance, low insulin levels, or a combination of both.
High Blood Pressure: This refers to elevated pressure levels in the blood, which can be serious and lead to heart attacks, strokes, and kidney disease.
Fatigue: Low energy levels can be caused by depression, hypothyroidism, anemia, or other factors.
High Triglycerides and Cholesterol: These are fatty disorders where the blood carries an excessive amount of fatty substances, increasing the risk of heart attacks or strokes.
Branches for internal medicine house call fifth settlements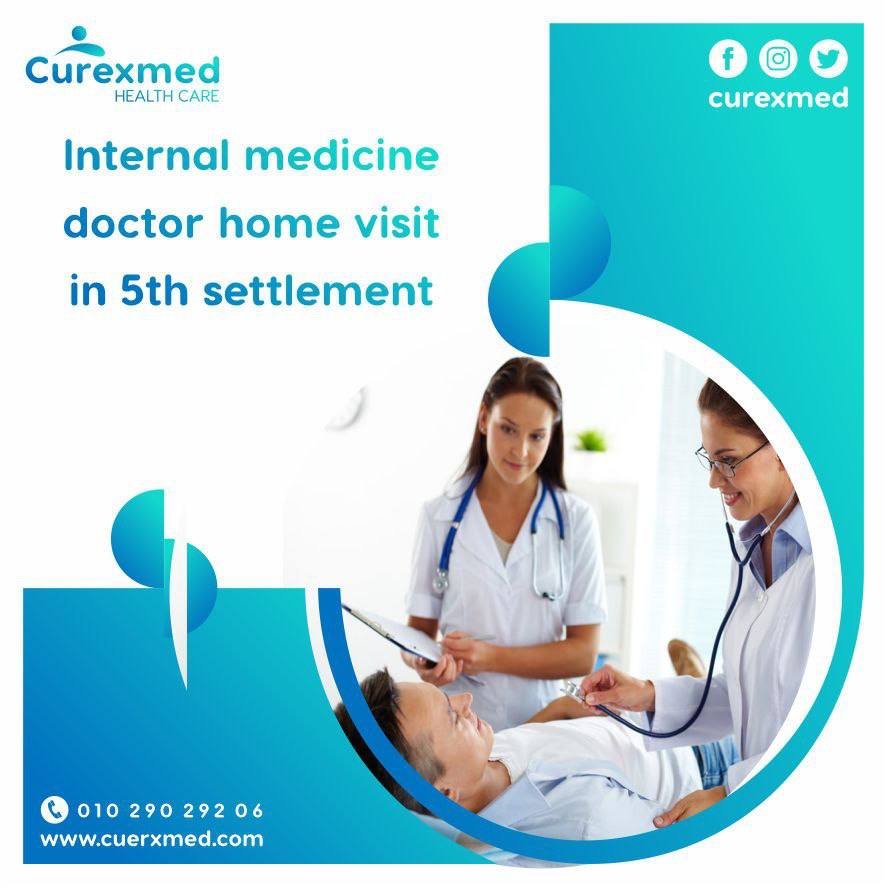 In addition, internal medicine encompasses several other specialties that the internal medicine physician can treat, including:
Geriatrics: This specialization focuses on diagnosing and treating diseases affecting the elderly population.
Cardiology: This specialty deals with diagnosing and treating all heart-related diseases.
Gastroenterology: This specialization studies and diagnoses diseases affecting the digestive system.
Endocrinology: This specialty deals with treating diabetes, obesity, and osteoporosis.
Nephrology: This specialization focuses on the study, diagnosis, and treatment of kidney diseases.
Oncology: This specialty deals with the study of tumors, including their causes, location, and treatment methods.
Need an Internal medicine physician home visit Fifth settlement?
If you are looking for top-notch internal medicine specialists in Fifth Settlement, then the Curexmed Center is the place for you. Our center boasts of a team of the best doctors in various specialties, including heart, brain, nerves, and others. We have some of the best internal medicine doctors in Egypt, and you can even request a home visit from one of our specialists. We understand the urgency of medical needs and strive to provide our services at all times, including during emergencies and holidays, all at an affordable cost.
What Causes Internal Diseases in Humans?
There are various factors that lead to internal diseases in humans, including infections caused by viruses or bacteria, especially in children with weak immune systems. Some common infections that lead to internal diseases include sore throat, otitis media, shortness of breath, cough, and others.
When Should I Contact an Internal Medicine Specialist?
If you experience severe pain at any time, it's best to reach out to a home visit doctor for internal diseases. Our specialists are available 24/7 and even during holidays and official holidays.
How to Book an Internal Medicine Specialist for a House call in Fifth Settlement?
If you wish to book a home examination with an internal medicine specialist in Fifth Settlement, you can easily do so by contacting our center or sending a message through one of our communication channels. Additionally, customer service will help you schedule an appointment with an internal medicine specialist at a time that is convenient for you. They will also be available to answer any questions you may have and provide any information you need. Contacting the Curexmed Center is the easiest way to book an appointment for a home examination with an internist in the Fifth Settlement.