Private Ambulance Car Number
Private Ambulance Number, A private ambulance service is something we might find ourselves needing in times of emergency, where an immediate response is required at our location to transport a patient to the hospital. Sudden illness can strike a loved one or family member, escalating quickly and necessitating the presence of a dedicated ambulance for prompt medical attention and to ensure the patient's safety. At Curexmed Center, we provide you with a private ambulance service that's always ready to serve and reach you at any time, day or night. Our ambulances are equipped to the highest standard and contain all the necessary medical supplies for any patient condition, so rest assured that we are always with you and will reach you immediately.
You can now get in touch with our private ambulance service, and we will arrive promptly after locating you. With Curexmed, you and your family's safety is assured.
Private Ambulance Vehicle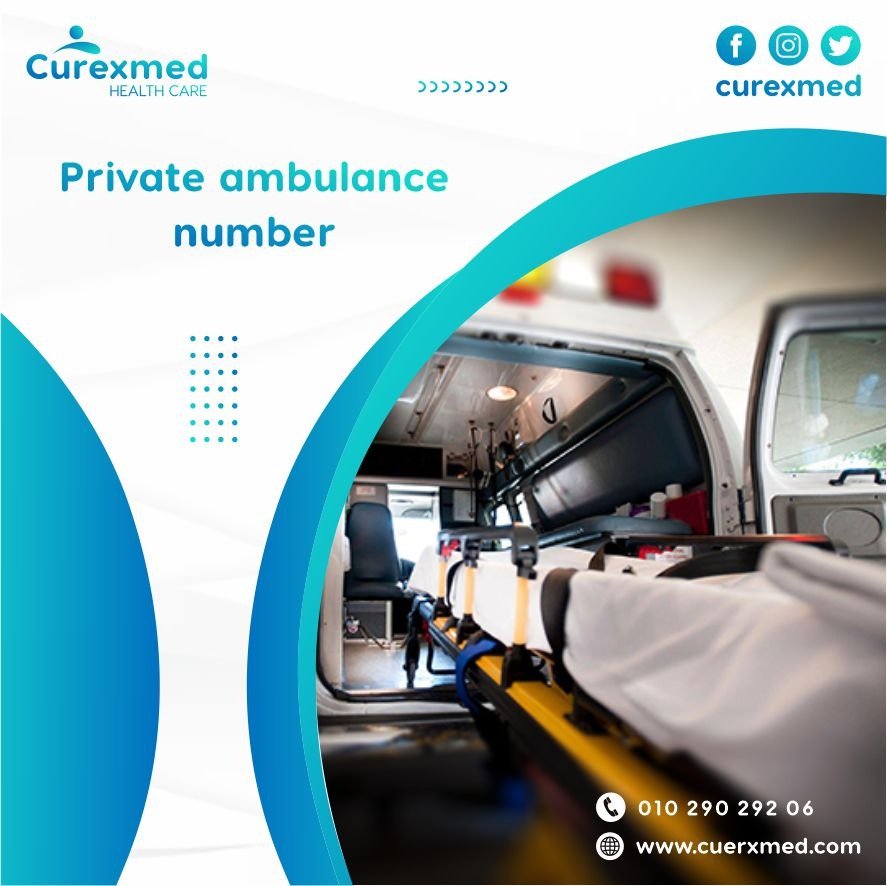 A private ambulance, also known as a dedicated emergency vehicle, is a certified private car that provides first aid and treatment to the sick or injured and transports them to and from the hospital and home. The core mission of an ambulance is to offer emergency medical care to the injured or ill and to transport them to health facilities like hospitals and clinics.
It's well-known that ambulances have priority on the roads, not when stopping at traffic signals but when in motion, as they activate lights and sound warnings with sirens to navigate through traffic smoothly.
Regarding the benefits of requesting the ambulance service from Curexmed, their emergency services stand out from government counterparts in several ways:
Their emergency medical care is distinguished by rapid response times and swift arrival at the scene or the requester's location to provide necessary medical treatment and immediate patient transport.
Curexmed's private ambulances are available 24 hours a day, 7 days a week. You can reach out at any time and expect the quickest possible response.
The emergency services cover all regions of the Arab Republic of Egypt, ensuring that no matter where you are, an ambulance will be dispatched to you promptly.
The medical crew accompanying the vehicle is highly efficient, consisting of qualified and trained medical staff, with paramedics certified in nursing and trained for all critical conditions.
For a private ambulance request to transport a patient:
You can now easily and quickly make a request through Curexmed's center by using the phone number available on their website. It's best to have the following information ready to help the medical call receiver assist you as quickly as possible:
Your name and the phone number you wish to be contacted on.
Your location or the incident's place as accurately as possible (neighborhood name, street, building, any distinctive address landmarks, etc., so the ambulance can reach you swiftly).
The condition, number, and approximate age of the injured or sick.
The nature of the incident or the type of injury/illness, as much as possible.
Curexmed's ambulance is essentially a mobile hospital, thanks to its comprehensive team that treats all conditions and injuries. The essential ambulance equipment includes:
A private patient compartment, accommodating two paramedics and two patients on stretchers.
Devices for the protection of staff and patients in dangerous situations, rescue operations, safety assurance, comfort, and to prevent patient condition deterioration or loss of life.
A wheeled stretcher with a secure and foldable design allowing paramedics to carry patients up stairs.
Oropharyngeal airways for adults and children of all sizes.
Mobile and fixed extraction equipment.
Oxygen inhalation devices.
Equipment and tools for stabilizing fractures, bandaging wounds, performing simple surgical procedures, and sterile catheterization devices.
Read also: private ambulance for parties and conferences
Private Ambulance Numbers
Many people in Egypt may need private ambulance numbers or a private ambulance service, as accidents are common throughout life and often happen suddenly and without warning. Most of these incidents may require specialized intervention to treat these emergencies. For some, these accidents can also occur in places that may be difficult to reach or may take a long time to get to. Therefore, providing ambulances to transfer patients from Egypt (private ambulance) was extremely important to assist patients and provide them with the necessary service.
The service of requesting a private ambulance from the private ambulance in Egypt is a service that allows the transfer of patients from their homes to doctor appointments at hospitals or clinics. We offer our services through an excellent medical team of doctors, nurses, and paramedics 24 hours a day, seven days a week in all areas of Cairo, Giza, and Alexandria governorates. You can also call the doctor to come to the house at any time of the week for a quick response.
The private ambulance emergency services in Egypt respond quickly and move to the scene of the accident or to the service requester's location, so we can provide you with the necessary medical care very quickly. You can request the private ambulance number at any time. Our services are available 24 hours a day, 7 days a week.
Comprehensive Insurance Coverage: The private ambulance service in Egypt covers all areas of Cairo and Giza governorates. Do not hesitate to ask for private ambulance numbers in Egypt at any time.
Private Ambulance Telephone
You can now contact our center's private ambulance telephone if you have any of the following situations:
Essentially, there are two types of situations that require an ambulance:
Firstly, critical emergency cases
In emergencies or critical situations, it's necessary to provide an ambulance as soon as possible, because it can be a matter of life and death. The most important of these cases are serious traffic accidents, heart problems, bone injuries, serious injuries, respiratory issues, fire incidents, neurological shocks, home births, care for newborns, and death at the scene.
Secondly, non-emergency cases
Non-emergency situations that involve the need for an ambulance include difficulties in transporting the patient from home or the hospital without a vehicle equipped for this purpose. The most common cases are the transport of patients who cannot move from the hospital to their homes, radiography, tests, treatments, or medical follow-ups for individuals who are immobile. Transfer between hospitals and medical centers for radiography and medical analysis at the hospital where the patient is located, and ambulance appointments for people who cannot move. Transportation between hospitals, both within and outside the province, for people who cannot move.
Private Ambulance Company

If you need to make contact with a private ambulance company to provide a fully equipped ambulance with all the different medical devices needed by the patient, we are here beside you to help you get all the services you need with special discounts up to 20%.
Ambulance prices for emergency service vary significantly from one place to another, in addition to several other factors, the most important of which are:
The type of ambulance, as a regular ambulance differs from one that contains the best equipment for intensive care and transporting children.
The longer the distance the ambulance travels, from the location of the patient or the injured to the medical facility or medical service provider, the higher the costs.
The number of medical personnel accompanying a specialist or intensive care provider due to illness or injury is more expensive than the number of paramedics providing only first aid.
Ambulance equipment increases the prices of ambulances equipped with medical equipment, such as ventilators, catheters, other devices, medications, and medical care.
The price increases when medications and medical supplies are used during the transfer of patients.
Is there a private ambulance available?

Yes, indeed, you can now get a private ambulance through the Curexmed center. This ambulance is equipped with all the necessary first aid and various devices that must be present in the case of transporting a patient or any critical case to a hospital. It also has all the modern emergency devices to save patients as quickly as possible.
How do I request a private ambulance?

You can now contact the private ambulance number of the Curexmed center where you will be immediately answered, your geographic location will be identified, and then the private ambulance will be sent to you immediately without delay, knowing that the ambulance will be equipped with all the necessary medical tools.