best ENT doctor home visit in Egypt [2022]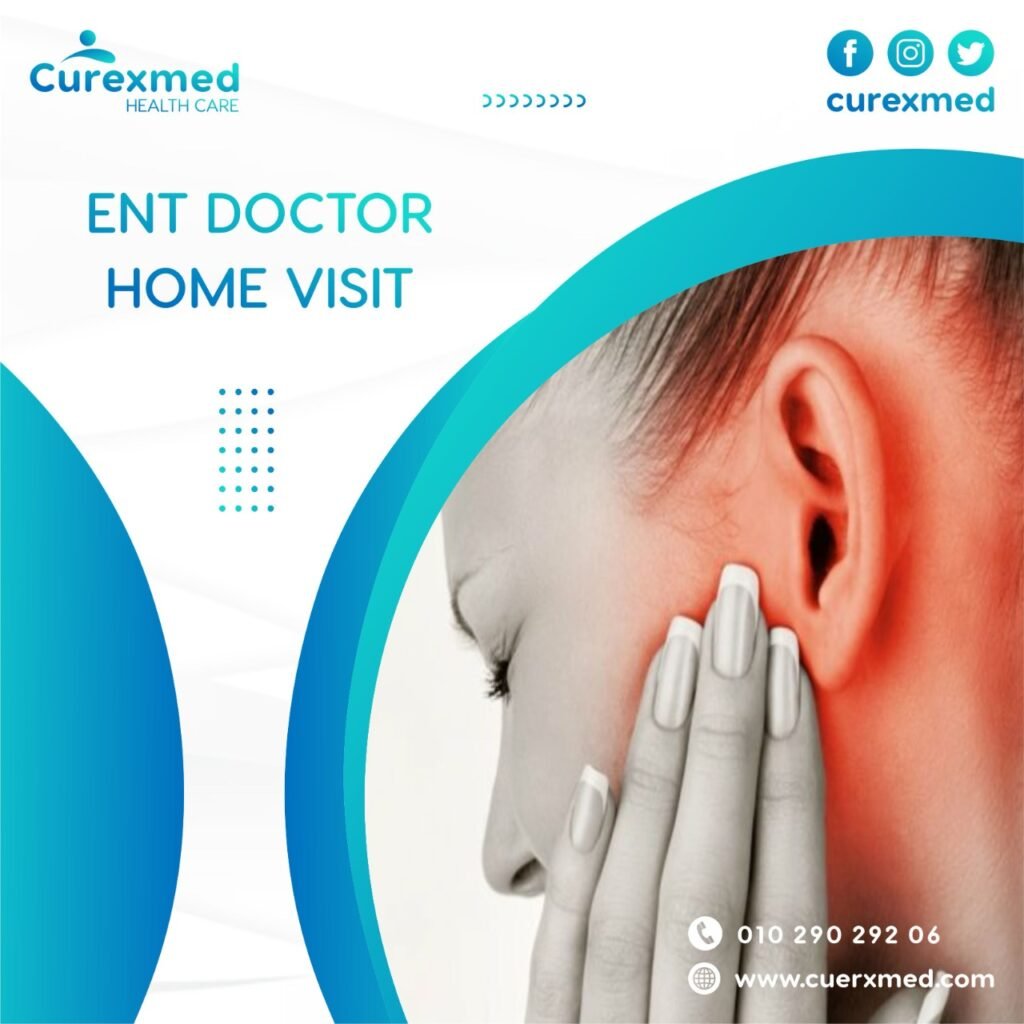 If you were suffering from problems in ear, nose or throat, and also from related regions in head and neck, Curexmed provides the medical service of Otolaryngologist home visit. In this article, you'll know more about the answers of these questions:
What can ENT doctor treat?
What is the relation between ear, Nose & throat?
How much ENT doctor home visit cost?
How to Book ENT doctor home visit?
If you had medical conditions in ear, nose or throat, do not hesitate calling Curexmed team, we'll send you the most talented Otolaryngologists for home visit.
Ear nose and throat doctor visit home
We have ear, nose and throat specialty (ENT) because these structures are related with each other with passages and tubes. For this reason, Ear nose and throat doctor treats all these regions simultaneously.
Curexmed provides the service of otolaryngologist home visit. We send our most talented ENT specialists to your home in Egypt, to diagnose your conditions and treat your condition.
ENT conditions are very annoying, some of them might trouble the patient's balance, or make him suffer from a terrible headache. All these conditions make reaching out for a doctor in hospital and clinics very difficult. Curexmed provides the solution, with its otolaryngologist home visit.
ENT doctor near me for home visit
Curexmed service of ear, nose and throat doctor, comes in a series of top medical services we provide for our patients. We have home visit doctors in many other fields such as cardiology, vascular surgery, ophthalmology, dermatology and urology, and other services where you can find in our website.
ENT doctor will provide the necessary care for you in your house, diagnose the conditions that affect the ear, nose, thorat and paranasal sinuses.
After taking medical history, the ENT specialist that Curexmed will send you will examine your ear, nose and throat with the latest medical tools, to reach to the diagnosis, the ENT doctor will afterwards begin your treatment and give you medical advices for prevention in future.
ENT doctor near me visit home
Curexmed is proud to organize sending the best ENT doctor for home visit, ENT doctor will diagnose and treat these conditions.
Ear conditions such as otitis external and media, hearing loss and losing balance.
Nasal conditions such as allergies, nasal sinuses and nasal adenoids.
Throat conditions such as tonsillitis, difficulty in swallowing, speech problems.
Difficulty in sleeping, snoring and obstructive sleep apnea.
Different infections and tumors in head and neck.
otolaryngologist home visit near me
Curexmed saved you time and effort, wherever you live in Egypt, we can arrange an appointment with ear nose throat doctor near you for a home visit, and the doctor will examine your condition and provide the treatments.
Ear nose throat doctor can be specialized in several other conditions.
Seasonal allergy.
Nasal and para nasal sinusitis.
Loss of hearing and tinnitus.
ENT conditions in pediatrics and children.
Hoarseness of voice.
Best ENT specialist in Dokki for home visit
Curexmed is cooperating with the best ENT specialist in Dokki for home visit, we organize an appointment with the doctor in your home in Dokki or any other location in Egypt.
The search for the ENT specialist in Dokkicould be difficult, especially with an annoying ENT condition, weather and traffic. Curexmed takes care of all that for you, we send the ENT specialist to your home, and we also provide diagnostic and investigatory services from home.
Pediatric otolaryngologist home visit
Pediatric age group could have ear, nose and throat conditions just like the adults. Some of these conditions are recurrent, such as the inflammation in ear, hearing loss tonsils and the adenoid related symptoms in nasal cavity.
Children need special care, that's why Curexmed provides Pediatric ear nose throat specialist, to visit your home, diagnose and treat your child ENT condition.
Best otolaryngologist home visit near me
Patients sometimes have medical conditions that need urgent medical care, such as loss of balance which makes your movement limited, and the allergies and inflammations that hinder the patient's normal activity, Curexmed provides Best ENT doctor near you.
The service of Best ENT doctor home visit is useful from several aspects:
Doctor near me is no longer important! We send the doctor to your home!
Our doctors are specialists with long standing experience.
The doctor arrives to your home with newest medical and diagnostic tools.
The doctor diagnoses the condition from home without the need to go out.
The doctor prescribe the treatments from home.
FAQ?
How to book the best ENT doctor for home visit?
For booking the best ENT doctor for home visit, you can call Curexmed team and tell them about your condition and address. We'll send you the best ENT doctor for your home, we will also tell you about the approximate time for doctor arrival.
What's the relation between ear, nose and throat?
The nose and mouth are connected to the throat with a mutual passage, middle ear connects to the nasal part of pharynx by Eustachian tube, that's why diseases can manifest everywhere. The doctor that treat these conditions is ENT doctor.
How much ENT doctor home visit cost?
In Curexmed, we hope that you will recover as soon as possible. We try to make this happen in every way, and one of the ways is to make our cost suitable for everyone.
The cost of each appointment is different according to geographic location, the condition of the patient, its complexities and what it'll require from investigations to treatments. You can contact with Curexmed team from the number in the website.
How fast ENT doctor will reach to me?
There's no exact time to the arrival of ENT doctor to your home. In Curexmed we try to send you the ENT doctor as fast as possible, but the time arrival is different according to your geographic location and the status of traffic that day.
You can contact Curexmed team, and after obtaining the necessary information, we can give you the approximate time of the arrival of your ENT doctor to your home.
Can an ENT doctor treat children?
We'll try to send you a pediatric ENT specialist to your home when you contact us and tell us more about your patient age group. The ENT doctor will be totally ready for treating pediatric ENT conditions.
Can the treatment of ENT doctor occur from home?
Some medical conditions can be completely treated by ENT specialist from home. It's of no different whether the diagnosis and treatment was made in hospital or home. But there are several conditions that will need to be treated in sophisticated centers.
The ENT specialist will decide the best mode of treatment, you're welcome to discuss the treatment options available.