The best cardiologist home visit Sheikh Zayed

The best cardiologist home visit Sheikh Zayed is needed by Sheikh Zayed residents patients who are unable to travel to a medical facility for a physical examination due to extreme exhaustion or illness, sudden heart attacks, or other reasons.
The heart is the most important organ in the body; if it stops working, a person will die; if an issue develops, it will weaken the heart muscle and put it at risk, which will lead to heart disease. If you want to stop this from happening to you or a member of your family, you must have periodic medical exams to make sure that your heart is healthy. According to this point of view, there are many medical facilities that provide patients with excellent medical care and have a staff of doctors who have a high level of expertise, academic credentials, and practical experience in various specialties to provide patients with the proper diagnosis and efficient treatment options. Curexmed Center is one of these distinguished centers where you can request a cardiologist home visit Sheikh Zayed service.
Cardiologist home visit Sheikh Zayed

If you are constantly tired and do not know why, you can request the cardiologist home visit Sheikh Zayed service to get examined and ensure that your heart muscles are working properly. The cardoligist will also identify the factors that contributed to your fatigue, give you instructions on how to avoid the recurrence of symptoms and reduce their severity, and prescribe medications.

The cardiologist home visit service is the best choice for patients who have heart disease, experience extreme exhaustion and shortness of breath, are unsure how to treat it, and are unable to visit a cardiologist in a hospital or clinic. Consequently, they require a doctor with advanced medical training who can accurately diagnose the patient's condition.
Read also: Cardiologist home visit Faisal
Home visit cardiologist in Sheikh Zayed

Since you suffer from heart disease, you should seek out a renowned cardiologist in your area who has the necessary training to properly examine you and offer the best course of action. In connection with this, Curexmed will provide you with a cardiologist home visit Sheikh Zayed to save you the time and effort of looking for a doctor who meets the criteria mentioned earlier. Furthermore, because we understand how much pain there is when trying to go to hospitals, Curexmed decided to provide you with the service through our center, which is equipped with advanced medical equipment that assists the doctor in the medical examination.
People frequently require a cardiologist home visit but do not know where to search or how to find one who is knowledgeable in his field, offers helpful advice to his patient, is affordable, prescribes the patient the medication that is actually appropriate for his condition so that nothing adverse happens to the patient, and prevents complications that may negatively affect his health, which is obviously not what anyone wants. And to obtain this doctor, who has all of the benefits mentioned, you must request a Curexmed cardiologist home visit Sheikh Zayed.

Cardiologist for home visit

To request a cardiologist with the highest level of medical expertise in diagnosing and treating heart patients as well as offering a variety of medical consultations, contact Curexmed Center and ask for the Cardiologist for home visit service.

Heart disease is a chronic and serious condition that affects a person for the rest of his life. In order to prevent this condition, a person must take good care of themselves and minimize feelings of distress and excessive nervousness, which are two of the main factors contributing to heart disease and a significant weakening of their muscles. Additionally, avoiding ingesting foods and beverages that are bad for one's health and increase one's risk of contracting various diseases is essential. Moreover, you must regularly have medical exams to monitor your health status in order to prevent this disease. This helps identify any potential health issues early on.
Any patient with a disease needs a specialist physician who is knowledgeable about the disease they have and has the training and experience necessary to accurately examine and diagnose them. Therefore, the patient keeps looking everywhere to find this doctor. There is no need to be concerned now that there are medical centers, particularly Curexmed HealthCare Center, that provide you with doctors who are skilled in their field. Furthermore, you will discover that Cerexmed charges lower fees than other medical centers for requesting a cardiacologist for home visit.

A cardiologist comes home

If your mother is experiencing shortness of breath and extreme fatigue, and she already has chronic diseases such as high blood pressure or diabetes, you must contact a cardiologist comes home as soon as possible to save her life before her health deteriorates further. Even if the cardiologist examines her and finds no problems with her health, you will not lose anything because you will know that your mother does not have heart disease, which is good. As a result of this diagnosis, the cardiologist will refer your mother to another medical professional who specializes in her condition and can make a more accurate diagnosis and recommend the best course of action.
Many families require a doctor to come to their home because their elders suffer from diseases and are unable to go to one of the city's hospitals They also do not know a skilled doctor for examination, so they search extensively for one of the centers that provide this service until they communicate with the center that is distinguished by quality in service provision. And Curexmed Center, which works to provide various medical services, is one of the most important of these centers. Additionally, Curexmed works to provide some of services that the hospital offers to patients, such as physical therapy sessions. Curexmed services are not limited to serving a cardiologist alone; they also include doctors from all medical specialties. A private ambulance with the newest technology is also available from Curexmed in case something happens and you need to call for an ambulance. Moreover, Curexmed has a radiology center and a laboratory, and all of these services are offered so that patients can receive comprehensive care at home.
Symptoms that require a cardiologist home visit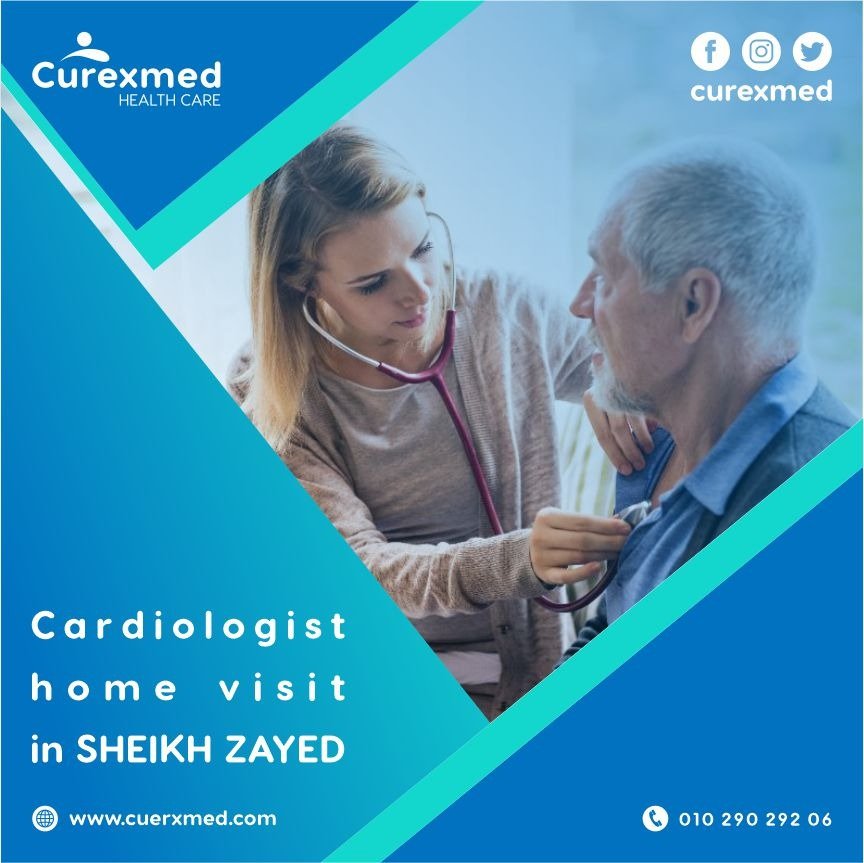 There are a group of symptoms that require a cardiologist home visit. If you or a member of your family exhibits one of these symptoms, it may be a sign of a heart condition. A cardiologist should be called right away to visit the patient at home, examine him, and prescribe the proper medications to treat his condition early and before exaggeration of symptoms, and these symptoms are:
● Cold and numb in the extremities (arms and legs).
● Chest pain.
● Short of breath when the patient exerts effort, eats, or climbs the stairs.
● imbalance and dizziness.
● Exposure to fainting.
● Persistent dry cough.
● Flutter in the heart.
● Swelling appears in the hands, ankles, or feet.
● extremely tired and exhausted in small effort.
● Constant fever.
● The most important symptom that indicates a heart problem is a noticeable acceleration or deceleration of the heartbeat.
● Appearance of a rash or strange-colored spots.
These are some of the symptoms that a heart patient may experience. Therefore, if you or a family member suffers from any or all of them, you should seek medical attention immediately so that you can be reassured about your health and solve the problem before it is too late. In order to learn more about your specific health condition, you can ask a doctor to perform a home visitation.
Responsibilities of a Curexmed cardiologist on home visits

Curexmed Center provides a team of highly qualified cardiologists who diagnose and treat patients. Doctors' responsibilities are not limited to this, but they also include:
● Curexmed's cardiologist thoroughly examines patients to determine the source of the patient's symptoms.
● Curexmed home visiting cardiologist examines the patient using medical tools designed for that purpose in order to determine the cause of the symptoms and how to treat them.
● The doctor's responsibilities are not limited to diagnosis and treatment methods; prevention must also be included, which means that the doctor gives the patient and his family a set of advice and instructions to prevent other symptoms that may cause a heart attack, and these consultations, if followed properly, contribute to the patient's recovery in a way.
● The doctor analyzes every advancement in medicine, whether it is pertaining to childhood or adult cardiac issues, to accurately diagnose patients. This allows the doctor to eventually come up with a radical solution and a workable treatment that is suitable for their health situation.
● One of the most important responsibilities of the home visit doctor is to review the patient's medical history before beginning the examination to understand every aspect of the patient's medical condition in order to make a correct diagnosis and create a treatment plan that is appropriate for the patient's health.
● The doctor must be aware of any chronic conditions the patient has that are not related to their heart, such as high blood sugar, elevated blood cholesterol, or high blood pressure, to recommend treatment based on these symptoms.
● The Curexmed home visiting cardiologist writes a report for the patient that includes information about the patient's health status since the last examination time, the medications that the patient takes to recover from his illness or to reduce the severity of the symptoms, and the most important observations, medical consultations, symptoms, and changes that may occur to the patient during this treatment period.
● Curexmed's cardiologist refers complex cases requiring surgical intervention to cardiologist surgeons, which can be detected by scanning patients who occasionally show the need for immediate intervention. Complex surgical procedures include installing a pacemaker, replacing valves, and other procedures.
● Using technological medical tools and devices is one of the key responsibilities carried out by a cardinal home visit. This is due to their outstanding efficiency in determining the patient's state of health and confirming that the heart's functions are carrying out their respective duties. These include the MRI, EKG, and X-ray machines.
● The cardiologist home visit continuously monitors the patient's health and regularly checks on the patient to make sure the medications he has prescribed are working.
● Giving the patient the freedom to express all of his symptoms and pain is one of the most crucial qualities the cardiologist home visit must possess to make a proper diagnosis and administer the right treatment.
● Curexmed doctors' requests for medical analysis tests can be completed at home with Curexmed's at-home laboratory service. Curexmed collects samples from the patient at home and sends them to a lab for medical analysis. Complete blood counts, cholesterol levels, kidney function tests, and heart function tests are just a few of the medical analyses that help doctors determine the best diagnosis and offer the most appropriate consultations.
● Cuerxmed's doctors counsel their patients and discuss with them the main factors that lead people to form bad habits that could endanger their lives. So, in order to hasten his recovery or at least feel a little bit better, the heart patient must strictly follow the treatment regimen the doctor has devised. Foods with a high fat content, like fried foods, foods that naturally contain fat, and starches, as well as drinking alcohol and smoking, are all bad habits that should be completely avoided due to their adverse effects. These bad habits have an abnormal impact on heart health and could weaken the heart's capabilities.
Curexmed at home doctors also perform other duties outside of those that were just briefly mentioned.
Read also: Cardiologist home visit Nasr City
The nearest cardiologist home visit

Some heart patients require a nearby cardiologist home visit through one of the home medical centers that send doctors to the patient's location as quickly as possible. There are many medical facilities with doctors in various specialties who are skilled and precise, especially cardiologists, whose role is crucial in treating heart issues. Curexmed is one of the centers with a top-notch team of cardiologists who perform their duties exceptionally well, give you an accurate diagnosis of your condition, learn about your health condition and its causes, and collaborate with you to find a comprehensive solution before directing you to a radical one.
You can frequently call medical facilities to make an appointment with a doctor, who must arrive on the scheduled date to prevent the patient's condition from getting worse, but the patient may experiences complications because the doctor you requested shows up later than the scheduled date. Because of this, one of the most crucial things the patient's family seeks is a medical facility that provides them with a highly regarded home visit cardiologist who travels as quickly as possible to the patient's location, greatly helping to alleviate his condition. Therefore, you can get in touch with Curexmed if you need the nearest cardiologist home visit.
Prices of cardiologist home visit service

In this day and age, where there are numerous medical facilities offering comparable services at comparable costs, many patients are looking for the prices of cardologist home visit services to select the facility that offers exemplary medical care as well as at a reduced price commensurate with the client's financial ability. Prices vary generally from one service to another and from one center to another, depending on a variety of factors that are outside the scope of our discussion. Therefore, Curexmed stands out as one of the top facilities offering cardiologist home visit Sheikh Zayed service due to the effectiveness of its medical staff as well as the fact that it has a private ambulance for emergencies. Curexmed also offers the most potent at-home medical analysis labs that can accurately report your test results. However,all of these services are provided at the best price.
The patient's family is constantly searching for a facility that offers a wide range of medical services that any patient may require, such as the presence of doctors in different specialties, different types of radiology centers, medical analysis laboratories equipped with the necessary tools and equipment, a special ambulance for transporting patients, and physical therapy sessions, one of the most crucial requirements of medical centers. Additionally, the cardoligist home visit service is regarded as one of the most important services, requiring a group of cardiologists to travel to the homes of numerous heart disease patients to treat them using the best medical equipment for examinations and to prescribe the medication most appropriate for the patient's condition while taking into account any medication allergies and other underlying illnesses.

The patient's family must give the doctor access to the patient's previous medical records in order for the doctor to be aware of the medications the patient was taking, his general health, whether he had any chronic illnesses, and whether or not the disease had affected him for a long time or not. It makes it clear to the doctor whether this specific medication is appropriate for the patient's condition or whether it might have a negative impact on his health, among other things.
Who is home visit doctor?

Despite the fact that many people have heard a lot about the home visit doctor, they are unaware of his identity or his specific responsibilities. A home visit doctor is a medical professional who visits patients' homes to examine them if they have illnesses that prevent them from visiting hospitals or clinics for examinations and pain relief.

How do I schedule a cardiologist home visit?

Contacting Curexmed will put you in touch with a team of medical professionals with the necessary training to diagnose the patient as needed. Curexmed will set up an appointment for a cardiologist home visit.

How do I request a cardiologist home visit?

To request a cardiologist home visit, all you need to do is get in touch with the Curexmed Center using one of the communication channels it has made available to its customers. Do not be concerned; they provide excellent customer service.

Can a cardiologist visit me at home?

Of course, there is a cardiologist who comes to the patient's home to treat heart patients, and Curexmed is one of the best and most affordable centers that can provide a variety of home medical services.