Best internal medicine physician home visit in Egypt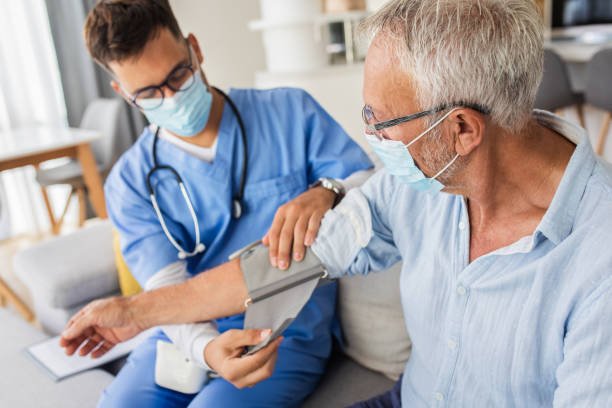 Are you looking for a reliable internist home visit? If you complain of some concerns and need your doctor to come to your home, here's the best internal medicine home visit service by curexmed.
We can provide you with skilled internal medicine doctor home visit where you are in Egypt. You don't have to travel long distances or waiting for too much time to get good medical care anymore.
Sometimes maybe you experience some fever and headache associated with general weakness in your body, or sudden shortness of breath with high-grade fever and cough which reveal some sort of chest infection. You may notice this problem late in your day and need rapid and safe medical intervention without leaving home so request internal medicine physician for home visit easily.
There are many reasons that make you prefer internal medicine physician at house rather than go to his clinic. Recently in the period of the COVID 19 crisis, the shutdown posed a problem to go out home if you are ill, maybe you are so busy and don't want to waste time waiting in clinics or you have some serious complaint that also can't be deferred until your date, so an internal medicine doctor home visit via curexmed is your best choice.
What are the health concerns that require internal medicine physician?
The first step to getting a good internal medicine physician via curxmed is to identify your symptoms and previously diagnosed diseases to be sure that an internist doctor home visit will be useful.
It is highly favorable to call internal medicine physician home visit shubra or any other Egyptian governorates in families of patients with cerebral stroke that caused paralysis because of the difficulty in transferring them to hospitals or medical centers for follow up.
if you are a hypertensive or diabetic patient and need to check up your readings and control your medications just order an internal medicine physician home visit near nasr city and then we'll provide you with the best endocrinologist.
the medical care that we can provide is ranging from mild to moderate cases till evaluate the serious conditions, do first aid, and then refer the patient to a well-equipped hospital.
The digestive system related symptom:
internal medicine physician at house can treat your peptic ulcer, inflammatory bowel syndrome, write the prescriptions for stomach upset and heartburn, also, if you suffered sudden vomiting and diarrhea that means you may have food poisoning or stomach flu, then request internal medicine physician for home visit to treat you.
The respiratory tract related symptom:
If you complain of cough for weeks, high-grade fever, and tiredness and you think that you have some chest infection or allergy due to exposure to specific stimuli, you can speak to an internal medicine physician at house to get the best treatment for your health issue.
also, asthmatic patients, heavy smokers with difficult breathing, and chronic chest diseases need to see an internal medicine doctor home visit to prescribe their inhalers.
Endocrinology related problem:
The distance to a good endocrinologist introduce a real challenge to diabetic patients, may even lead them to stop keeping up with regular follow-up clinic, so why not request internal medicine physician for home visit?
It's very necessary to control your diabetes medication, follow healthy weight control practice and check the complication to treat it early!
Your internal medicine physician home visit Faisal to ensure your general state and detect glandular abnormalities ran the level of the hormones and treat different endocrinal diseases.
Kidney and urinary tract disorders:
Have you ever done urine analysis then showed urinary infection or protein in your sample? patients with kidney failure, flank pain, and burning sensation during urination have to meet internal medicine physician home visit shubra or otherwise city they are. Just call us to choose the best internal physician.
Heart disease and strokes:
Hypertensive patient require intensive control of their blood pressure to protect heart and other vital organs from this silent killer.
Some people feel chest pain and heaviness during daily activity especially coming up the stairs, this can be attributed to heart failure or a decrease in the ability of heart muscle to work efficiently, whether the complaint is dangerous or not you can get an internal medicine physician telephone number via curexmed to visit home and check on you in a while.
Internal medicine specialty in curexmed
In our company, we really care about providing a number of specialist doctors who are the most experienced doctors in their field. Our doctors had received strong training that qualifies them to give the best medical care. They care about patient's comfort and privacy, also they are available 24 hours a day.
The internist doctor will examine you rapidly and evaluate your health, do essential tests for diagnosis then decide the best treatment plan for you. What are the qualities that make us your best option?
1 – Our medical team is highly qualified and recommended due to their previous success stories.
2 – They are always available even on holidays and at night.
3- Can come to your home wherever you are quick.
4 – You have the option to choose the attending doctor; women may prefer to be examined by a female doctor.
5 – The internal medicine home visit price is affordable for everyone.
The benefits of getting internal medicine physician at house
If you decided to request a doctor to visit your home, he will be able to perform a wide range of medical interventions to improve your health and help recover your good state. What are you going to expect?
1-Reach you as soon as possible
2- Complete attention to your complaint and good listening to your problem.
3 – Comfort and privacy maintenance.
4 – To do all essential workup and investigation to put the most relevant and accurate diagnosis.
5 – Give you appropriate medications.
6 – Improve the patient's quality of life and give patients advice about smoking, diet, doing exercise, and resting.
7- Regular follow-up on the telephone to check your improvement and your response to treatment.
What is expected to be done by internal doctor home visits for diabetic patients?
You can request the internal doctor to your home to check up on your compliance with treatment and control your blood sugar levels. Also, follow-up is necessary to check the patient's general state, early detection of complications, and prevent it. You can now internal medicine doctor house call to prescribe glucose reducing agent and change your diet.
How much is the internal medicine home visit price?
Various elements concerned with the price of a good doctor home visit such as the length of time taken with the patient, number of investigations that had been done, the severity of the complaint and the distance doctor traveled. We are anxious to put prices fit all people.
How I can get an internal medicine physician home visit near me?
Contact us via whatsapp to provide you with an excellent internist doctor