The best urologist home visit in Masr Elgedida

The urologist home visit Masr Elgedida service is one of the most important services presented in our time because it provides assistance as quickly as possible to every person suffering from a urological disease. With the development of medical devices and aided tools, doctor home visit services have also been developed and widely spread. Therefore, if you suffer from any problems related to the urinary tract system and you are unable to go to private clinics or hospitals, you should request a urologist home visit Masr Elgedida or if you are a resident of any of Cairo's neighborhoods. Curexmed provides you with the best urologist home visit in Masr Elgedida service.
Curexmed provided a large group of doctors and consultants with extensive and great experience in all medical fields, especially urology. Our experts are ready to provide you with the best at-home medical services to save patients time and effort from going to any medical center, as we at Curexmed believe that the patient's psychological health is as important as their physical health. Most elderly patients suffer from movement issues; therefore, Curexmed Urologist home visit Masr Elgedida service will be the best solution for them. You can communicate with Curexmed customer service to request a urologist home visit Masr Elgedida, a doctor and a consultant will come to your home to diagnose and evaluate the patient's health condition using the best medical tools and devices, and according to the diagnosis, all necessary measures are taken.

Urologist home visit in Masr Elgedida

The doctor home visit service is considered one of the most important medical services provided to the patient to eliminate the need to go to hospitals and get infections due to frequent gatherings, especially for weak immune patients who have easier transmission of any disease or infection, and this is the goal of Curexmed Medical Company in providing urologist home visit in Masr Elgedida to relieve patient's stress or develop and exacerbate patient's pain.
Curexmed's doctors are considered the best urologist home visit in Masr Elgedida to diagnose patient conditions and refer them to another specialist if necessary. Curexmed was and will remain the best choice for customers because we provide integrated and comprehensive home medical services for all medical aspects. If you are looking for a doctor who specializes in urology, Curexmed provides you with the easiest ways to Through it, you can request a urologist home visit service, and our team will come to you as soon as possible.

When should you see a urologist home visit?

Urinary tract problems and their related diseases are painful, which puts the patient in constant embarrassment and pain. Therefore, if you suffer from the following symptoms or diseases, you should immediately contact a urology doctor to treat these problems before they multiply, or you can request Curexmed's urologist home visit service. Some of the urology diseases are:
● Urinary tract infection.
● kidney stones.
● Benign prostatic hyperplasia.
● Chronic bacterial prostatitis.
● Hypercalcemia.
● urethritis.
● incontinence.
● undescended testicle.
● testicular pain.
● prostate.
● Overactive bladder.
● Kidney failure.
● renal colic.
● Nephroblastoma.
● cystinosis.
● Congenital hydronephrosis.
● nocturnal urination.
● Bladder Cancer.
● pyelonephritis.
If you have any urology symptoms, you should consult a doctor or request a Curexmed urologist home visit. Some of these symptoms are:
● Feeling consecutive pains in the lower abdomen near the bladder.
● Constantly feeling the urge to urinate at different times during the day.
● Involuntary urination occurs due to the person's inability to control, or urine leakage.
● A feeling of continuous and successive pain in the pelvic area, especially in women.
● Finding drops of blood during the excretion.
● The presence of pain during ejaculation.
● The feeling of pain in the lower back indicates the presence of kidney stones.
All of these symptoms occur for various reasons, the most common of which is an infection of the bladder. Therefore, if you have any of these symptoms, you must visit a urologist to examine you, because there are diagnosed pathological conditions that are not affected by normal treatment and may require surgeries, you must contact a doctor or request a Curexmed's urologist home visit.

Why choose the Curexmed urologist home visit?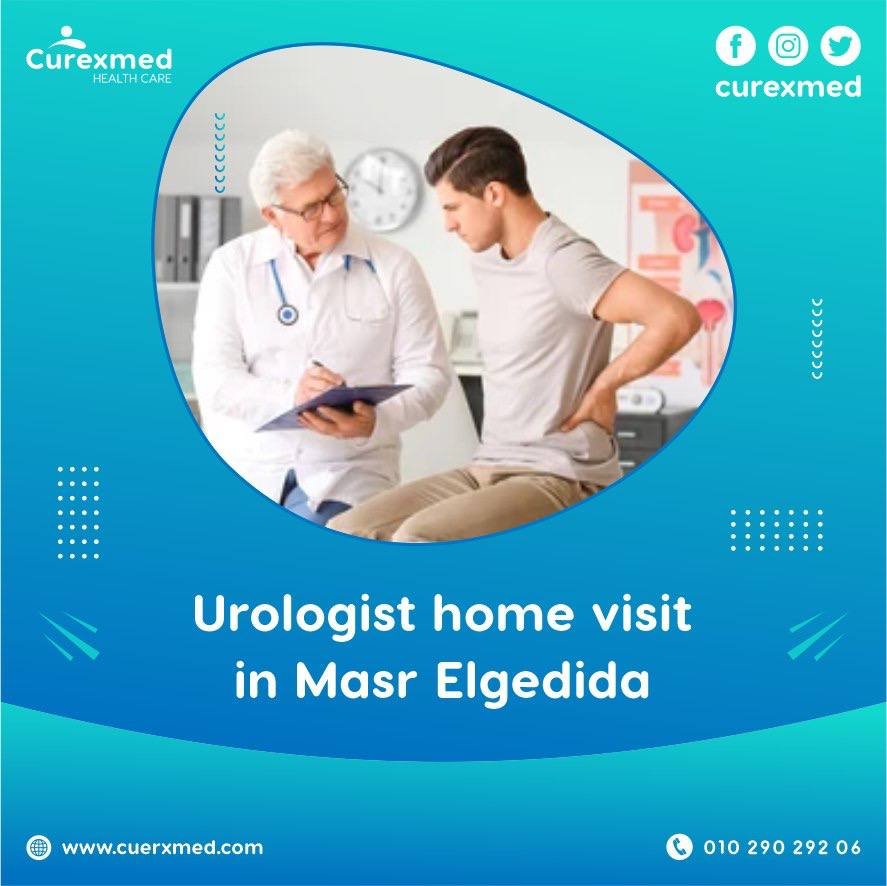 Medical advancement has a significant impact on our lives. Therefore, the idea of doctor home visit services was devised to keep pace with this development and limit the use of slow medical examination traditional methods, especially if the patient's health condition cannot bear to wait at private clinics or hospitals; for this reason, patients choose doctor home visit services. As it is the ideal solution for the patient and his family, as it involves preparing the patient's environment and the presence of an excellent nursing staff that helps and assists the treating doctor during the treatment process.
Curexmed's nursing staff seeks to ensure the patient's comfort, ensure the organization of the treatment appointments, and assist the patient in following his diet schedule and meal times that the doctor advised. While Curexmed facilitates doctors taking care of the patient to ensure a faster recovery, Curexmed services are not limited to doctor home visit services only; you can also request other medical services, such as home lab tests and home radiology center, to avoid the burden of searching for an integrated medical center and not bear the burden of the cost of these services. Curexmed is considered the best home medical center with the highest quality and lowest costs.
Many patients may be concerned about requesting a urologist home visit in Masr Elgedida for several reasons, including their belief in the exorbitant costs imposed on them by this service. For this reason, we would like to assure you that our service's prices are affordable for everyone, and we consider that we can save you a lot of time and money compared to going to a private hospital. The factor of time is one of our considerations, so if one of your family members feels tired late at night, which makes the parents concerned about the availability of any medical facility at this time, Curexmed will answer you, as our center is available with all its staff at any time and any hour during the 24 hours and all day. Also, if the geographical location worries you, we will go to you wherever you are.

How much does a urologist home visit service cost?

With the development of medicine, the doctor home visit service has become widespread in various medical centers, but usually they provide it at the most expensive prices that are not affordable for everyone. Therefore, if you are looking for the best home medical services at the best price, Curexmed is the most suitable solution for you, and all you have to do is communicate with us and request a doctor home visit service with your needed specialty.

What is the urology specialty?

Urology is a surgical and medical specialty at the same time. It specializes in diagnosing diseases related to the kidneys, the urinary system, and male genital diseases, dealing with and treating related diseases such as kidney stones, which are treated through the fragmentation process, and various diseases such as urinary tract infection, incontinence, and many other diseases.