Request a private ambulance for contracting and oil companies

If you want to request a private ambulance for contracting and oil companies, you can contact Curexmed in emergencies and other cases, as many patients need a special ambulance to transfer them to hospitals quickly to preserve their lives and prevent exposing them to any danger. For this reason, we are here for you in critical times, as we at Curexmed have equipped ambulances to transport all critical cases, including heart diseases, intensive care, and critical cases, accompanied by specializing emergency doctors and experienced nurses trained to treat all cases and supervision on patient health status at all times, especially inside the ambulance, by mobile screens to track cases.
You can now request a Curexmed private ambulance for contracting and oil companies service, as we provide private ambulances equipped with the latest medical equipment and with an integrated medical staff of doctors, anesthesiologists, nurses, and paramedics. You can contact us wherever you are, as our main aim is to provide the best medical care for all patients as a private ambulance service.
We always take into account the constant presence of intensive care doctors, in addition to experienced nurses who excel at treating all medical conditions, with transportation services to hospitals and private clinics. We are here to serve you in emergency cases for 24 hours.

Request a private ambulance

Anyone may need to request a private ambulance, as accidents can happen at any time, often suddenly and without warning. Most of these accidents require the rapid intervention of specialists to deal with injuries, and some people may experience accidents in places that are difficult to reach or take a long time to get to. Therefore, providing and requesting a private ambulance is one of our distinguished services at the Curexmed Center, as the private ambulance is very important in helping patients and providing them with the necessary services.
Curexmed's private ambulance service helps patients be transported from home to doctor's appointments in hospitals or clinics. Curexmed's private ambulance is provided by a certified medical team of doctors, nurses, and paramedics 24 hours a day in all areas of Cairo, Giza, and Alexandria.
Curexmed also provides a lot of emergency medical services, such as a doctor home visit service at any time, 7 days a week. We are distinguished by quickly responding and coming to the scene of the accident or to the claimant's site quickly to provide the necessary medical care.
You can request our ambulance number at any time. Our services are available 24 hours a day, 7 days a week.
Do not hesitate to ask for Curexmed's private ambulance numbers at any time.

private ambulance company

Our private ambulance transports the sick and the elderly to the hospitals or places they want as quickly as possible; did you know that trusting us to provide emergency medical care can save your life or the lives of your family members? And it will facilitate the transformation of you or your patient from one medical center to another!?
When it comes to providing private ambulance service, there is no second chance to do everything right, whether it is providing emergency care at the scene of an accident or transporting an intensive care patient. we seek to provide a reliable partner in the community to help anyone by providing a trusted private ambulance company, which is Curexmed Medical Center. As we at Cuerxmed have provided services for more than 10 years, we have been active in the fields of emergency response, medical transportation, emergency training, and local health care.
Our commitment begins with the people we employ, as we select only experienced individuals and then extend their education so that they become the best in their field to provide the excellent service the patients need. We also have a set of values that help us in emergency services, as we focus exclusively on the lives we deal with every day, because we deal with our customers as friends, neighbors, and co-workers, not as just cases
We never forget that the people we serve are our top priority, as we believe that Integrative Emergency Services is built on integrity. We believe in honesty, responsibility, hard work, and empathy to act with compassion, respect, dignity, and treat everyone fairly.
We at Curexmed also take into account the quality of our provided services, as high-quality patient care and high-quality customer service are our top priorities, and we encourage a culture of respect and responsibility that provides the highest level of safety for our patients and caregivers. We are also working to reduce waiting times and eliminate delays for people who need care.
You can also request a lot of home medical services through Curexmed, such as the doctor home visit service that diagnoses the patient's condition, prescribes suitable treatment, and gives advice and instructions to the patient and his family on how to deal with the disease to ensure a faster recovery.

Private ambulances in Egypt

Cuerxmed has two types of private ambulances in Egypt services, which are sent according to the patient's medical condition, as follows:
Critical emergencies private ambulance
Critical emergencies require a request for a private ambulance, and from here you can request an emergency private ambulance service. Do not forget to provide first aid to the injured person before the ambulances arrive, as it can greatly help in saving the injured person's life.
Ask for Curexmed's private ambulance number and keep it so that you can contact us in emergency cases, such as traffic accidents, heart problems, all kinds of injuries, shortness of breath, fire accidents, psychological conditions, the elderly, and care for newborn mothers.
non-emergency private ambulance
Many patients may need a non-emergency private ambulance, as the ambulance number is frequently requested to provide non-emergency care to patients. If you request Cuerxmed's non-emergency private ambulance service, you will notice that we respond to you immediately. This is because our services are available 24 hours a day, every day of the week, and we also transport disabled patients between home and hospitals, radiology centers, labs, and private clinics. Or you can get rid of all this and request a home lab tests service and a home radiology center service from Curexmed.
Curexmed's non-emergency private ambulance service helps disabled patients arrive for follow-up appointments and transportation between hospitals inside or outside the governorates.
Curexmed is ready to provide all medical services completely. As Curexmed provides a private ambulance on site and qualified care with full medical equipment and life support equipment, we can assist you in transportation between medical centers and transport critical patients to the nearest hospital.

Advantages of requesting private ambulances service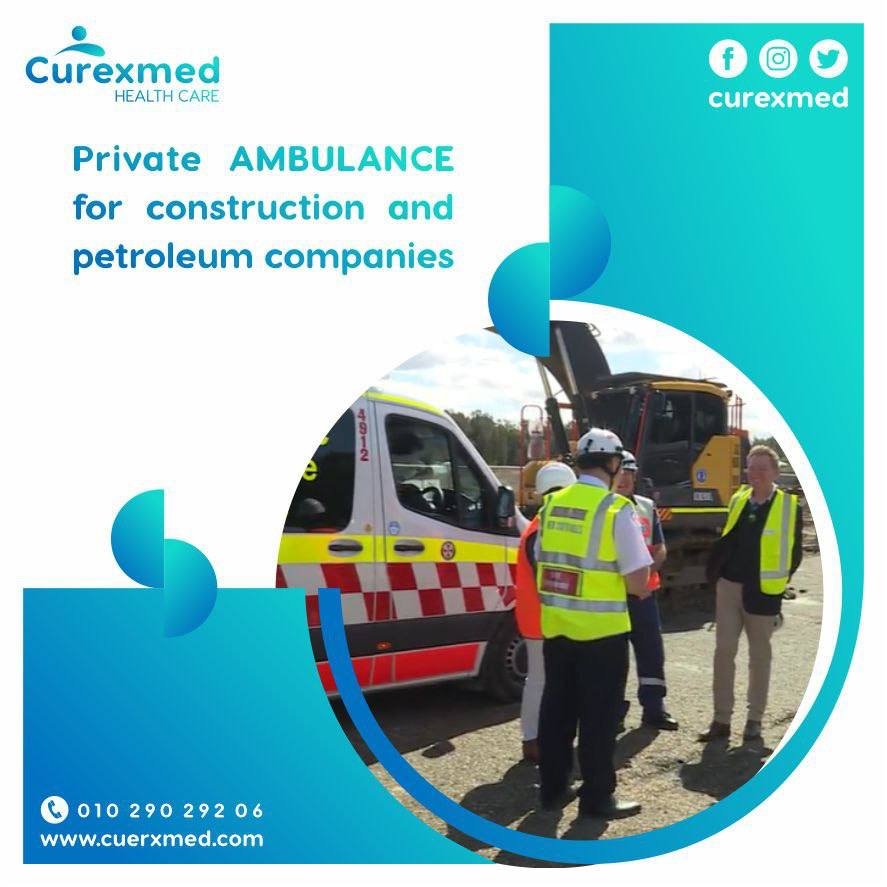 Emergency and ambulance services are much more than just a flashing blue color; they can affect patients' lives by saving or losing them. Curexmed's non-emergency private ambulance is a first-rate intensive care unit that transports and monitors critical cases, which distinguishes Curexmed ambulances from others. Also, the speed of response, the early arrival of the patient, the availability of the medical team and paramedics, and equipping the latest medical devices are some of the most important features of Curexmed private ambulances.
● Private Ambulances have access to all hospitals and provide emergency transportation and care for coronavirus cases, stroke, bone fractures, and accidents.
● Curexmed's private ambulance is characterized by being the fastest in responding to emergencies by using fully equipped ambulances.
● Curexmed provides specialized ambulance services for people suffering from chronic diseases such as kidney failure, diabetes, hypertension, cancer, and others.
● Transportation of patients who have fixed appointments in hospitals for physiotherapy sessions.
We provide all of these services with fully equipped ambulances to transport patients and return them to their homes with all available medical care appropriate to their health condition.
Read also: Masr Elgedida Ambulance Number

Equipped private ambulance

Curexmed's ambulance services are provided by qualified specialists, trained medical staff, and experienced paramedics. All emergency paramedics are trained and qualified to deal with all critical cases. Ambulance drivers are also equipped, trained, and familiar with all roadways to choose the shortest route to reach the desired site as quickly as possible.
● Our private ambulances are equipped according to the highest standards to be able to provide the best service to the injured person as soon as possible, so you can request an ambulance in complete safety because it is characterized by a separate driving cabin from the patient's cabin, with a capacity of 2 paramedics and two patients on two stretchers so that at least one patient can receive intensive care during transportation.
● Paramedics are trained to provide emergency medical care and take care of the injured.
● Ambulance Cars equipped with the latest equipment to protect staff and patients in dangerous conditions, ensure safety and comfort, and prevent the patient's condition from deteriorating or losing his life.
If you want to request a private ambulance for contracting and oil companies service or need a doctor home visit service to diagnose the patient's health condition, contact Curexmed now, as we are available 24 hours a day to receive your requests.

How much does a private ambulance for contracting and oil companies service cost?

The details of the diseases and the distance are some factors that affect the cost of the private ambulance for contracting and oil companies service, but you do not have to worry about all Curexmed's service prices, as they are within everyone's reach.
Providing safe medical care for patients has been our priority for a long time. As a result, we are committed to providing the latest, highly efficient medical equipment to provide optimal comfort and treatment to our patients.

When does Curexmed's private ambulance arrive at the desired location?

The private ambulance arrives for you as soon as possible if you request it from Curexmed, and we also provide a range of other services, which are represented by a doctor home visit to examine patients and prescribe the appropriate treatment for them. We also provide a private ambulance for contracting and oil companies service.