Private Ambulance North Coast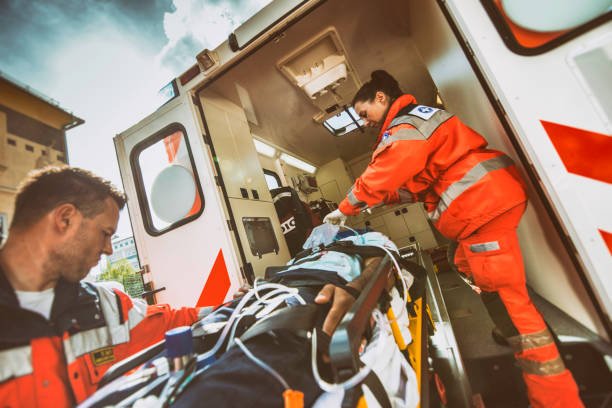 The private ambulance north coast, many accidents happen daily, without any warning, but is it possible to know the location or time of the accident that may happen? Or call for rapid intervention by specialists and trainees to rescue emergency cases in accident places that take a long time to reach, and also may need special equipment to facilitate helping cases? Of course not, such an accident could not be predicted!!
Private Ambulance North Coast
Curexmed is interested in providing a special ambulance for patient transfer from one place to another equipped at the highest level and provided with all the necessary needs. And because Curexmed always tends to reach its customers wherever they are, it now provides request private ambulance North Coast service, to transport patients from their homes to clinics or hospitals to receive treatment, with fully equipped ambulances and with a specialized team of
paramedics.
All this is under the supervision of a specialized team of doctors and nurses 24 hours a day in all regions.

Cases that require a private ambulance company services

The private ambulance North Coast service depends on the type of illness, which is divided into:
1. Emergency and critical cases (emergency services)

Doing first aid for the case until the ambulance arrives may save it, all you have to do is
request a private ambulance service from Curexmed, and it will reach you wherever you
are and in the fastest time:
■ Road accidents.
■ exposure to fire.
■ home births
■ Cases of difficulty breathing.
■ All heart problems.
■ Psychological states.
■ All injuries and acute wounds.
■ Care of children and newborns.
■ Death at an accident.

2. Non-emergency cases (non-emergency services)
Order now a private ambulance service for non-emergency services from Curexmed,
services available daily 24 hours:
● Moving from home to hospital and back to patients who are unable to move.
● Moving between hospitals, even if they are outside the governorate, in case the
patient is unable to move.
● Carry out all analyzes and x-rays, receive treatment, and complete medical
follow-ups for patients who are unable to move.
● Moving between medical centers to perform all medical examinations and
analyzes.

3. Transferring patients with chronic diseases

Curexmed now provides a private ambulance North Coast service, for people with
chronic diseases such as cancer, kidney failure, etc., to facilitate their transportation from
their home to hospitals and medical centers to receive the treatment, and back again.
Advantages of requesting private ambulance North Coast
● Speed of response: The most important characteristic of Curexmed ambulances is the
speed of response and attendance at the scene of the accident or the place of the
service request as soon as possible, in addition to providing all the necessary services
and health care.
● Comprehensive coverage: Curexmed's private ambulance service covers all Egypt
governorates, to reach its customers wherever they are.
● Efficiency: Curexmed always works on selecting the most efficient medical staff,
including doctors, nurses, and paramedics, trained and qualified to deal with critical
emergencies.
● Comprehensive training: Curexmed is interested in training ambulance drivers on the
shortest path so that they reach the desired place as quickly as possible.
Curexmed Private Ambulances
Curexmed provides ambulances equipped at the highest level to provide the best services to
patients, it is equipped with:
● Large enough space for two patients on two carriers with the ability to move easily, as
well as a place to accommodate 2 paramedics.
● Training paramedics in all emergencies to deal with critical cases.
● It has the latest devices to save both patients and workers in the event of any danger.
● Wheeled fixed bras.
● Collapsible carriers to facilitate carrying the patient in confined spaces and on stairs.
● Ventilators.
● Cardiac resuscitation equipment.
● Sterile catheter.
● oxygen devices.
● Small kit for surgery.

Now after knowing all the details of how to request ambulance, especially on the North Coast,
all you have to do is contact us and book and we will reach you anywhere as soon as possible.