Doctor home visit Masr Elgedida

If you are looking for a doctor home visit service in Masr Elgedida, even if you search for a specific specialty, Curexmed offers you the best doctor home visit service, which provides many doctors in all specialties such as hematologist, cardiologist, and urologist. We provide the best variety of medical services wherever you are, even in Masr Elgedida area, any Cairo neighborhood, and throughout all of Egypt.
A doctor home visit service is one of the most beneficial services for patients, as it saves patients' efforts in hospitals and private clinics, which respects the time, effort, and money of the patient in finding an excellent doctor. Curexmed solves all of your medical-related issues by providing doctor home visit service in Masr Elgedida.
Curexmed doctor home visit service is distinguished by its 7/24 availability; if someone feels tired at night when there are no clinics or doctors available, or if the situation is critical and urgent with no ability or time to reach a hospital, Curexmed will save you at emergencies wherever you are and whenever the time is by providing a specialized group of doctors and consultants in all specialties to provide saving life solutions.
Home visit doctor Masr Elgedida

Doctor home visit service aims to provide home visit doctor specialists in dealing with patients at their homes, examine, diagnose, describe medications, and continuously follow up till complete recovery, which different from one patient to another according to their health condition.

The spreading of infections and epidemics such as Corona and the increasing spreading rate, make gathering and visiting crowded places like hospitals and private clinics very dangerous, especially for weak-immune elderly patients who are more susceptible to infectious diseases than others. So a doctor home visit service prevents exposure to such risks.
With the variety of diseases and the variety of ages affected by them, it makes it difficult for critical patients to consult doctors outside of their homes, especially in emergencies. From that concept, Curexmed is doing its best to solve such problems by providing a doctor home visit service. All you have to do is contact us, and we will send you a specialist doctor just a short time after receiving your call or request. We are not limited to critical and emergency cases only. It is possible to contact us for regular doctor home visits, home radiology service, home lab test service, or private ambulance service to transport patients as soon as possible to the hospital.
Curexmed has the most qualified home visit doctors in different specialties to provide the patient with the best treatment, medical service, and care. You can also request a consultant home visit in a specific specialty with home-based resident nurses to provide the patient with the maximum comfort, help the patient execute all instructions related to food and medicine appointments, and stay up all night to follow up on the patient's health condition.

Specialties of doctor home visit Masr Elgedida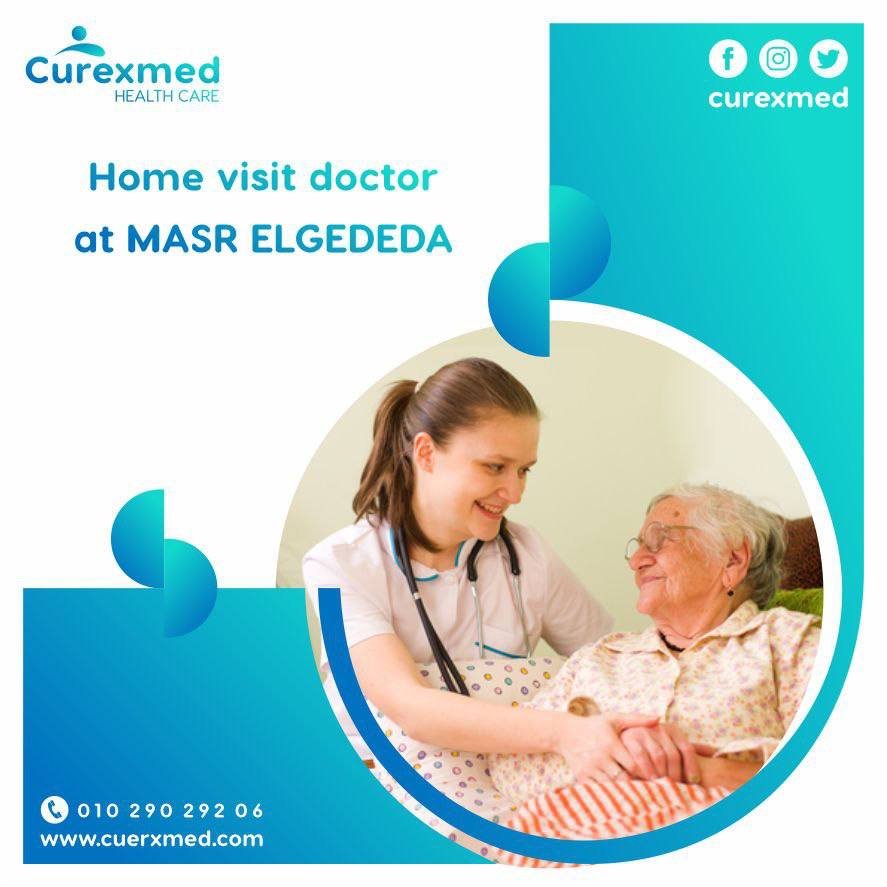 Curexmed provides various specialties of doctor home visit Masr Elgedida, as we have many doctors in every specialty to save you time searching for a doctor in a specific specialty, even a common or uncommon specialty, which includes:
● Home visit Pulmonologist
Pulmonary diseases are considered the most common diseases for all ages, whether adults or children. Patients with pulmonary diseases usually suffer from breathing and shortness of breath problems due to daily exposure to car exhausts and fumes, so the home visit pulmonologist service is considered one of the most requested services. In this specialty, the doctor diagnoses the condition, even bronchial asthma or pneumonia, prescribes appropriate medications, and follows up on the patient's health condition periodically till full recovery.
● Internal medicine home visit doctor
Curexed Internal medicine home visit doctor facilitate diagnosis and treat a very wide range of diseases related to this specialty, which are not only related to the abdomen but may also include various allergic diseases, heart problems, immune system diseases, symptoms of vascular diseases, gland problems, diseases of the stomach and digestive system, and all degrees and types of cancerous tumors. Internal medicine is a wide, large specialty, and it may include many other specialties.
● Geriatrician home visit doctor
Cureximed deals with all geriatric diseases by providing geriatrician doctor home visit service and by using modern portable medical devices in the diagnosis and treatment of elderly patients' problems, which speed up the recovery process, especially problems specific to hypertension, diabetes, heart disease, Alzheimer's disease, arthritis, delirium, and pulmonary diseases such as asthma.
● Orthopedic home visit doctor
Bone and joint inflammatory diseases have become common diseases among all people, whether young or old. Orthopedic diseases have become widespread. and because it has painful symptoms, it is difficult to transport patients and go outside homes to do a clinical examination. Therefore, Curexmed provides orthopedic home visit doctor services to treat the following diseases:
Joint pain, systemic lupus erythematosus, osteoarthritis, back pain, spine pain, gout, psoriasis, arthritis, Ankylosing spondylitis, Reiter's syndrome tendonitis Sesepticarthritis, spondylitis, fibromyalgia, autoimmune diseases, muscular pain, cervical radiculopathy, spinal trauma, and adrenal insufficiency. If you suffer from any of these diseases, don't hesitate to request an orthopedic doctor home visit service from Curexmed.

Urologist home visit

Urinary tract diseases affect women, men, and children; they also affect the urinary tract and reproductive systems. So if suffer from any urology related diseased, contact Curexmed and request a Urologist home visit service
● Otorhinolaryngologist home visit
Otorhinolaryngology doctors are interested in dealing with and treating all ear, nose, and throat problems, such as allergic rhinitis, rhinitis, and ear and throat infections. He also treats vertigo and its symptoms. The doctor follows up on the patient's health condition during the period of treatment until he is cured.
● Dermatologist home visit
Many people suffer from various skin diseases, especially with the change of seasons or in the presence of certain seasons. Some people have skin sensitivity, and abnormal spots or acne appear on their bodies. There are mild skin diseases that appear and disappear, and there are chronic skin diseases. So the patient should quickly consult a dermatologist if any abnormal dermatology symptoms appear, as these symptoms may indicate something serious.
Curexmed helps you overcome all these problems by providing the best dermatologists to diagnose your condition while you are at home and prescribe the appropriate treatment for skin disease.
● Neurologists home visit
Neurological diseases are considered the most important diseases that cannot be delayed in diagnosis, and the neurologist home visit service must quickly be requested to examine, diagnose, prescribe the appropriate treatment, and follow up on the patient's condition, especially in critical conditions.
● Ophthalmologist home visit
The eye is considered one of the most important organs in the human body, so ophthalmology is considered the most important department because any eye injury may lead to blindness. Therefore, when anything related to the eye happens, the patient or his family must request an Ophthalmologist home visit service to diagnose and treat the medical condition. Curexmed also provides vision examination tests for eyeglasses.

Advantages of requesting a doctor home visit service

There are many advantages for requesting a doctor home visit in Masr Elgedida service, as this service saves a lot of energy and effort for the patient by obtaining an experienced doctor who has honesty in his work and can diagnose diseases correctly and then be able to give the appropriate medicine without any mistakes or complications.
Here are some of the advantages of requesting a doctor home visit service:
● Requesting doctor home visit service gives the patient complete medical staff attention and it is con their main concern during the treatment period until full recovery. Also, he found who cares and schedules the food and medication times and prepares a suitable diet for his condition.
● The doctor home visit service saves the patient from exposure to any infectious diseases which may affect him during the crowds of hospitals or privet clinics, especially for elderly and weak immune patients.
How can I book a doctor home visit in Masr Elgedida?

You can request the customer service of Curexmed and book a doctor home visit service easily by calling the center numbers or contacting us on our center's WhatsApp. A customer service representative will respond to you as soon as possible to receive your request.

How much does doctor home visit service cost?

We offer you the best prices for our multiple home medical services in all medical fields with the highest quality, the latest medical equipment, the highest and latest capabilities, and the cheapest prices.